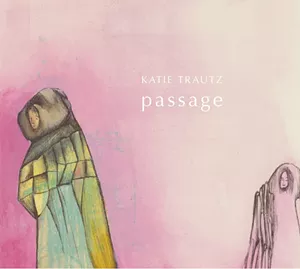 (Self-released, CD, digital)
Have you seen the meme everyone's been posting on Facebook this week? For some reason, users have been posting diptychs of themselves using photos from 2008 and 2019. No explanation seems to accompany the 11-years-apart pairing of images. It seems to simply denote, "Hey, look at me then. And look at me now." It's likely that the real fun comes later in the inevitable flood of comments from your followers.
Coincidentally, Cabot-based singer-songwriter and fiddler Katie Trautz could play along using her two solo albums instead of photos. Her first effort, Remembering, came out in '08, and her long-awaited follow-up, Passage, just hit the interwebs this month. But what's revealed when they're compared side by side?
In an email to Seven Days, Trautz, a cofounder of Montpelier's Summit School of Traditional Music and Culture, tells us that the new effort departs somewhat from the more traditional music for which she's known — both as a solo artist and a collaborator in projects such as the Cajun duo Chaque Fois! and the Appalachian-folk duo Mayfly. Compared to Remembering, Passage displays a bit more freedom in Trautz's songwriting, as well as in producer Michael Chorney's mixing and production choices. The new album's arrangements are warmer, shifting emphasis from stark, unembellished instrumentation to a full and grand aesthetic.
Trautz pulls in allies from all over Vermont's music scene, including Rough Francis' Dan Davine, Japhy Ryder's Will Andrews and Wooden Dinosaur's Michael Roberts. A Wooden Dinosaur collaborator herself, Trautz perhaps took a bit of stylistic inspiration from the band's 2016 effort, Working Weather, to forge her updated yet still unabashedly twangy sound.
A brushed pitter-patter of drums and gracefully picked acoustic guitar open "Ghosts," the record's second track. After the rollicking country opener "Drive," this one establishes the album's placid, honeyed tone. Even though Trautz's lyrics can be unsettling ("We are so damn tired / Our own lives have done us in"), her delivery is heartening.
Singing through a scratchy vocal filter, Trautz dives into a true song of lamentation with "Same Old Town." From its yodeling hook and twinkling piano line to barbed, almost surf-like guitar chords, the song is a fascinating amalgamation of sounds. It lurches forward at a snail's pace, underscoring the sentiment of stagnation heard in Trautz's writing.
A solitary banjo line introduces "Signs and Wonders," which quickly shifts from backwoods pickin' to gnarly, hard-edged psych-country. "We Don't Ask" creeps in slow with tenderly plucked fiddle. Andrews' smooth trumpet slides in just as poignantly, adding an angelic element.
Trautz and co.'s fine selection of modern Americana adds another feather to Vermont's folksy cap. Fans of both old and new sounds should find Passage a pleasing journey.
Listen to Passage on Spotify. Trautz celebrates its release on Saturday, January 19, at the Light Club Lamp Shop in Burlington and on Sunday, January 20, at the Schoolhouse in Lower Cabot.