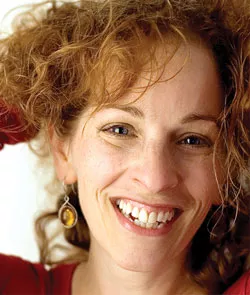 Kathryn Blume must not sleep a whole lot. That's the only explanation for the schedule she keeps. The Charlotte-based actress and environmental activist, 42, is known for her work with the Vermont Stage Company (hubby Mark Nash is the artistic director); her passionate/funny eco-themed solo shows such as Flight and The Boycott; and other performances at stateside and European events, including the UN climate talks in Copenhagen last year. She's also known for cocreating the international antiwar production the Lysistrata Project in 2003. Blume writes — essays, plays, erotica, songs — and is in demand as a public speaker. She teaches yoga at a local health club and acting and directing at Burlington College. Oh, and she officiates "spiritual-but-not-religious" weddings as a minister with the Universal Life Church, which inspired her to launch a "funny wedding story blog."
Catching up with Blume is rather like conversing with a hummingbird — albeit one that is a surprisingly good listener. (Did I mention she's also a life coach?) At a recent sit-down for tea (her) and coffee (me), Blume explains that she's just returned from delivering the keynote at a meeting of the Vermont Climate Collaborative. "They brought me in for some inspiration," she figures. And she's off: "Vermont is so close to being a national model…" But the focus of our chat is actually a brand-new pursuit: directing plays.
Blume takes to the other side of the script, so to speak, with Steel Magnolias, opening this Thursday at the Black Box Theatre in Burlington. A new local theatrical outfit called Girls Nite Out Productions, founded by Janet Stambolian and Jennifer Warwick-Sokolowski, invited Blume to take the reins of its debut show. "My lack of experience didn't seem to be a deterrent," she says wryly.
In fact, the emotion-packed drama seems made for Blume: It's a comedy. It's a weeper. It's Southern. Steel Magnolias, an off-Broadway hit in 1987 and an Oscar-nominated film two years later, is set in a beauty parlor in Louisiana and explores the lives and relationships of six women. The cinematic version — the chickiest of chick flicks — attracted the sassiest actresses in Hollywood and launched the career of then-21-year-old Julia Roberts. The Burlington production seems to have launched yet another career track for Kathryn Blume.
"To my great surprise, I really love it," Blume says of directing. And for someone accustomed to being in the spotlight, it's an interesting thing to learn about oneself. "I never thought I wanted to be in charge," she muses. "Though I realized doing Lysistrata that I enjoyed putting a production together." Still, Blume insists she's no auteur; she prefers the "nurturing, collaborative model." Which, again, seems apropos for a cast full of females. "I also love the nonstop problem solving," Blume notes.
Has Nash offered directing advice? "Mark has been busy with his own play" — VSC's The Glass Menagerie opens this week, too — "but, yes, we've had discussions about it," Blume says. She pauses to reflect, then says, "It's an interesting juxtaposition of plays about Southern women."
Blume says she's grateful for the opportunity to direct, and she's already got a gig lined up as director of Metamorphosis at the Waldorf High School in Shelburne next spring. But — surprise! — this is not the only thing on her plate. She's also working on a book, very tentatively titled Read This Book, Save the World. "I'm really inspired by the transition-town movement," Blume says, referring to an international, community-based effort to help towns deal with the exigencies of climate change and peak oil. Her book, she says, will have an entertaining but informative, pop-culture approach to how humans can adapt to a postcarbon life. "It will be, like, 'Hey, everybody, here's what we can do about it!'" Blume explains. "And I really want to do all the associated public speaking [with the book]." After all, she reasons, "Bill McKibben cannot be everywhere at once."
In fact, Blume has ramped up her speaking gigs already. "I've bumped up against the limits of being a solo performer," she says. "When people think you're little and cute and funny…" Her voice trails off, only to return with a tone of steely resolve. "I want a place at the table," she says of the climate-change community. "All of my training as a writer and director has totally prepared me for this."
Her training also prepared her, of course, to act. Though trying to rescue the planet really eats into one's time, Blume is looking forward to reprising her title role in Vermont Stage Company's Sylvia next spring.
If you haven't seen it, you should know that Sylvia is a dog. Blume, on hands and knees throughout, was hilarious as the disruptive but endearing mutt in VSC's 2002 production. The show, says the company's website, "is back by popular demand!" It's about a guy in midlife crisis and a canine companion who turns his life upside down and teaches him to live more fully.
Come to think of it, that could describe the tenacious real-life Blume in activist mode, minus the down-on-all-fours part. And maybe with a smaller carbon pawprint.