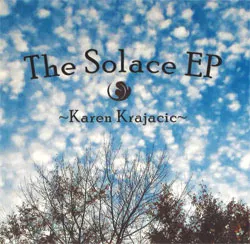 (Self-released, CD, digital download)
Karen Krajacic is likely best known to Vermont audiences as half of the local folk duo Folk By Association. That association ended — amicably, we're told — last fall after a 12-year run. Krajacic has since struck out on her own and recently released her debut solo effort, a six-song recording called The Solace EP. Though longtime FBA fans may pine for the sweet vocal stylings of Krajacic's former partner, Jill Unger, they should find, well, solace, as well as plenty of contemporary folk goodness, in Krajacic's freshman solo outing.
FBA traded in a modernized version of traditional folk, grafting influences from Americana, bluegrass and even jazz onto a foundation of time-honored folk structures. Left to her own devices, Krajacic expands that approach, diversifying the formula with a notable pop influence while maintaining rootsy appeal.
The EP opens on the banjo-driven "Drop of a Hat." With the exception of bass guitar, Krajacic plays all the instruments on the EP and proves a capable multi-instrumentalist. Here, she strums the banjo like a guitar, while a swell of atmospheric synth strings bloom around her thin, sweet alto.
"Other People's Wars" is next and finds Krajacic wading into mid-tempo Americana somewhat in the vein of early Nanci Griffith. It's a thoughtful and appropriately moody affair.
"The Place That We Had Known" is the album's figurative and literal centerpiece. It is a wistful, touching ballad whose lullaby feel is aided by some choice xylophone chimes tastefully dusted over gently fingerpicked guitar.
On "Good and Stuck," Krajacic lightens the mood. The song's mildly funky, acoustic groove feels a bit too buttoned down, but her clever wordplay more than makes up for the stifled rhythm. It's also a fine setup for the following cut, "Take Good Care," on which Krajacic lets loose with fiery grit.
The Solace EP closes on a re-recording of "Penny in a Jar," which FBA fans will recognize as a staple in the band's repertoire that originally appeared on the duo's self-titled 2003 debut. Here, Krajacic plays up the song's breezy, strutting feel to playful effect, rounding out a solid effort that should please bereft FBA fans and new ears alike.
The Solace EP by Karen Krajacic is available at cdbaby.com/cd/karenkrajacic. She plays the Big Picture Theater in Waitsfield on Wednesday, May 22, and at the Fresh Tracks Farm Vineyard & Winery in Berlin on Friday, May 24.