photos courtesy of Kamasi Washington
It seems that jazz is perpetually on the verge of being "over." Or, to borrow a phrase often uttered by Reuben Jackson, host of "Friday Night Jazz" on Vermont Public Radio: "Jazz is the greatest music nobody ever gave a damn about."
That quote originates from Jackson's father — and was slightly sanitized by the radio DJ. But recent numbers reveal the truth in that sentiment. Nielsen, the global data and information company, noted in its 2016 U.S. Music Year-End Report that jazz makes up only 1 percent of total audio consumption.
Jazz has rarely been mainstream. But, once in a while, a figure comes along who reinvigorates the genre and ignites interest beyond the hepcat set. Saxophonist, composer and free-jazz pioneer Ornette Coleman did it in the 1960s. Trumpeter Wynton Marsalis, along with the so-called Young Lions of jazz, energetically ushered in a new age of jazz classicism in the early 1980s. Miles Davis practically reinvented the genre every few years. More recently, mavericks such as Robert Glasper and Jason Moran have sparked attention. But figures that resonate widely with younger audiences are scarce in the modern era.
Enter Kamasi Washington. The saxophonist, composer and bandleader is being hailed by aficionados and neophytes alike as a bold new voice in jazz — and, in certain quarters, an outright savior of the genre. Washington and his band, the Next Step, headline the Burlington Discover Jazz Festival on Wednesday, June 7, at the Flynn MainStage in Burlington.
"For a long time, I wondered if anyone would come along who could really connect with this next generation," says John Gennari, a University of Vermont associate professor of English, jazz scholar and author. In his view, Washington is "a serious musician" who has the "kind of magnetism and charisma and cultural-political ambitiousness and presence" to do the job.
Washington burst onto the scene in 2015 as if from nowhere. Though the 36-year-old has been playing music his entire life, only in the last two years has he become a household name — or as close to one as a jazz musician can be in the 21st century. As UK website the Independent pointed out, his debut album, The Epic, sold more than 70,000 copies in its first six months. That's a rare feat for a modern jazz record.
The buzz about Washington began with his contributions to acclaimed rapper Kendrick Lamar's third album, To Pimp a Butterfly. Tracks such as the bebop/slam poetry hybrid "For Free? (Interlude)" place his work front and center.
Critics barely had time to catch their breath between To Pimp a Butterfly and The Epic — the first was released in March 2015, the second just two months later. (Washington had previously self-released a few albums, but those are largely unavailable.)
At nearly three hours and three discs, The Epic is aptly named. Its 17 tracks comprise a beastly lot of funk, free jazz, Afrobeat, bebop, swing and R&B. Basically, every descriptor even remotely jazz-adjacent has been attached to this musical odyssey. Aside from the core band of 10 or so musicians, the record boasts a 20-piece choir and 32-piece orchestra. Its wordless vocal swells and sensational strings add an eerily cinematic quality to the sweeping opus.
Reaction to the album was overwhelmingly positive from both critics and fans. As Mark F. Turner opines in his review for the website All About Jazz, "As fresh as anything in recent years, The Epic feels like a throwback to the past as it echoes the deep lineage of the likes of Sun Ra, John Coltrane and African American church music."
But the miracle birth of a new jazz icon is not simply because of Washington's appeal to genre enthusiasts; it's because listeners who had never particularly cared for jazz like him.
"I've had experiences where people say, 'I hated jazz before I heard you guys!'" Washington told Pitchfork in a 2015 piece titled "A New Standard: Kamasi Washington's Modern Jazz Revolution." So, how did he do it?
For starters, Washington is brilliantly talented and has been a dedicated student of music since he could walk and talk — verifying Gennari's "serious musician" assessment. As for firing up young folks, releasing a jazz album on über-hip label Brainfeeder is bound to garner some attention. And the political statements implicit in Washington's music are timely. Throw in family associations, industry connections and a little serendipity, and his arrival at the forefront of a new jazz guard makes perfect sense.
As National Public Radio's Patrick Jarenwattananon put it in a 2015 review, the saxophonist and his associates "remake the word 'jazz' in the image of their own generation."
A Turn of Phrase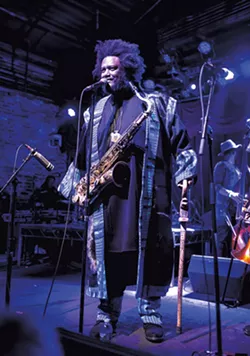 Whether he's remaking the word or not, Washington is reluctant to use it in describing his own music.
"I look at the word 'jazz' as just a term that's applied to help people recognize music that has a similar background," he says in a recent phone call, adding that the same can be said of the term "blues."
"The blues is a cultural musical staple," he explains. "It's a feeling. It's an idea. It's something that is one of the major foundations of African American music in a very abstract way.
"You listen to someone like John Coltrane [and] what he's doing, [and] if you really have a deep understanding of the blues, even when you look at stuff like Coltrane's Interstellar Space, you can still hear [it]," Washington continues. "But he's not really playing the blues the same way [as] someone like Muddy Waters. He just has a shared experience with Muddy Waters. And that blues is like the foundation of the musical expression of our experience."
Washington was born in Los Angeles in 1981, and his own experiences help to explain how his musical expression became so varied and dynamic. He was raised in a musical family: His mother, Valerie, is a flutist; his father, Rickey, also plays flute but primarily focuses on saxophone. A close family friend, Ronald Bruner Sr., is a session musician. The latter two played with megastars such as the Temptations and Diana Ross. Bruner's sons, Stephen, Jameel and Ronald Jr., are all musicians, too. Bassist Stephen, better known by his moniker Thundercat, prominently appears alongside Washington on To Pimp a Butterfly and The Epic, and just released his third studio album, Drunk.
After showing advanced academic and musical aptitude at a young age, Washington attended the distinguished Academy of Music and Performing Arts at Alexander Hamilton High School in West LA. Meanwhile, Reggie Andrews, a teacher at Alain LeRoy Locke College Preparatory Academy, began cherry-picking the most talented music students from all over the city to participate in what would be called the L.A. Multi School Jazz Band. Among them was Washington, whose father had once been a student of Andrews'.
The MSJB received quite a bit of attention, which opened doors. Through the band, Washington met influential collaborators such as Terrace Martin, Miles Mosley, Cameron Graves and Ryan Porter. That experience essentially laid the groundwork for what eventually became the West Coast Get Down, a loosely associated group of musicians that, over the next several years, collaborated, developed techniques and recorded the sessions from which The Epic was born.
Shortly after enrolling at the University of California, Los Angeles in 1999, Washington was tapped to accompany Snoop Dogg on an upcoming tour. Former Fishbone guitarist Marlon Williams was serving as the rapper's musical director and recruited the saxophonist on the recommendation of Martin, who had already joined the touring band, the Snoopadelics.
Unlikely as it seems, in playing alongside the Doggfather, Washington learned a new way of looking at music.
"When I started playing with Snoop, the perception was that [it] was going to be easy," he says. "It wasn't huge chords or long-form songs that have five sections [or] crazy-hard technical passages. But the [execution] of these seemingly simple passages was very detailed."
Washington explains that it's all about phrasing — the way that the notes are shaped and intoned.
"The phrasing changes how you feel the music," he says. "It can make you seem a little crazy to people who don't hear music that way."
In a phone call, Burlington-based saxophonist Brian McCarthy expands on the concept.
"When you're dealing with American popular music, whether it's jazz or current pop music, it's all the same 12 notes," he says, adding that the musical theory behind nearly all modern pop is practically identical.
"Jazz has a particular way of speaking — the language, the syntax," McCarthy continues. "If you're going to be a jazz musician, you need to speak that language. Same thing with R&B, hip-hop, blues, funk — these things have a syntax about [them], if you think of music as an abstract language."
In a sense, Washington's placement in Snoop's band was a crash course in musical communication, which years later benefited his turn as a bandleader. He refers to it as a "microscopic" view of music.
"I think all of us in the West Coast Get Down adopted that idea," he says. "It's not just about what you play, it's about how you play it."
Essential Epic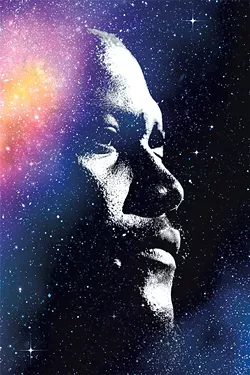 The impetus for The Epic came when Washington and his associates in the West Coast Get Down finally decided to lay down some material they'd honed during a residency at Piano Bar in Hollywood. In December 2011, they recorded a whopping 192 songs. Washington claimed 45 as his own; 17 of them formed The Epic.
"There was a cohesiveness," he says of those cuts. "They were on the same team. The 17 songs I picked were the ones that really captured the essence of the song in the way I wanted it to."
The Epic is somewhat of a concept album, though a prominent part of its narrative is something that Washington ascribed to it after it had been recorded.
In a lengthy 2016 feature by Adam Shatz in the New York Times Magazine, Washington tells the story of a series of interconnected dreams that center on a mythical mountain. At its base lies a village in which a group of young warriors live. Atop the mountain sits a gate, which a fierce guard protects. The warriors challenge the gatekeeper one by one, and each is defeated except for the last, who proves himself worthy of becoming the new guard. Eventually, he plans to bring the tale to life in the form of a graphic novel.
It seems to mirror, metaphorically speaking, how Washington and his West Coast Get Down brethren have come up in the LA jazz scene. As Shatz points out in his article, "Jazz celebrates youthful originality, but it also prizes respect, even reverence, for the music's founders."
The Epic's grand mythology could be related to this sense of obligation.
"I love John Coltrane. I love Charlie Parker. Before I tapped my own voice in music, their voices inspired me," Washington says. "I think that's inherent in a musician who loves music — there's going to be a reverence for those who came before them."
But Washington is unconcerned with proving a foundational knowledge of the genre.
"I look at music as being self-expression," he says. "I just make the music that I hear in my head.
"You're trying to interpret this thing that's really abstract [and] a bit beyond you," he continues. "But you hear people before you that have interpreted some of these messages in their own way. But, what they did — what Charlie Parker played — isn't what I'm trying to do."
That doesn't mean, however, that Washington is afraid to walk in his predecessors' footsteps. Three tracks on The Epic are not wholly original compositions. There's a rendition of Ray Noble's "Cherokee," a reinvention of Claude Debussy's "Clair de lune" and a composition called "Malcolm's Theme," which lifts text from actor Ossie Davis' eulogy of Malcolm X. The song also includes a sample from a 1965 speech given by the late human-rights activist.
Washington's rendition of "Clair de lune" struck a chord with VPR's Jackson. He uses the track as the theme song to his "Friday Night Jazz" program.
"When I first heard it, I thought, God, this is bigger than Obama," Jackson glibly tells Seven Days during an interview near his home in Winooski.
"There is a challenge inherent in recording something that's been done a lot," he notes. "How do you make it interesting for yourself, your band and for the audience?"
Jackson breaks down how Washington was able to create such a striking version of a piece he'd heard a million times before.
"It retains [a] dreamy kind of atmosphere," Jackson explains. "You hear the intro, which is quite similar to any standard, classical recording of it. And then suddenly you've got that slow backbeat. The groove is there. It's got a little more sweat in the arrangement. It retains that sensuality. It's kind of wistful."
Jackson is an accomplished critic with past bylines in his hometown Washington City Paper and the Washington Post, as well as acclaimed jazz pubs such as Jazziz, JazzTimes and All About Jazz. For 20 years he was the curator of the Duke Ellington Collection at the Smithsonian Institution. Jackson is cautiously optimistic that Washington might be more than just a passing fancy, though he points out an unfortunate trend regarding such figures.
"It's funny," he says. "The fact that so many young people are interested in him is considered almost like a negative."
Jackson goes on to explain the paradox: Jazz critics and aficionados of a certain age lament young people's lack of interest in jazz. But then, when someone comes along like Washington, whose boldness and ubiquity is somewhat unparalleled at the moment, they exclude him.
"No, not him," Jackson says, feigning indignity.
If there's a breakaway pop hit on The Epic, it's "The Rhythm Changes." At slightly less than eight minutes, it's one of the shortest cuts on the album. On it, vocalist Patrice Quinn sings, "Our love / Our beauty / Our genius / Our work / Our triumph / Our glory / Won't worry what happened before me / I'm here."
She undoubtedly sings of the black experience. In a piece for the FADER, writer Greg Tate associates Washington, Lamar and others in their sphere as the musical voices of the Black Lives Matter movement. While Washington was not the one to declare it, he does see his very existence as a representation of that movement.
"This idea of police brutality and the fact that it's treated as not a big deal is something I've dealt with my whole life," he says.
Washington grew up during a time of mounting racial tension in LA. He was 10 when taxi driver Rodney King was brutally beaten by police following a car chase. Caught on video, the incident sparked local riots and international outrage.
"You're a kid who's never done anything, and you see a police officer. You don't feel safe," he says, recalling his youth growing up in South Central. "You feel like something bad is going to happen to you."
As the Independent's Phil Johnson described him, in person Washington is a "large, slightly shambling figure." But he exudes intensity, even in photographs.
"I've been a large African American male since I was 12," Washington says. "And so I understood that I was looked at as a threat, for no reason. I was a straight-A student. [I] spent most of my time in my room practicing saxophone — but I'm a threat."
Aside from The Epic's dream-fantasy narrative, the album could be seen specifically as a declarative statement about Washington's experience as a black American, especially considering that the penultimate track is an ode to Malcolm X.
"My music is a reflection of who I am and where I've come from," he says. "And so I am the Black Lives Matter movement, essentially."
Political Counterpoint
Washington's latest work is a high-concept, multilayered piece called Harmony of Difference. The Whitney Museum of American Art in New York City commissioned it as part of its 2017 Biennial, which is regarded as one of the most prestigious art exhibitions in the world. The installation is on view through June 11.
"At first, I was thinking of how I can mix a few of the things that I'm interested in into one thing," Washington says. "I've always been into film, comic books, fantasy — stuff like that. I was playing around with different ideas of how to combine those things."
Around the same time, the reality that Donald Trump might become the Republican nominee for president began to set in. "[It] stopped being a joke and started becoming a real thing," he says.
As Trump turned immigration into his flagship issue, Washington began to articulate what the piece should be about.
"All of a sudden it was like the diversity that exists in this country ... was being portrayed [as] a problem," he says. "I grew up in Los Angeles, and it's really, really diverse. Most of the cultures from around the world have some kind of representation here. That's always been super cool to me. So I was thinking, Maybe I should deal with that."
Trump's victory in November sealed the deal for Washington. Diversity and difference would be the foundation for his new project.
The masterwork in the piece is a six-movement suite, also called Harmony of Difference. He'll release it as an EP at some point this summer, on yet another hip indie label: Young Turks.
"I use a lot of counterpoint [in my music]," Washington says, explaining that many of his songs — bass lines, chord changes and all — are actually built upon three melodies.
"It kind of mirrors the same thing that's going on with society," he says. "The melodies have their own agenda. And then when you try to put them together, you have to adjust and move them a little bit. But as you do that, you get them to come together, and it's the most beautiful way to make music, in my opinion."
After he'd composed and recorded the music, Washington's sister, Amani, created five abstract paintings to accompany the suite's first five movements: "Desire," "Humility," "Knowledge," "Perspective" and "Integrity." In the installation, several mounted screens display the paintings as Washington's music plays through a sound system.
Barcelona-born A.G. Rojas, who's noted for his video work with hip-hop duo Run the Jewels, directed an art film to accompany the movement's final piece, "Truth." Unlike the first five audio-visual components, which can only be seen at the Whitney, the final piece was released on YouTube in April.
Through the film's locations and people, even the manner in which they are shot, viewers see a world teeming with difference and beauty. An intimate gathering of women feels vaguely funereal. Two men engage in an intense wrestling bout that looks more like modern dance than a fight. A young boy washes his face. Ethereal shots of the beach are bathed in blue light. Meanwhile, the musical themes from the first five movements converge.
"I tried to extend myself beyond what I normally do," Washington says of Harmony of Difference.
Washington will undoubtedly continue to challenge himself, and his growing legion of admirers. Whether or not he's truly the next jazz icon is, predictably, a debated subject. And he's certainly not the first to be burdened with that label and its attendant expectations. But UVM's Gennari thinks the musician is a good bet to lead the genre's new generation.
"Washington represents an amazing breakthrough [in] the way that he's inserted himself into popular culture," the scholar says, adding that he was surprised when his students began buzzing about the saxophonist. Usually, it's him who's trying to get his students excited about up-and-coming artists.
"There really hasn't been a figure since John Coltrane," insists Gennari, "who has created the kind of broad-based cultural excitement associated with the jazz tradition."