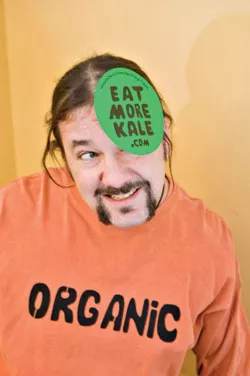 Andy Duback
Bo Muller-Moore
It's catchy, quirky, cryptic, trendy. It also leaves people scratching their heads. Eat More Kale?
In the past five years, these three words — in their distinctive, stubby black typeface — have become part of the central Vermont landscape, culture and vernacular. You've seen them printed on T-shirts, and on round green bumper stickers affixed to the backs of cars and trucks. Go to a website called eatmorekale.com, and you can even purchase the motto on an organic cotton onesie for your bouncing baby.
So is it a hippie mantra? A plea from the Kale Growers' Council? Or just whimsical wordplay?
Only the Eat More Kale guy knows.
Meet Bo Muller-Moore, 36 — a self-described "old rock-and-roller and localvore" who holds a Bachelor's degree in folk history from Alabama's Auburn University. He moved to Vermont 10 years ago after seeing his cousin, snowboarder Abe Teter, one night on ESPN. "I just thought, 'You know, I need to live in some place with a mountain nearby. I'd like to get out of the city," Muller-Moore recalls. So he packed up and drove from Birmingham to Vermont, bringing along his stereo, a cat and a pet python.
He landed a job in the learning services department of Montpelier High School — where, on his first day of work, he met his future wife, Melissa, and future foster child, Seamus.
Melissa and Montpelier High School both helped inspire Muller-Moore's successful T-shirt business. Melissa gave him a beginner's silk-screening kit for Valentine's Day five years ago. The first shirt he made bore the inscription "Cheese" — he just liked the word, he says. When he wore his Cheese shirt to work at Montpelier High School, "I had more people mention that one shirt," he remembers. A few teachers even ordered their own.
Aside from delivering Meals on Wheels three times a week to the homebound, Muller-Moore doesn't work with food. But keeping it simple, he came up with more food-related designs and phrases, including his personal favorite: Lettuce Be. Sadly, that one was doomed to obscurity: "I couldn't give it away. Nobody liked it."
In 2002, Muller-Moore took his T-shirts to the Montpelier Farmers' Market. There they caught the eye of Kate Camilletti and her husband, Paul Betz, of Highledge Farm in Woodbury. Camilletti asked Muller-Moore if he would make her just one shirt bearing the words "Eat More Kale." "I don't care what it looks like," he remembers her saying. "I have no opinion on the layout. But if you make one for me, I'll buy it."
Muller-Moore did, creating the unique typeface, he says, by tracing his fingers and thumbs. Not wanting to waste plastic, which he buys from the Re-Store in Montpelier, he cut the letters from a piece of paper, printed the one shirt, and threw away the soggy paper stencil. Thus an unlikely icon was born.
The T-shirt was an instant hit. "At that farmers' market I had three or four people approach me," Muller-Moore remembers. "'That's the greatest shirt ever. May I have one?'" Since the idea wasn't his, he asked Camilletti if he could use her words. She gave him her blessing, requesting only that, should Muller-Moore become successful in his Eat More Kale venture, he give her a free shirt at the end of the year.
"I never dreamed that I would at one point call my business Eatmorekale.com," says Muller-Moore wryly. But those words have meant money. Besides giving away close to 5000 round green Eat More Kale bumper stickers annually, Muller-Moore has hawked his creations on the site for the past five years. At the end of his first year, he says, he racked up $2000 in T-shirt sales.
But he had a dismal time raising that number, owing to the limitations of his website; a friend built it for $20. Three years ago, Muller-Moore invested $4000 in a professionally designed site — and watched his sales take off. He now gets 80 to 100 hits a day from around the world, and estimates that he does 90 percent of his business on the web.
Producing — and shipping — the hand-made shirts in his Montpelier studio has become Muller-Moore's full-time job. It's still a one-man operation but last year the business grossed $25,000 in T-shirt sales.
He's also created 200-plus original designs, mostly animal silhouettes, and a handful of T-shirts with political messages. Muller-Moore says the reaction to his political shirts has been lukewarm, with the exception of one design that shows George W. Bush wearing Mickey Mouse ears — the creation of a South American artist who "was asking for other stencil artists to spread the word. He even offered the stencil online," Muller-Moore says.
But Eat More Kale is — and always has been — the Vermonter's biggest seller. "I describe myself as a one-hit wonder, but the cool thing is it remains on the charts," he says with a laugh.
Muller-Moore admits he isn't exactly a lifelong devotee of the leafy, iron-rich green — indeed, until he moved to Vermont, he was a stranger to its joys. "Kale? I knew what it was, but I had never cooked with it," he says, sitting in the studio above his Montpelier garage, which he shares with an albino gecko named Blondie.
These days, though, he avers, the Muller-Moore household eats kale at least three times a week: "Anywhere from kale pesto . . . We've been broiling kale and making kale chips out of it. We add it to omelettes. Add it to stir fry." He figures he consumes at least a few pounds of the green stuff every month.
While he has given up his booth at the Montpelier Farmers' Market, Muller-Moore still sells his shirts in person — mostly at large-scale music festivals, such as the Falcon Ridge Folk Festival, the Champlain Valley Festival and Solar Fest, where Canadian folkie Ember Swift bought one of his Eat More Kale shirts last year. He'll take his wares "anywhere that I get middle-aged people who are foodies and often music fans," he says.
Muller-Moore has rubbed shoulders with a few celebrities over the years. He designed the tee for Jackson Browne's two concerts at the Barre Opera House last year, and has been asked to make a new one for Browne's upcoming March 31 concert in Barre. Trey Anastasio owns one of Muller-Moore's moose-silhouette designs, the artist says, and his cousin, Olympic gold medalist Hannah Teter, wore one of his Celtic circular wave designs on MTV.
Though paparazzi proof is lacking so far, actor Woody Harrelson might just sport one of the Eat More Kale shirts in his off hours, too. Three years ago, the Muller-Moores met Spearhead's Michael Franti on a jam cruise vacation in the Caribbean. On his way to Hawaii to visit Harrelson, Franti asked for an extra shirt to give the star. "He thought Eat More Kale was a beautiful message and loved the succinct nature of the message," Muller-Moore recalls. He always carries extra shirts for just such occasions.
His real dream, though, is to see his hero, Willie Nelson, wearing an Eat More Kale T-shirt. Muller-Moore plays drums and percussion in a trio called Rogue Birds.
The unlikely phrase seems to be catching on everywhere else. It's especially popular in Wisconsin, Michigan, both Portlands (Maine and Oregon), the D.C. area, Asheville, North Carolina, Brooklyn and New York City. "Often exchange students or global peace work volunteers take my shirts to far-off locations: China, France, Switzerland, Kazakhstan," he adds. A customer named "Christina," quoted on Muller-Moore's website, reports that in some circles, the shirt is almost too good a conversation starter: "We couldn't get more than 5 feet without someone stopping us with a question, a story, or a recipe. Lots of thumbs-up and smiles, but if we wanted to get anywhere, we had to obscure the text!"
The phrase appears to strike such a chord that some enterprising individuals across the country have started offering their own Eat More Kale shirts online. Muller-Moore sent emails to the copycats, asking them to cease and desist: All but one has.
Locally, Eat More Kale has also been the subject of various knockoffs and parodies: Eat More Veal, Eat More Oats and Eat More Meat. Muller-Moore takes these in stride. Of Eat More Meat, he says, "The moment I saw it, I felt as if Weird Al [Yankovic] had parodied one of my songs."
And it's a parody he can laugh along with . . . all the way to the bank. For Muller-Moore, Eat More Kale has led to a successful cottage industry and given him a taste of notoriety.
But the phrase remains enigmatic — even to him. "I kind of like the ambiguous nature," Muller-Moore muses. "I often say, 'Well what does it mean to you?' It doesn't say eat fewer chocolate chip cookies, or don't eat a hamburger. It doesn't say eat only kale. It says eat more kale."
*******************
Lesbian Kale Sauce
Submitted by Holly Rae Taylor
This originated with Anya Schwartz — who probably got it from some hippie cookbook — but I came up with the name, so I think that counts for something. I've never actually seen it written, so I'm kinda winging it here.
Mix together:
5 tablespoons balsamic vinegar
5 tablespoons tamari
2 dashes sesame oil
3 tablespoons water
1 nub ginger, grated
1 clove garlic, minced
1 tablespoon sugar (optional)
1 tablespoon Dijon mustard (optional)
1 tablespoon wasabi
½ cup toasted sesame seeds (toast the seeds with a pinch of sea salt; sprinkle some seeds in the sauce and the rest on the kale)
Adjust everything to taste
Two perfectly acceptable ways to enjoy Lesbian Kale Sauce:
1. Dip steaming hot steamed kale directly into sauce, one fork- or chopstickful at a time
2. Pour sauce over a big beautiful bowl of steamed kale, toss, and serve!
Penne with Kale, Olives and Feta Cheese
Using the pasta water to quickly boil the greens makes a hearty one-pot meal with plenty of bold flavors. Be sure to cook the greens until just tender. If they overcook, they will taste flat and waterlogged.
Serves 3 to 4
1/4 cup chopped flat leaf parsley
1/2 teaspoon lemon zest
1 garlic clove, smashed to paste
1 bunch kale (about 1 pound), washed, thick stems removed, and cut into 1- to 2-inch strips (8 to 10 cups)
12 ounces penne
3 tablespoons extra virgin olive oil, plus more for drizzling
1/2 cup crumbled feta (about 3 ounces)
1/2 cup black olives, such as kalamata, pitted and coarsely chopped
In a small bowl, combine the parsley, lemon and garlic, and set aside.
Bring a large pot of salted water to a boil. Drop the kale in the water, and boil until just tender, 4 to 6 minutes. Be careful not to overcook. Using a skimmer, transfer the greens to a colander to drain, and return the water to a boil. Add the pasta to the pot and cook until al dente. Drain, reserving about 1/2 cup pasta cooking water.
Return the pasta to the pot, add the greens and olive oil. Toss to distribute. Add the feta and olives and toss again. If the pasta seems dry, add a few tablespoons of pasta cooking water. Serve in warm pasta bowls, sprinkling each bowl with the parsley mixture and pouring a thread of olive oil over each.