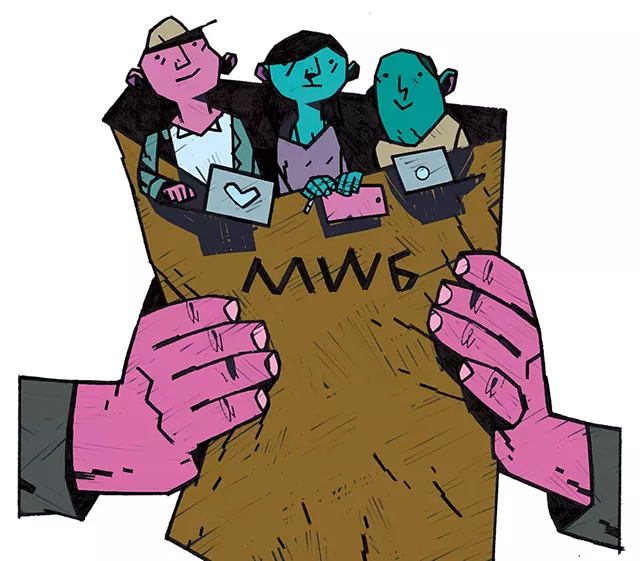 Vermont's homegrown tech firm MyWebGrocer has a new out-of-state owner. An official from the landmark Winooski company put a positive spin on Monday's news that it had been purchased by Miami-based Mi9 Retail. While acknowledging that "four or five" employees had recently been let go, president of retail solutions Barry Clogan claimed that none of the 150 employees remaining in the company's historic Champlain Mill headquarters would lose their jobs or be forced to relocate.
Mi9, which offers an array of digital services to retailers and wholesalers around the world, announced in a press release that it was eager to incorporate MyWebGrocer's custom expertise.
Along with Burlington's Dealer.com, MyWebGrocer has been a bulwark of the local tech scene, luring talented and well-paid software engineers and programmers to the region. It has also fueled Winooski's downtown revitalization.
The company's rehabbed offices will stay open, Clogan said, but the "MWG" sign on the side of the brick building will likely be replaced by its new owner's branding. Neither buyer nor seller would release other details of the deal, including the purchase price.
"It's wonderful for MyWebGrocer. It's very positive for the team here," Clogan told Seven Days. "It's onwards and upwards."
MWG had experienced a series of setbacks before the sale went through, most of which can be attributed to increasing competition and rapid changes within its narrow niche in the market, industry analysts said. Since 2013, when it employed 300 people in Vermont, the company has halved its local workforce. At least two rounds of layoffs have occurred in the past three years.
Some departing employees expressed their feelings on a website that posts anonymous reviews of U.S. companies and their management. Though not all negative, their comments on Glassdoor generally portray MWG as an enterprise plagued by uncertainty, with workers constantly braced for layoffs. Titles of posts include "Get Out While You Still Can," "Chaos All Year Round," "A Story That Begins Well but Ends Tragically," "It's After the Titanic Splits in Half" and "Higher Attrition Rate Than the Great Wildebeest Migration."
It didn't start that way.
Brothers Richard, Brian and Jerry Tarrant launched MWG in 1999. The Burlington natives and University of Vermont graduates are the sons of Richard Tarrant Sr., who cofounded health care software company IDX Systems and sold it to General Electric in 2005 for $1.2 billion.
The second-generation entrepreneurs built MWG by creating and maintaining websites and digital sales initiatives for grocers and manufacturers of consumer packaged goods: food, beverages, cleaning products and toiletries. For example, it helps some of its customers distribute digital circulars to consumers on a phone or laptop.
MWG also helps its clients with digital advertising.
For years, the company brought just about every major supermarket chain on board, benefiting from its first-mover advantage. In 2012, Jerry Tarrant told Seven Days that the company had been growing at an annual rate of 40 percent for five years.
By then, the Tarrants had purchased and totally rehabbed the historic Champlain Mill and moved the company there. MWG took over the top two floors of the building, and the Tarrants said they planned to keep much of the rest of the building vacant, to allow for future expansion. Their offices became a go-to stop for politicians touting economic success.
MWG had an enviable corporate culture, too. Employees had a rec room with a Ping-Pong table, arcade games and foosball. The company hosted bocce tournaments on its lawn and bought beer for employees on Fridays.
In June 2013, the Palo Alto, Calif., equity firm HGGC bought a controlling stake in MWG. The purchase price was not disclosed at the time, but HGGC, which has gobbled up a series of tech companies, later revealed that it paid $154 million. The firm left the Tarrants in charge and helped the company open an office in Dublin, Ireland.
In August of that same year, Inc. magazine named MWG one the nation's fastest-growing private companies.
But the firm soon started struggling to keep up with the competition, according to former employees and industry analysts who shared their insights with Seven Days. Randy Hofbauer, digital and technology editor of the industry publication Progressive Grocer, said MWG was "one of the early names that you heard" in the online grocer world.* But "it doesn't matter how long you've been around," he added, "because it's about what you offer now."
Giant, deep-pocketed companies such as Amazon, Walmart and Target have made increasingly aggressive moves into the grocery industry. They keep their tech operations in-house, either by hiring personnel or gobbling up smaller firms, and don't generally hire outfits like MWG that charge a monthly subscription fee for their services.
Target bought e-commerce start-up Shipt, and Walmart bought Jet. Kroger, a national grocery chain, announced in July that it was building a digital headquarters in downtown Cincinnati to house 1,000 workers. Amazon, which bought grocery chain Whole Foods Market in 2017, doesn't need any help with e-commerce.
Those behemoths are starting to exert pressure on regional players such as Shaw's, Price Chopper and Hannaford — relatively smaller companies in the sector that MWG serves.
"It's a super competitive environment, and the weaker players seem like they're losing ground to the stronger players," said Joe Feldman, a grocery industry analyst from the New York City firm Tesley Advisory Group. He suggested that MWG's challenges could be a result of "their core clients ... having a tougher go of it."
By all indications, MWG was well aware of the threat.
In June 2017, after Amazon bought Whole Foods, then-CEO Rich Tarrant Jr. said on NPR's "All Things Considered" that traditional grocery stores were at least 10 years behind Amazon.
"As Amazon gets this ramped up and pushed out, I think we'll see a lot of brick-and-mortar supermarkets closing doors in the next four to five years," he said. In a brief interview last Friday, Brian Tarrant said that his family still had a small ownership stake in MWG, but that Rich departed last year, ending the family's involvement in day-to-day operations. He declined to say anything else about the company.
It's not just MWG's clients that are dealing with increased competition. The market is "flooded," Hofbauer said, with tech companies that specialize in the kind of work that MWG does. For example, Instacart, a tech company that operates a same-day grocery delivery service, has generated significant buzz since its 2012 launch.
"This is all kind of coming together — the big companies developing their own infrastructure and buying up tech startups, and smaller retailers having so many options to choose," Hofbauer said. "It means there might be companies in that space falling by the wayside."
Clogan has a different take. He said Amazon's purchase of Whole Foods and entry into the grocery market was "the best thing to happen to MyWebGrocer" in recent years, forcing Amazon's competitors to react.
"It's a real catalyst for existing customers and new customers to realize this is not a phase; this is something they have to invest in," Clogan said.
But for several former employees, who were unwilling to go on the record for fear of jeopardizing future job prospects, MWG's problems went beyond external factors: The company may have suffered some self-inflicted wounds. Its primary software offering, the Digital Experience Platform, had more than its share of bugs and frequently stopped working, they said. After hours, someone on staff had to be on call in order to respond to online emergencies.
Clogan said MWG significantly improved its software in the past 12 months. He said its enhanced products placed the company "ahead of the market," and he cited some recent deals his company has signed. In June, MWG expanded its relationship with Texas outfit United Supermarkets, and in July it announced that King Kullen, a Long Island, N.Y., grocery chain, had agreed to do more business with the company.
"We transitioned and changed and reacted to a significant change in the marketplace," Clogan said on Monday. "Maybe we should have done one or two of those things sooner, but really, we're comfortable with the progress we've made. All tech businesses need to go through some transformation."
Clogan insisted the future of the operation under the Mi9 flag looked bright, in no small part because MWG can now access its parent company's portfolio of 500 clients in 80 countries.
"We're celebrating here," he said.
Four days earlier, it was a different scene on the fifth-floor offices at the Champlain Mill. No one was at the receptionist's desk, and the place looked all but abandoned. Downstairs, the game room was locked and dark. But there was enough light streaming in through the windows to see that the idle Ping-Pong table had accumulated a thin layer of dust.
*Correction, October 17, 2018: An earlier version of this story misstated Randy Hofbauer's job title — he's the digital and technology editor at
Progressive Grocer
.