Courtesy Of Newport Police Department
K-9 Ozzy
Since being certified for patrol last November, K-9 Ozzy of the Newport Police Department has made a habit of saving the day. The 2-year-old Belgian Malinois' exploits include successfully tracking down suspects following a high-speed stolen car chase, sniffing out dope in a major drug bust and, maybe most dramatically, assisting in a manhunt for a pair of kidnapped detectives.
Those first two cases made headlines in Newport. The last one was, well, entirely fictional. The missing detectives are the main characters of Carol Kravetz's new book The Obsession, which is the fourth and latest installment in the Irish crime novelist's self-published series The Bathville Books. Ozzy and his human, Officer Joshua Lillis, are key characters in that sprawling tale, which is set in Newport and was released in April.
Thanks to his work taking a bite out of crime in the Newport area, not to mention his literary cameo, Ozzy has become something of a local celebrity. According to Lillis, he's routinely recognized while the two are out on patrol.
"It kinda caught me off guard," Lillis said of Ozzy's growing renown. But he believes his four-legged partner deserves the acclaim.
Lillis noted that, with "the right drive and the right temperament," any breed can become a police dog. Belgian Malinois, however, are particularly well suited to the job because of their "high energy and high drive," he said.
"They're incredibly intelligent, and they love to be challenged," Lillis continued. "They're a phenomenal dog for police and military work."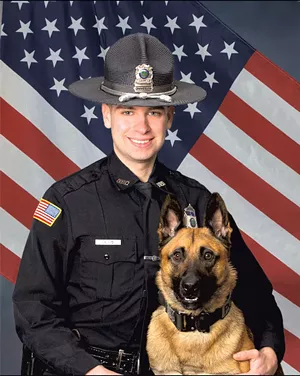 Courtesy Of Newport Police Department
Officer Joshua Lillis and K-9 Ozzy
Lillis has worked and trained with other police dogs, but Ozzy is the first under his care. The pooch technically belongs to the Newport Police Department, but Lillis is his primary handler.
Ozzy is what's known in police dog parlance as a "dual-purpose dog": certified, with help from the nonprofit Vermont Police Canine Association, in both patrol and detection. He's trained in officer protection, criminal apprehension, tracking, evidence recovery, building searches and drug detection. In short, he's a badass.
"Yeah," Lillis agreed. "He loves to work, that's for sure."
Ozzy's first deployments, including the drug bust and car chase, were successes. The latter was especially harrowing. The pursuit of a stolen SUV covered more than 50 miles through several towns and across lawns and fields, with speeds in excess of 100 miles per hour.
The chase ended when the suspects drove down a logging road that was impassable to police cruisers. When the suspects ditched their stolen car, Lillis deployed Ozzy to track them on foot — which he did for more than a mile before the duo apprehended the suspects.
The press attention from that case is how Kravetz, who lives in Northern Ireland, discovered the dog and Lillis. The author, who was researching both Newport and police dogs online, reached out to Lillis with questions about how a K-9 team would be used in tracking situations.
"The more questions I asked, the more interested I became," said Kravetz by phone. "Joshua couldn't have been more helpful." She sent Lillis drafts of her story. He responded with feedback on how K-9 teams would or wouldn't operate, and how a police dog would react when it found something.
"I was overwhelmed with his generosity," Kravetz said of Lillis. As for Ozzy, she opined, "He's an incredibly handsome dog."
Ozzy may be even more striking in his smart new vest. It was recently donated to the Newport PD by the East Taunton, Mass., nonprofit Vested Interest in K9s, which provides protective vests to law enforcement dogs throughout the country.
Ozzy's vest is bullet- and stab-proof. Lillis says such protection is essential for K-9 units.
"Every police officer is equipped with [a bullet-proof vest]," Lillis explained, adding that the vests might be even more critical to K-9s than to their human colleagues.
"If they face any suspect, it's pretty up close and personal," he said of police dogs. "They only have one way to apprehend them."
At least one pair of alleged car thieves in Newport could attest to that.