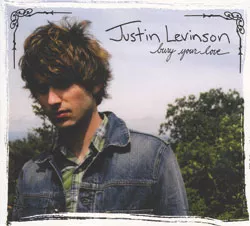 Justin Levinson, Bury Your Love
(Outtake Records, CD)
In the wacky world of music criticism, there's really nothing like a hyperbolic comparison to ruin your first impression of an artist. Honestly, I really should know better by now, because I fall for it every time. From now on, when I read about the "next" Elliott Smith, John Lennon or — the music scribe's most unforgivable transgression — Bob Dylan, perhaps I'll just roll my eyes and turn the page like I know I should. But what can I say? I'm a sucker. I really want to believe that (insert unknown artist's name here) channels (insert legendary music figure here). But they never do. Sadly, such is the case with Boston-based singer-songwriter Justin Levinson. Suckered again. Vergennes-born and Berklee-trained, Levinson is frequently compared to piano-pop icon Ben Folds. On his new record, Bury Your Love, it's easy to see why. But it's not really true. And it's certainly not fair.
Levinson has an obvious affinity with Folds. In particular, the disc's fourth track, "Daisy May," is a passable knock-off in both style and feel. But where Folds' work — particularly his early stuff — exudes off-the-cuff wit and charm, Levinson's attempt is, well, academic. Does Berklee offer a "Ben Folds 101" class?
Hero worship aside, Levinson displays the deft musicianship and arranging abilities one would expect from a graduate of the country's premier musician factory. The pianist has inventive, often gorgeous musical ideas and typically executes them with grace. But, like his debut album, 1175 Boylston, his latest effort is hindered by clumsy and spiritless wordplay.
"Baby you're a shooting star, but you're always painted blue /You should be shining high above the skies, but no one can see you," he sings on album opener "Heavy Weight." The song is a lament about a Debbie Downer-type lover whose sour worldview is straining their relationship. We know this because Levinson pretty much spells it out for us with near-patronizingly straightforward lyrics. Simplicity is a virtue, but so is guile.
Levinson's vocal performance suggests he knows he's pretty much phoned it in. Though his technique and pitch are solid, he often sings as though he can't wait to get to the end of the song. His delivery lacks any sort of urgency or passion, and gives the listener precious little reason to engage with his material. We can't care if you don't, man.
Justin Levinson certainly has chops and a keen sense of pop archetypes. But book-smarts can propel one only so far. You just can't teach soul.
Levinson celebrates the release of Bury Your Love this Friday at The Skinny Pancake in Burlington.