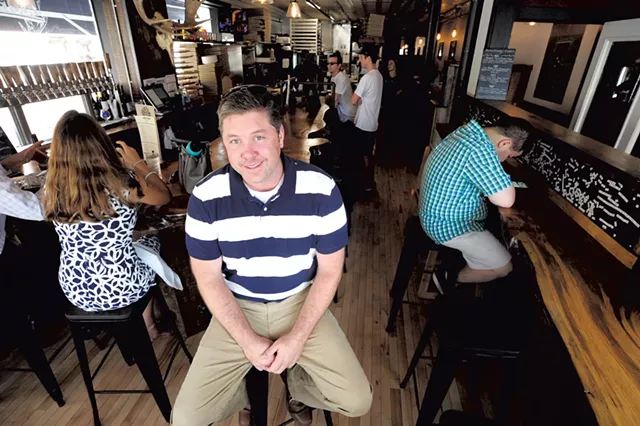 Jeb Wallace-brodeur
Justin Bourgeois
When their deal went down last week in Northfield, the banker and the brewers celebrated with glasses of a beer called Same Old, Same Old.
In fact, there was nothing "same" or "old" about the beer the men drank that day at Good Measure Brewing. Same Old, Same Old is unique and new: a sour brown ale that brewer Andrew Leichthammer made with an assortment of backyard berries.
Still, the gathering at the brewery, promising as it was, had one aspect of "same old" to it. Once again, banker Justin Bourgeois was there with a stack of papers to sign, lending money to jump-start another Good Measure project.
"We're in for a lot of frickin' money," said Scott Kerner, co-owner of Good Measure in Northfield and Three Penny Taproom in Montpelier. Over the past eight years, he's signed several loan agreements with Bourgeois, a commercial lender with Community National Bank in Derby. They range from a $60,000 loan to help open Three Penny in 2009 to two transactions this month that dwarf that first deal.
The first, in early September, was to purchase the Good Measure building, a former IGA grocery store on East Street in Northfield. The second deal will finance equipment for a coffee-roasting company, Carrier Roasting, which Kerner plans to open in the same building. The loan will also fund more brewing equipment, including a micro-canning line that will enable Good Measure to start canning its beer this fall.
This deal marks the first time Kerner has real estate for collateral — a big step up from the forks, knives and picnic tables he's traded on in the past.
"Justin is more than a banker; he's a confidante, an adviser, an agitator," Kerner said. "He makes things happen and keeps us on track. We're sticking to our dreams that we all talk about and sticking to our ideals. Justin helps that kind of creativity and vision be possible.
"I feel like other loan officers would kind of focus strictly on the numbers," Kerner continued. "What Justin is super good at is not just understanding the numbers but understanding the people and understanding the market."
Bourgeois' vision has clearly helped to expand Vermont's food and beverage industries. The businesses that he has financed through CNB include the Alchemist in Stowe, the Mad Taco in Waitsfield and Montpelier, the Blue Stone in the Mad River Valley and central Vermont, Misery Loves Company and the Mule Bar in Winooski, Runamok Maple in Cambridge, and Caledonia Spirits in Hardwick.
In all, Bourgeois estimates that his commercial loan portfolio includes $35 million for food and drink businesses in Vermont, or about 40 percent of his total.
"His portfolio represents all the things that have happened that are trendsetting in Vermont in the last 10 years," said Justin Heilenbach, cofounder of Citizen Cider and another Bourgeois client. "This is a national food and beverage industry that is being seeded here."
His own relationship with Bourgeois started when the banker "took a flyer with us," Heilenbach said, recalling that Bourgeois approved a $60,000 loan when the cidery had two employees and four bar stools. Other banks "wouldn't touch us," he added. With Bourgeois and his colleagues at CNB, "It's a totally different kind of relationship, an old-style banking approach."
Bourgeois remembers having a hard time finding Citizen Cider, then in a back alley at Fort Ethan Allen in Colchester. But he scoped it out, was handed a glass of Unified Press and had a drink.
"I love this!" Bourgeois said he told the cidermakers. "We gotta make more."
Now, some five years after that initial loan, the two Justins — Bourgeois and Heilenbach — are business buddies. Last week, their meetings took place in a Honda Pilot at Waterfront Park in Burlington for a change of scenery, and over a lunch of ice water and mac and cheese — one plate, two forks — in Citizen Cider's barroom. If their MO remains the same, the dollar figures they now kick around have grown exponentially: Bourgeois is financing Citizen Cider's expansion as the cidery moves its apple-pressing operation from Middlebury to Burlington's Flynn Avenue. Another phase of the project could include a new tasting room.
"I'm not motivated by putting money on the books," Bourgeois said. "I like a good story. I'm interested in growing things and creating things. This fits my lifestyle. It feels good. It feels genuine."
Bourgeois' own story started 41 years ago in Swanton, where he grew up picking apples and making hard cider at the family's 1,000-tree orchard. He played first base at Missisquoi Valley Union Middle/High School and still possesses the youthful qualities of an adolescent ball player: affable and eager, with the drive to make things happen.
Justin's father, Michael Bourgeois, was a 40-year member of the Vermont National Guard. His mother, Sheralyn Bourgeois, is a retired school librarian. Older brother Sean is a cop in St. Albans, and uncle Steven Bourgeois was president of the Franklin Lamoille Bank there. Every Friday, Justin Bourgeois recalled, Steven would trade his office for a desk in the lobby to make himself available to bank customers.
After graduating from Champlain College in 1998 with a business degree, he worked at Banknorth for 10 years before starting at CNB. There, Bourgeois borrows his uncle's technique: He routinely leaves his Montpelier office and heads to the bars, restaurants and sugar shacks that he helps to fund.
"The most important thing you can do is interact," Bourgeois said. "I really am out more than I'm in."
Sally Pollak
Left to right: Andrew Leichthammer, Justin Bourgeois and Scott Kerner at Good Measure Brewing
He has helped clients brew and taste-test beers, name drinks and run an irrigation line. It's fun and "a vibe-builder," he said.
Bourgeois lives in Middlesex with his wife, fellow banker Anita Bourgeois, and their two children. It's a good location from which to prowl for beer and burgers; he averages 20,000 miles a year driving around central and northern Vermont.
Kathy Austin, president and CEO of CNB, called Bourgeois "an unconventional lender." He is one of nine commercial lenders at the bank, she said, which has 135 employees at 12 branches in Vermont.
"I think his personality and style is quite suitable for working with these entrepreneurs who are creating this food and beverage industry that's been growing so rapidly in Vermont," Austin said. "He becomes very interested in their businesses and wants to counsel and help them. And he's creative about findings ways to help them."
He's an unconventional lender, perhaps, but one who can schmooze in standard bank-speak and make it sound interesting. "We manage risk," he'll say with a smile, or "We sell money."
Securing a loan, Bourgeois explained, is a "three-legged stool" built on cash flow, collateral and a personal guarantee. Bourgeois likes to employ a fourth leg, too, a kind of ace in the hole: the U.S. Small Business Administration. The federal agency has an office in Montpelier that guarantees small business loans. CNB is the SBA's top moneylender in fiscal year 2017, according to Dan Monahan, the public information officer.
"They're a preferred lender," Monahan said of CNB. "They do loans so well and so often, they have permission in advance."
Bourgeois' first food and beer client, some dozen years ago, was the Alchemist. Then, Jen and John Kimmich were owners of a brewpub on Main Street in Waterbury. Bourgeois financed the purchase of that building, the construction of the Alchemist's production brewery and cannery on Crossroad in Waterbury, and the $11 million brewery off Mountain Road in Stowe. Bourgeois secured $8 million in loans for the Stowe project, Jen Kimmich said.
"It's fun and it's easy" to work with Bourgeois, she added, noting two experiences that were particularly valuable.
The opening of the Waterbury production brewery in September 2011 coincided with Tropical Storm Irene, which caused extensive damage to the Alchemist's brewpub. Bourgeois showed up at the brewery for days in a row to work with the Kimmiches. He helped the couple navigate through a disaster when they were overwhelmed.
"He just had such a calm sense," Kimmich said. "He was so reassuring: 'We got this. Let's start with the floor cleanup.'"
For the Stowe brewery, the Kimmiches were committed to installing a $1 million state-of-the-art water-treatment system that would minimize the environmental impact of the beer production. But because the technology is not required by regulation, it was more difficult to finance, Kimmich said. But, she added, "Justin sold it to the bank."
Bourgeois says his lending choices are straightforward: If he likes to eat or drink something, he'll finance it. And so it was that he dropped by the new Blue Stone restaurant in Montpelier a few days before it opened in early August.
The owners were pleased to pour Bourgeois the first beer from their tap line — a Fizzy brewed by Good Measure — and cheer the beer, the bar and the new business. The restaurateurs and their banker had first worked together in 2014 on a renovation loan for the original Blue Stone in Waterbury. That interaction "opened the door for our relationship to grow," according to co-owner Vinny Petrarca.
"He liked our chicken wings and pizza," Petrarca recalled, "so he was good to go."