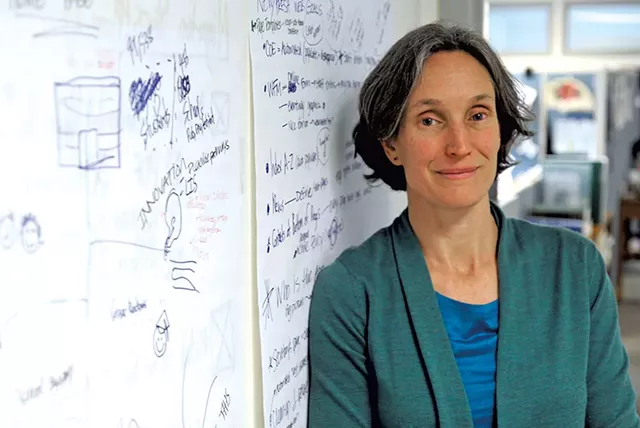 File: Jeb Wallace-brodeur
Education Secretary Rebecca Holcombe
According to the civics textbooks, the lawmaking process works like this: Legislators pass a bill. If the governor agrees, he signs it into law, and his administration carries out its dictates.
This year, Vermont Education Secretary Rebecca Holcombe took a different tack. After Gov. Phil Scott signed a new omnibus education law, she declared she would not carry out one of its mandates because she lacks sufficient staff.
In an August 3 letter to the Vermont House and Senate Education Committee chairs, Holcombe flatly stated she had no plans to begin a study, required by the law, to examine how public school students are counted for the purposes of state aid to education.
"At this point, we do not have sufficient capacity to meet all of our new obligations, and certainly not on the mandated timeline," Holcombe wrote. "We do not expect to initiate or complete the mandated weighting study contained in Act 49 until we have capacity to do so."
Beyond the specific study in question, the secretary's bold statement raises a broader question about the very operation of government. Can the executive branch — which includes Holcombe and other state agency heads appointed by the governor — pick and choose which laws to implement? Legislators don't think so.
"The fear is that, this way, a governor can effectively shut down any legislation she or he doesn't like," said Senate Education Committee chair Phil Baruth (D/P-Chittenden).
Baruth and his House counterpart, Rep. David Sharpe (D-Bristol), wrote back to Holcombe in protest.
"What we cannot assent to, and what this memo very clearly suggests, is a reshuffling of authority, with agency secretaries (semi) officially empowered to render legislation null and void, according to their own personal priorities," they wrote.
That appeal gained them no ground with Holcombe, who responded by reiterating her concerns. "We will undertake the weighting study as soon as staff and resources become available to perform this work," she wrote, without suggesting when, or whether, that would happen. "We look forward to your thoughts on how the legislature can support this work, and we will assist you [to] the best of our capacity, as soon as we can."
Tension between the legislature and a governor is nothing new: State agency heads have long bristled at legislative directives. But to openly declare in writing that a task won't be completed?
"I don't recall it ever happening before," said Sharpe, a 16-year veteran of the legislature.
Holcombe's one-woman rebellion comes after lawmakers directed the Agency of Education to do the study and recommend by December 15 whether the state should change the system used to count students for the purposes of distributing education funds. That system provides schools with money by weighting student needs. For example, it costs more to educate high school students than primary school-age children. Ditto for special education students. So those students are assigned more weight during the counting process.
Baruth said large and small school districts across the state are facing new challenges that aren't being taken into account in the weighting system. Urban areas such as Burlington and Winooski have seen an influx of refugees who need English language classes. Certain pockets of the state have students from families devastated by opiate addiction, and some rural districts are hampered by acute poverty.
"The challenges [these schools] face are tremendous," Baruth said. "The question is, can the state get them more money to do what they need to do?"
First, lawmakers wanted to better understand the consequences and efficacy of shifting funding. But when they first considered asking the Agency of Education to study the student weighting formula, during the spring legislative session, Holcombe explicitly told them — in writing and during committee hearings — that she didn't have enough staff.
In an April 27 email to Sharpe, Holcombe detailed her staff's increased workload, noting that despite losing five positions through state government-wide retirement incentives, the agency has been providing complex information to school districts navigating mandated consolidations. "Even if the study passes, we won't be able to do it," she concluded.
In a May 3 email to Baruth and Sharpe, Holcombe wrote again, "If you assign us a weighting study, we will not be able to do it."
Such a study would take a year to complete, Holcombe told Seven Days, and is more complicated than other studies that lawmakers have paid outside consultants to conduct.
The legislature nonetheless included the student weighting study in a larger miscellaneous education bill, which passed the House and Senate in its final form May 5. Gov. Scott — Holcombe's boss — signed it into law May 23.
Even with the law in effect, Holcombe didn't back down, penning the August 3 memo informing Sharpe and Baruth that she would not start the study. Holcombe said that while she didn't discuss the memo directly with the governor, his executive staff knew that she was writing it.
She noted to Seven Days that, this year, lawmakers had assigned the agency "substantial new, unfunded statutory obligations" related to school-district consolidation and teacher health care expenses.
"I don't feel good about this," Holcombe said of her recalcitrance. But, she added, "How else does somebody in my position make the case?"
Scott, in an interview, said he found out about Holcombe's letter after the fact. Asked how he reacted, he said he neither praised nor criticized Holcombe for her stand.
"This isn't a concerted effort to stymie [the legislature]," Scott insisted, while also suggesting that Holcombe was on to something. "This is maybe a unique approach, but maybe it's the way it should be," he said.
Baruth noted that the governor has directed his agencies to produce next year's budget requests with no funding increases. He worries that means state government will — without legislators' consent — simply stop carrying out certain laws.
That approach could be a way for the Republican governor to sidestep directives from the Democratic-controlled legislature, Baruth argued.
He said Holcombe had other options. She could have asked the governor for more staffing, or Scott could have vetoed the bill, though the legislation also contained items all sides agreed were needed. In their written response to Holcombe, Baruth and Sharpe suggested they were open to alternatives.
"We are more than willing to discuss a range of possibilities that might allow the study to go forward," they wrote.
Holcombe agreed that better collaboration is the solution, but she argued that the legislature failed on that count. "When I repeatedly say in committee and in writing, 'We don't have the capacity,' it's not collaborative when you go ahead and do it anyway," she said.
Holcombe declined to say whether she thinks the study itself would be worthwhile if she had sufficient staff. "I think it's something to look at," she allowed — a lukewarm endorsement at best.
Baruth and Sharpe stand by the need for the study. "The key was to not have one legislator alter the formula [based] on his perspective, but to have a statewide perspective from the Agency of Education," Baruth said.
While Holcombe's noncompliance with legislative action is unusual, her complaint about legislative burdens is not. State officials have long cringed at the studies, reports and information lawmakers demand. A Seven Days analysis in May found that the legislature ordered 68 studies during the latest session.
"You grumble about it when you get these requests," said Doug Racine, who was Agency of Human Services secretary under former governor Peter Shumlin after serving many years as a state senator. "I am sympathetic to Secretary Holcombe, because the legislature is not sympathetic to the resources of the executive branch."
But Racine said he doesn't recall ever openly defying a legislative directive. "Oftentimes, we'd negotiate with them for more time," he said. Another option, Racine noted, is to ask lawmakers for money to hire a consultant.
Legislators said they've seen resistance take a variety of forms in different governors' administrations — but none as blatant as Holcombe's.
"From time to time, you'll see a report that's due and it's pretty clear the department or agency ... are complying technically, but it doesn't actually do the work that was envisioned," said Senate President Pro Tempore Tim Ashe (D/P-Chittenden).
Ashe recalled that, in 2012, lawmakers directed the state to produce a report about whether motor vehicle fees adequately compensate for the air pollution those vehicles generate. "The report was due in January 2013, never showed up, and I had to hound them to get it done, which [they] did, nine months late," he said.
In another case, Ashe said, the legislature directed the Shumlin administration to seek a federal waiver regarding high-cost prescription drugs. The administration balked, saying the process would require hiring costly consultants. They ultimately worked with the legislature on an alternative plan, he said.
Sometimes, laws take longer to implement than legislators would like. House Speaker Mitzi Johnson (D-South Hero) said a 2015 water-quality law directed the state to update regulations on tile drains used to channel water from farm fields. A working group is still developing those changes two years later, she said.
The reality is that lawmakers have little recourse except to publicly reveal administrators' unwillingness to act and keep pushing them to do so.
Baruth is trying to do that. Holcombe's admission that her agency is understaffed shows that Scott's no-new-taxes budgeting mantra is flawed, he said.
"I would like people to understand, when they hear this kind of rhetoric, it has direct consequences," Baruth said. "He's forcing us to rob Peter to pay Paul."
He argued that Holcombe should be telling her boss she needs more people.
Holcombe readily acknowledges her agency's lack of staffing. The number of agency employees has declined through budget cuts, including retirements and a general shrinking of state government positions, in the last 10 years under both Scott and Shumlin. Meanwhile, the workload associated with school district consolidations has increased, Holcombe said. The agency has asked to recoup some lost positions, noting that a full workload already awaits them.
Will Holcombe ask for more staff to focus on work such as the student counting system study as she crafts next year's proposed agency budget? She wouldn't say. "We're just beginning that process," she said. "It's premature."
Scott, who last year proposed that all Vermont school districts level-fund their budgets, also hedged on adding staff to the state agency that oversees them. If Holcombe asks for more, he said, "We would obviously hear it out and determine whether it was a priority for us to accomplish what we need to accomplish."