James Buck
Vermont Brewers Festival
New in town and looking for the local clam bakes? Take this quiz, and we'll help you fill your Google Calendar in no time. For a weekly rundown of can't-miss happenings in Burlington and beyond, check the Seven Days event listings and sign up for the Notes on the Weekend newsletter.
Take the Quiz!
1. My Instagram feed is full of…
A) Perfectly plated dishes in buzzworthy eateries.
B) Blurry shots of my favorite bands slaying onstage.
C) Paintings, sculptures and mixed-media pieces by emerging artists.
D) Screenshots from my MapMyRun app — I'm always in training.
2. My perfect date would involve…
A) Sampling wines and palate-pleasing cheeses. Cheers!
B) Cutting a rug to live tunes. Who needs to talk when you can dance?
C) Catching an indie or international flick. Subtitles are sexy.
D) Couples yoga — the couple that stretches together namastes together.
3. If I could teleport, you'd find me…
A) Chowing cheesesteaks in Philly; tasting tacos in Texas; putting away poutine in Montréal — you get the picture.
B) At the Rock & Roll Hall of Fame, losing my shit over Michael Jackson's sequined glove and James Brown's jumpsuit.

C) Strolling Berlin in search of street art. Spray paint and posters and murals, oh my!
D) I prefer human-powered transportation to teleportation. Find me on foot, bike, skis or standup paddleboard.
What's on Your Agenda?
Mostly A: Foodie Fun
Mostly B: Rockin' Out
Mostly C: Liberal Arts
Mostly D: Feelin' Good
A. Foodie Fun
The Queen City serves up some serious culinary fun all year round, but especially in spring and summer.
Get a taste of all the state has to offer during Vermont Restaurant Week, complete with prix-fixe menus and themed events. Presented by Seven Days, this late-April flavor fest puts local fare front and center — and won't break the bank.
In June, the Burlington Wine & Food Festival offers several days of taste-bud-tempting events leading up to the Grand Tasting at scenic Waterfront Park. Here, vinos pair with gourmet bites and special seminars.
Beer hounds aren't left high and dry: July's Vermont Brewers Festival beckons suds lovers of legal age with dozens of craft brews at scheduled sipping sessions, also at Waterfront Park.
B. Rockin' Out
Courtesy Of Britt Shorter
Waking Windows
Think the Queen City music scene begins and ends with Phish? Think again.
Vermont native Grace Potter is a bona fide rock star who's toured the world, scored a Billboard Hot 100 hit and shared the stage with the Rolling Stones. She's even got her own festival: Grand Point North, held September 15 and 16 at Waterfront Park, where she headlines two nights of live tunes by area and national acts.
Burlington's next-door neighbor, Winooski, is home to Waking Windows, a hip extravaganza of live tunes, comedy, art, food and drink where indie-music lovers can catch their favorite bands each May.
And cool cats can groove to the swinging sounds of local, regional and legendary jazz masters, who take to indoor and outdoor stages around town as part of June's Burlington Discover Jazz Festival.
C. Liberal Arts
Courtesy Of Seaba
South End Art Hop
So you want to see creative expression in all its forms. You've come to the right place!
Thousands of visitors descend upon Burlington's South End Art Hop, taking place September 7 through 9. It's worth braving the claustrophobia-inducing crowds for exhibits, fashion shows, artist markets, live demos and music from more than 600 participating creatives.
Spectators also get fired up for the Bern Gallery's annual Pipe Classic, September 17 through 22. Watch as top glassblowers from across North America compete in a blazin' pipe-making competition.
Cinephiles pass the popcorn at the Vermont International Film Festival, a showcase of international, independent and local flicks. Tune in for filmmaker Q&As, receptions and discussions, too. This celluloid celebration occurs October 19 through 28.
And anything goes at the Ramble, held on July 27. Old North Enders come together in a one-of-a-kind neighborhood block party featuring art, music, food, performances and lots of surprises.
D. Feelin' Good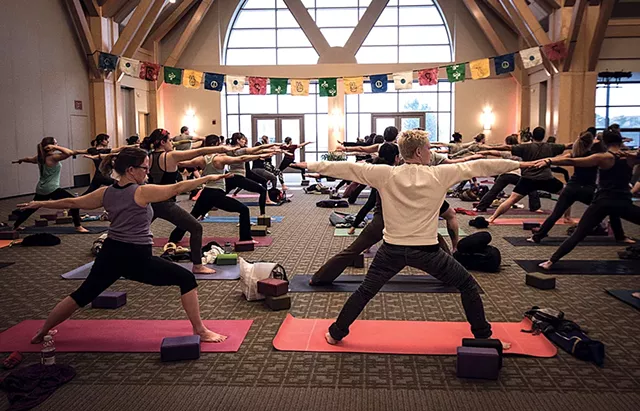 Burlington Yoga Conference
Endorphin junkie? You're in good company. Here's what's up in health, fitness and all-around wellness.
In Vermont, biking's not just a warm-weather activity. Ride 365 Day, held in March, promotes year-round cycling. Past events have included a casual ride around Burlington and a fat-bike excursion in Winooski. Saddle up! (And stay warm.)
Seasoned yogis and those hitting the mat for the first time limber up after winter at the Burlington Yoga Conference on April 13 and 14, featuring classes led by regional teachers.
And, on the last Sunday in May, runners in the Vermont City Marathon & Relay pound 26.2 miles of pavement. On your mark, get set, go!
Miscellaneous Must-Do's
September 8, Various Burlington Locations
LGBTQ individuals and allies paint the town red — er, rainbow — with a lively procession from Church Street to Battery Park, where an epic all-day party awaits.
January 17-19, Various Burlington And Barre Locations
Local, national and international talent and a steamy selection of performance classes turn up the heat during one of the coldest months of the year.
February, Higher Ground, South Burlington
Queen City drag troupe House of LeMay combat cold-weather woes with a colorful bash including a costume contest, live entertainment and DJ sets.
Early March, downtown Burlington
Burlington parties Big Easy-style with tunes, brews, beads and a moving spectacle of floats down Main Street. Keep your shirts on, people — this is a family event.
August 2-4, downtown Burlington
Queen City streets serve as the stage for internationally renowned buskers, comedians, musicians and performers.