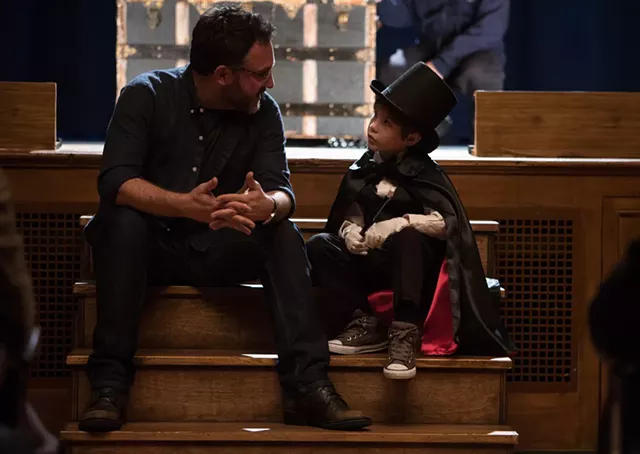 courtesy of Alison Cohen Rosa/Focus Features
Director Colin Trevorrow (left) and actor Jacob Tremblay on the set of The Book Of Henry
In an unremarkable suite of offices in an unremarkable brick building in downtown Burlington, the director of the year's biggest movie (barring the possibility of Death Star-size returns for Star Wars: The Force Awakens) is quietly working on his next project. It's a decidedly smaller-scale film: no far-flung location shoots, no $150 million budget and no digital dinosaurs.
The Book of Henry, the next film from Burlington director Colin Trevorrow, is significantly smaller in scope than Jurassic World. That Tyrannosaurus-size juggernaut earned more than $1.6 billion worldwide, stomping to the top of the year's box-office charts. Sequels are planned.
With its comparatively modest $10 million budget and its focus on a single family, The Book of Henry seems an unusual next move for Trevorrow. Yet the director said that the movie is, in many ways, a logical step for him.
The offices of Trevorrow's production company are spare and functional. Few decorations adorn the walls, and the kitchen is stocked mainly with coffee, the life blood of the film editor. Only the two tricked-out edit suites and the humming servers give any indication of the operation under way here.
The low-key setup seems to suit Trevorrow just fine. He's easygoing and amiable, greeting a reporter with a friendly "Hey, man" before settling on the office's only couch.
Safety Not Guaranteed, Trevorrow's profitable 2012 indie sci-fi comedy, was made on a budget of about $750,000; his next movie's budget was 20 times that sum. "In the same way that I felt I had to travel into the future to direct Jurassic World as myself in 20 years, I went back and directed [The Book of Henry] as myself right after Safety," Trevorrow said. "It was very fundamental, bare-bones filmmaking."
The Book of Henry was originally slated to be Trevorrow's follow-up to Safety Not Guaranteed, but, upon landing the Jurassic gig, he had to bow out politely. Though he promised he'd return to the project, the film's producers didn't believe him. "They were like, 'No, you're not. You're gonna be directing dinosaur movies forever,'" he said with a laugh. But after completing Jurassic World, Trevorrow found that Henry's producers had yet to sign a replacement, so he returned, as good as his word.
Trevorrow soon set about casting the film, choosing Naomi Watts for the lead and "Breaking Bad"'s Dean Norris for the heavy. Young actors Jacob Tremblay and Jaeden Lieberher were cast in the crucial roles of Watts' character's sons.
Though Trevorrow was tight-lipped about the specifics of the film's story, he said that, for him, that story constitutes its chief appeal. "[The Book of Henry]'s not a 'little' movie," he said. "It's a much bigger story than [Jurassic World]. It's like mainlining story — that's why I'm so excited about it. It's like a fable, like a lost Bible story that we didn't know existed ... The events that occur in this family are as epic as anything that can happen with people and dinosaurs."
After a six-week shoot in the New York City suburbs, the film's production wrapped in November, after which Trevorrow joined his two editors in Burlington. They'd been receiving footage from the shoot in stages and had created an assembly (a first draft) by the time the director arrived for a 10-week edit session. "In a lot of ways, it's been a more challenging edit [than that of Jurassic World] ... and that's why I want to do it," he said. "If you have a movie that's as successful as Jurassic World, you can rest on those laurels for a while. I am continuing my tradition of attempted career suicide at every turn. One of these days, I'm going to succeed."
Trevorrow was quipping about his unusual career path of moving directly from indie production to mega-production. He's aware of the potentially misleading message that his story sends to prospective filmmakers. "It suggests that you can be standing in a 7-Eleven and someone will tap you on the shoulder and say, 'Hey, you're going to direct Jurassic World,'" he said. "When, in reality, I was failing miserably for a decade, with periodic successes that allowed me to continue."
Joking aside, Burlington's most famous — and most unassuming — film director seems to have broken that pattern. In six or eight months, he and his family will uproot themselves to move to London, where he'll direct no smaller a film than Star Wars: Episode IX. "I'm going to Dagobah" is how Trevorrow put it, invoking the name of a planet in the Star Wars universe.
Though that gargantuan, effects-heavy production might seem like yet another unusual step for Trevorrow after The Book of Henry, he pointed out that the two films are not all that dissimilar. Like The Book of Henry, he said, "My next movie is a family drama. It's a large-scale family drama set in space, but it's still a family drama. ... Star Wars is the only kind of movie where somebody can just yell, 'Noooooooo!' and you're with it. So to do a movie that gets to that level of pure, human-heart-ripped-out emotion — I felt like that was the right thing to do."