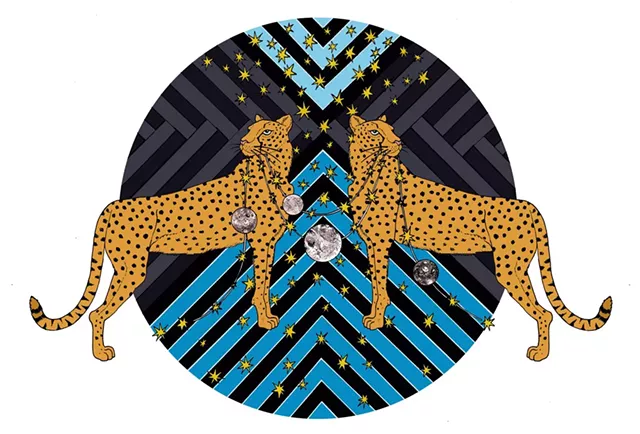 (self-released, digital)
Burlington neo-soul band JUPTR have the necessary requirements to be called a supergroup. The members — Stephanie Wilson (née Heaghney), Danny Whitney, Derek Rice, Mike Dondero and Dan Ryan — are all current or former players with noteworthy local outfits, including the Renegade Groove, smalltalker, Smooth Antics and Madaila. But a supergroup is usually considered a fun diversion of less importance than the monoliths where its members made their names (see: the Dead Weather, Temple of the Dog). JUPTR is one of a select few supergroups (see: Gorillaz) for which that's simply not the case.
Stylistically, JUPTR land closest to the now-defunct Smooth Antics. But the five-piece distinguishes itself with an emphasis on keyboards and synths over horns. Not that Echo, JUPTR's eight-song debut album, won't make you a little horny — for real, it's hot AF. Just don't expect to hear much in the way of trumpets, trombones or saxophones.
You will, however, hear plenty of arresting keyboard excursions flavored with smooth jazz, funk and R&B overtones, all dripping with hedonistic appeal. Dual keyboardists Rice and Whitney play their instruments with ecstatic flair. Bubbly cascades, riffs and tumbling waves of pleasure fill their lengthy solos.
Beyond the record's glossy surface are fervent emotions and social commentary, as articulated by the indelible Wilson. She flawlessly balances passion and restraint, ever so slightly modulating up and down the spectrum between tunes and even within a given track. Her sweet spot is at once intense and relaxed, and the juxtaposition is wholly captivating.
Wilson's vocals hopscotch over traces of keys and bass in the opening moments of "Good Enough." Soon after Ryan's kick-back hip-hop beat bumps in, the bandmates come together with a fully harmonized hook, exemplifying the song's theme of self-acceptance.
Two-thirds of the way through "Peace and Quiet," the album's first true banger, the song switches from a chill 80 beats per minute to a double-time freak-out. Similar structural experiments abound.
Looking outward to a dying world, Wilson wonders, "How am I supposed to handle this?" on "I Just Can't." Online, the oft-tweeted title phrase tends to come with links to disturbing news articles and editorials. The bandmates ask a question that no one can truly answer. But they attack it abstractly, and subliminally, with their art: This is how I'm going to handle it — by making music.
Dondero's slinky bass line weaves through swishy, scalloped beats on the outrageously catchy "Filthy." Wilson once described JUPTR's music as "juicy," and here the sweet nectar overflows.
Sprawling and indulgent in the best possible ways, Echo is a fantastic debut from one of the hottest bands in Vermont. Though JUPTR's players have been on the scene for years, their coalescence is fresh as can be.
Echo will be available on all major streaming platforms on Friday, March 29.