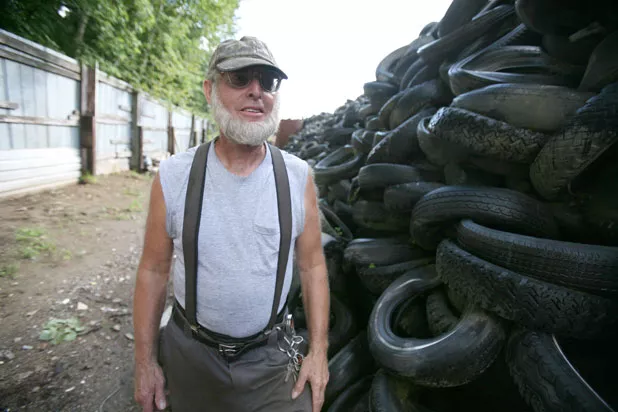 Gilbert "Gil" Rhoades leans against an old shopping cart full of rusty catalytic converters, his arms crossed defiantly. It's a recent weekday afternoon, and Rhoades, the 66-year-old owner of ABC Metals/Rhoades Salvage in Milton, has just ducked inside a cluttered garage with two employees to wait out a passing thunderstorm.
It's dangerous to operate heavy equipment in an electrical storm, Rhoades says. That's especially true when your perimeter fence is made out of old fuel-storage tanks and you're surrounded by spires of crushed automobiles and drums of flammable liquids. As if to drive home that point, a nearby crack of thunder sends Rhoades' Akita scurrying for cover.
But lately, ABC Metals, which has been around since 1954, has become a different kind of lightning rod. In the last few years, neighbors have been pressuring state and local officials to force Rhoades to clean up his act. They complain that the junkyard has operated for years without a state license or town permit. Now, they claim, his flouting of the law is taking its toll on the environment.
One pressing problem that took decades to form is hard to overlook: a mountain of tires several hundred feet long and some 30 feet high, not including what's buried underground. No one knows for sure how many tires are there; estimates have ranged from 50,000 to more than a million.
What is known, however, is that public safety officials have long been worried about it. Aside from acting as a breeding ground for rodents and mosquitoes, Milton Fire Chief Don Turner warns that if the tire pile were ever to catch fire, his department would have to call in specialized firefighting crews. The Milton Fire Department has neither the equipment nor personnel to fight such a dangerous blaze by itself.
"It'd be very, very difficult for us to put it out," Turner says. "We'd be evacuating people."
There may be other, less visible threats lurking at the site. Groundwater tests in recent months have revealed elevated levels of heavy metals, including barium, cadmium, chromium, arsenic and lead, which are more concentrated at wells closer to the junkyard.
In one location, a private drinking well that serves several homes south of ABC Metals contained arsenic levels seven times higher than the EPA allows. A resident of one of those houses, Dan Desranleau, says he was first notified of the problem not by the town's health officer or the state, but by his neighbors.
Moreover, recent sediment testing done by the state in Hobbs Pond, which abuts the junkyard, discovered the presence of MTBE,, a gasoline additive, as well as polychlorinated biphenyls. PCBs, which were used for years in vehicle coolants and hydraulic fluids, were banned in the 1970s due to their high toxicity, persistence in the environment and likely carcinogenic effects on humans and animals.
Such problems come in addition to ongoing nuisance complaints neighbors have filed with the town for years, which include excessive noise, fumes and odors emanating from the yard, as well as heavy equipment being operated outside of normal business hours. Kimberly Stedman, who lives adjacent to ABC Metals, on Emile Drive, claims her backyard fence has been knocked down three times by heavy equipment operating in the yard.
"We can't even have a garden," she complains, "because there is so much environmental impact around that, why would we want to eat anything that comes out of the ground here?"
By any reckoning, it's hard to understand how Gil Rhoades has managed to stay in business all these years. State and local officials have known about the problems associated with ABC Metals for more than a decade, but Rhoades has ignored court orders and missed several deadlines to get rid of his tires. In June, citing concerns about possible contamination on the property, the Milton Select Board denied ABC Metals a certificate of approved location, a prerequisite for a state junkyard license. In its decision, the board characterized Rhoades' plan for removing his tire pile as "inadequate and insufficient" and said his "lack of past performance puts his credibility into question." The board concluded that Rhoades "has manifested an attitude that his economic needs take priority over all other considerations."
Rhoades dismisses that suggestion by turning it around on his accusers. "If you bought yourself a piece of property beside the airport, do you expect the fucking airplanes to stop flying?" Rhoades asks. "This is not a vacation spot. This is not a walk in the park. It's a scrap yard!"
Lynn Caldwell, who lives several houses away from ABC Metals' southern boundary, is a co-founder of a new citizens' group called Milton CLEAN - or "Citizens Looking for Environmental Action Now." She's also become Rhoades' most unrelenting gadfly.
"You're not allowed to illegally dump any more than I can take my old refrigerator and drop it off on the side of a road somewhere," Caldwell asserts. "People know he has no license, no solid waste permit, no certification and no town permit. And they still do nothing."
Visit Caldwell's spacious, two-story home on Emile Drive and she'll break out a huge, three-ring binder devoted to her cause, which has since been joined by dozens of other residents in the neighborhood. The binder contains photos of Rhoades' tire pile, which is visible from her yard, as well as pictures of half-submerged steel drums in Hobbs Pond behind her house where her two boys used to catch frogs. The binder also contains lab results showing the presence of heavy metals and toxic chemicals in the pond sediment, as well as legal documents dating back to 1995 when the state first obtained a court order against Rhoades - and then did nothing to enforce it.
"Why do we have these laws on the books that are being completely ignored?" asks a frustrated Caldwell. "What is the point if no one has the authority or desire to enforce them?"
Indeed, from a regulatory point of view, the situation at ABC Metals seems almost Kafkaesque: The town, which allowed houses to be built next door to this '50s-era industrial site, grandfathered in Rhoades' junkyard in 1974 as a "pre-existing, nonconforming use." But since the Select Board won't grant ABC Metals a conditional use permit to operate, none of the town's ordinances that govern noise levels, hours of operation, protective fencing or other junkyard operations are being applied or enforced.
Likewise, the Vermont Agency of Natural Resources says it has no jurisdiction over the operation. The ANR, which regulates solid waste facilities, recycling centers and hazardous materials handlers, doesn't classify Rhoades' 5.3-acre lot - which stores and processes tons of crushed metal, old tires and spent petroleum products - as a "recycling center," a "hazardous waste handler" or a "solid waste facility." That, despite a preliminary injunction filed last year in which the Vermont attorney general's office wrote that the tens of thousands of scrap tires stored in the junkyard "constitute solid waste."
Technically speaking, ANR is correct: Under Vermont law, junkyards are regulated by the Vermont Agency of Transportation (VTRANS), a historic holdover from the days when dead jalopies were simply towed into a field and left to rust. A bill, signed into law in May 2006, required the ANR secretary to draft legislation transferring jurisdiction of auto junkyards from VTRANS to ANR. That bill was drafted and delivered to the appropriate legislative committees in 2007, but apparently has disappeared into legislative limbo.
Moreover, VTRANS, which oversees everything from truck inspection stations to auto dealerships to motorcycle safety courses, claims it lacks the enforcement staff or scientific know-how to oversee the environmental complexities of a modern-day junkyard. "You can have the best regulations in the world," says Glen Button, director of enforcement and safety for the Vermont Department of Motor Vehicles, "but if you don't have the staff that are skilled and able to follow through on things, it's problematic."
Yet it's no mystery why government officials continue this game of bureaucratic hot potato: No one wants to assume ownership of the Rhoades property or the potential liability of millions of dollars in cleanup costs.
Gary Kessler, director of the center for compliance and enforcement at the Vermont Department of Environmental Conservation (DEC), sums it up best: "If this guy goes out of business today or tomorrow or next week, I don't know. Bake sale? How else are you going to get all those tires out of there?"
*****
Clearly, none of the allegations being hurled at ABC Metals comes as news to Gil Rhoades, who has operated an auto junkyard in Milton since 1970. Rhoades calls his critics "nosey neighbors," "do-nothing politicians" and Johnny-come-lately "tree huggers" who are in cahoots and have been waging a "witch hunt" against him since the 1980s.
"What you've got here is, see if you can kick the shit out of one yard so that you can kick the shit out of all the rest," Rhoades asserts. "They're relentless. They seem to get all charged up by creating hate and discontent."
Despite a recent onslaught of negative press coverage and growing citizen activism that seems intent on driving him out of business, Rhoades agreed to give Seven Days a tour of his property, which bears an uncanny resemblance to a Mad Max film set: a dystopian landscape built out of the rusting relics of the Peak Oil age.
The severed tops of a half-dozen school buses now serve as storage sheds for various metallic odds and ends. Rusty drums announce their hazardous contents - antifreeze, gasoline, motor oil - in drippy, spray-painted letters. Inside a round metallic shed is the "battery hut," which looks more like a hatch pilfered off a WW II submarine. Certainly, the "battery hut," which contains old car batteries stacked in a haphazard pile, bears little resemblance to the "best management practices" recommended by the DEC.
As we round one corner, a crushed car, minus its tires, glass and doors, hovers on a lift, where its various fluids will soon be drained. There's a 55-gallon drum full of sawdust, which Rhoades says is used for soaking up spills. Moments earlier, he boasted about how clean the ground looks after the freshly fallen rain. But here, the muddy soil glistens with an oily, rainbow sheen.
When asked about the heavy metals that showed up in groundwater tests, Rhoades asserts that those levels were "minuscule." The arsenic, he explains, is "naturally occurring" and couldn't possibly come from anything on a salvage lot. And, he points to an environmental report from earlier this year validating that assertion. (However, another environmental test, paid for by the state, concluded otherwise.)
"You'd have to be naïve to think that you're gonna find water that tests like mountain water, where nothing but the birds and the bees have been," he adds.
Along one wall is a makeshift fence built out of old underground fuel tanks. Why not a real fence? Rhoades explains that he was given 10 months from the time the town signs off on his junkyard permit to construct a state-approved fence that will screen the tire pile from his neighbors' view. However, Rhoades notes that since the town hasn't granted him a certificate of approved location, he doesn't have to build the fence yet.
"That's good for me," he chuckles, "because I don't have to spend the $30,000."
Exactly what would it take to get rid of all those tires? (Rhoades estimates there are more than a million there.) If one truckload equals 2000 tires and he removed one load per month - at a cost of about $2000 per load - it would take more than 41 years and more than $1 million to eliminate the pile. Rhoades says that'll never happen.
"If I lived to be twice the age of Methuselah, I might be able to remove all those tires," the 66-year-old says. "But if I should lose my appeal [against the town], the judge is gonna have to find the money, because I ain't got it. And I'm not gonna work the rest of my remaining years just to piss it away."
Rhoades says he has not been assessed "one dime" in fines or penalties for his years of alleged violations, which, in his mind, proves he's done nothing outside the law all the years he's been in business.
In fact, his legal woes date back at least as far as 1995, when VTRANS filed a complaint against him in Chittenden Superior Court. In a November 27, 1995 court order, Rhoades agreed to stop accepting scrap tires except for those that arrive on junked vehicles. All newly acquired tires were required to be tallied and segregated from the existing pile, then shredded, stored separately and eventually hauled away.
That 1995 order also required Rhoades to build fire lanes around the pile. Although those fire lanes were eventually built, Rhoades has never shredded tires and says he never will.
In June 2000, ABC Metals' state junkyard license expired and was never renewed. According to court papers, Rhoades claimed it was due to "economic hardship." In 2001, VTRANS inspectors visited his salvage yard three times and observed old petroleum storage tanks being used as fencing material, which is against the law. But despite this and other infractions, as well as Rhoades' lack of a junkyard license, VTRANS took no legal action against him for another six years.
Glen Button, of the Vermont Department of Motor Vehicles, can't say for sure why the 1995 court order was never enforced - it predates his time with VTRANS. Nor can Button say why it took so long for his agency to take legal action.
"We look at junkyards now and it's really a solid waste issue," Button says. "When you deal with stuff like that, the people who are really better suited for it are people in natural resources."
For its part, ANR has known about Rhoades' environmental issues as far back as May 1996. Environmental testing that year determined that the soil on site was contaminated with volatile organic compounds at levels 10 times higher than the state allows. In October 1996, ANR added ABC Metals to its active hazardous waste sites list. Nevertheless, despite at least three more inspections by state regulators in ensuing years, ANR took no legal action against Rhoades until May 2007.
The Town of Milton hasn't been any more aggressive than VTRANS or ANR in its enforcement efforts. The last time the town granted ABC Metals a permit to operate was in 1998. By 1999, Rhoades was in arrears for back taxes totaling $14,000. Nevertheless, the town declined to take him to court, seize his property or put it up for sale.
Milton Town Manager Sandy Miller says he's been discussing the ABC Metals case with ANR investigators since he took office in June 2003. When asked why the town never shut Rhoades down, he claims that was never a realistic option.
"We didn't do that because, frankly, we were concerned that we'd end up owning the property and assuming any liability," Miller explains. "I think everyone is in the process of trying to determine what's there, and that information is slowly but surely coming out.
"The process has taken way too long," he adds. "A lot of things now being done could have been done a long time ago and are beyond our resources to do."
Town attorney Greg Wilson agrees. "It's without precedent in the state of Vermont," he says. "No one has had to shut down a junkyard and face the consequences of who's responsible for what." For now, he adds, the town is waiting on the state to follow through on its legal action.
Last year, ANR and VTRANS finally initiated legal action against Rhoades. On May 14, 2007, the attorney general's office filed a motion for preliminary injunction against him, citing his 13 years of violations and other noncompliance issues. On October 25, 2007, Rhoades was ordered to begin removing about 4000 tires from the existing pile. That order stipulated that the first load of tires had to be removed by May 1, 2008, and the second by July 30. Both deadlines have come and gone, and no tires have been hauled away. (For his part, Rhoades denies that he "missed" any court-ordered deadlines; he and his attorney simply "renegotiated" the terms of a stipulated court agreement.)
On August 4, Assistant Attorney General Rob McDougall, who's only been on the case for a couple of months, filed a motion for immediate enforcement of the order. McDougall won't comment on Rhoades' earlier noncompliance with the 1995 court order or on the state's current legal strategy. "From our end of things, what we want is compliance. That's our main goal," he says. "Now, it's up to the court to decide."
For his part, Kessler at the DEC resents the suggestion by neighbors and Vermonters for a Clean Environment - last month the environmental group named ABC Metals one of ANR's 10 worst regulatory failures - that the state dropped the ball on its enforcement measures.
"Don't just put it off on the state because keep in mind, [Rhoades] didn't pay his taxes for quite some time," Kessler points out. "The town could have taken the property and closed him down at any time. They chose not to, because they didn't want to be responsible for the tire pile.
"The same way the town doesn't have the funds to clean up all these tires," Kessler adds, "the state doesn't have a pool of money for removing these tires, either."
But Caldwell bristles at that answer, suggesting that Rhoades' continued defiance of court orders and state regulators only means that environmental remediation will be put off indefinitely.
"No one wants to shut him down because no one wants to be stuck with the cleanup," she says. "My answer to that is, you clean it up now or you clean it up later. Which one is going to cost more?"