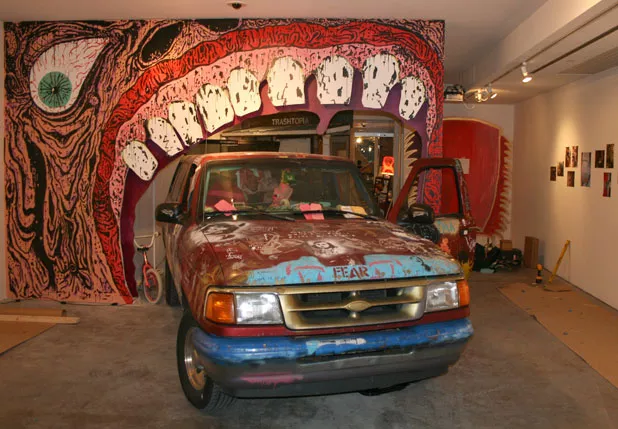 Abby Banks' truck at the Firehouse Gallery
Two days after New Year's 2008, Burlington artist Christopher Thompson read The New York Times, as he does every morning. One story, titled "Anarchy Rules: The Dishes Stay Dirty," piqued his interest.
The article reviewed Punk House, a new coffee-table book from the New York City-based publishing house Abrams Image. Edited by Thurston Moore, front man of the band Sonic Youth, the book offers a colorful cross-country tour of 65 artsy, anarcho-communal dwellings.
Then Thompson made a discovery: Abby Banks, the photographer who traveled across the United States shooting pictures for Punk House, lives in Brattleboro, Vermont. What's more, she belongs to an art collective called the Tinderbox. In the spring, just before taking the job of curator at Burlington's Firehouse Gallery, Thompson paid the Tinderbox folks a visit. Impressed, he made Banks and her 20-person entourage a proposal they couldn't refuse: He offered them creative license to construct an interactive installation at his Church Street venue.
The result is also called "Punk House." The mainstays of the show, temporary "shacks" of various shapes and sizes, were assembled last month at a Pine Street studio thanks to a $1000 voucher from ReCycle North that enabled Banks and her crew to purchase a few hundred pounds' worth of refuse. By bringing their self-styled "trashtopia"- and Banks' stencil-laden red truck - into the Church Street gallery, Tinderbox has created what Thompson concedes might be the zaniest show in Firehouse history.
Although the Tinderbox artists have made Thompson's job harder by refusing to explain the meaning of their creations, he doesn't hold it against them. "Punk House" may prove "difficult" for people used to seeing "a bunch of shiny objects in a white cube," Thompson says. On the other hand, the show is "validating a completely alternative way of doing art."
******
Eight days before "Punk House" attracts almost 1000 visitors to its downtown opening, there's still plenty of chopping, sawing and painting to do at the city's Pine Street Studios. "We're making a village for no one," says soft-spoken 29-year old Banks. As the flannel-clad artist leads a reporter around piles of brightly painted junk, her Brattleboro buddies spray and drill amid piles of paint cans, brushes, dolls and electronics gear. Artforum magazines are piled high on a table; half-eaten muffins fester on a windowsill; spray-paint fumes and sweet-smelling clouds of B.O. swirl overhead.
Strolling outside, Banks points at two of the "shacks," each of which is only tangentially related to her book. The most prominent structure, a "Dream Shack," looks like an oversized doghouse; Banks says it will later accommodate a mattress. Beyond the "Dream Shack," hardcore musician Kyle Tomzo (his "art name") decorates fake ice-cream sundaes for the "Tattered Chucks Bad Snacks Shack" - a.k.a., the "Snack Shack." Above Tomzo's bloated, radioactive-looking desserts and hot dogs, a small sign reads, "DIRTY NAPKINS $1."
Over the course of an hourlong tour, Banks goes some way toward explaining why she resists soundbite-length explanations. For one, she has given her 20-some comrades free rein to follow their creative muses, so it's impossible for her to speak on their behalf. Then there's her good-natured but deep-seated skepticism about the media. For this exhibit, Banks' buddies are transforming old copies of Seven Days into cheeky, Bread-and-Puppet-like goofs on familiar newspapers - The Brattleboro Deformer, The Boston Glob, Seven Bad Hair Days. These ironic rags illustrate Banks' claim that her art is always "recontextualized" by journalists.
Having given scores of interviews for her book, Banks doesn't mind a little media spin - newspaper types could describe her as a "Martian" and it wouldn't cramp her style, she says. Since many of the folks in her Tinderbox crew aren't used to being written about, however, they're wary of how "Punk House" will be interpreted. Case in point: Tinderbox requested that Seven Days publish the accompanying artists' statement with its story. Some members took issue with an early Firehouse Gallery press release heralding their exhibit as a "mini punk village."
"We don't know what it's going to be," Banks explains, "so there's nothing to, like, define it by."
******
Abby Banks and the Tinderbox Collective may resist talking about their exhibit, but that doesn't mean the show is hurting for topical relevance, according to curator Thompson. Standing at the Firehouse Gallery entrance two days before the show's opening, wearing a black T-shirt and jeans, he says "Punk House" illustrates a growing nationwide appreciation for anti-careerist, collectively produced art. It also reflects a move away from the "slick" art of the 1990s toward art made with "humble materials" - such as garbage.
By living cheaply and working together, artists in collectives "blur the line between life and art," Thompson suggests. At a recent biennial exhibit at New York City's Whitney Museum of American Art, he recalls, art collectives were featured to an unprecedented extent - a sign that establishment types are beginning to celebrate, and even canonize, the phenomenon. But the average gallery visitor is still unfamiliar with collectives such as Tinderbox. Hence this exhibit "is a really important window into this whole other way of doing art that people don't give enough credence to," Thompson says.
Of course, lack of acceptance by the establishment comes with the territory: Collectives like the ones Banks chronicles in Punk House thrive on their adversarial stance toward mainstream culture. Thompson says Tinderbox's aesthetic is much more "cynical" and "ironic" than the ones that emerged from 1960s communes. While the Brattleboro group's shack village does riff, '60s-style, on themes of "neighborhood" and "community," he says, it also pokes fun at consumerism and challenges rosy nostalgia for communal living. Thompson says the show's cheeky grotesquerie makes him think, "Small world gone bad."
As Thompson returns to his chores - "MOVE TRUCK, PAINT MAP, WRITE TEXT," according to his clipboard - Banks and her comrades drill and hammer away at the rear of his gallery. The "Dream Shack" has already been outfitted with a furry white mattress and a disemboweled Pooh bear. Kyle Tomzo is adding sickly slices of pizza to his unappetizing "Snack Shack." Another Tinderbox artist puts the final touches on an 8-foot-tall mouth that will eventually "eat" Abby Banks' punked-out red truck. On a far wall, Assistant Curator and Gallery Manager Amanda Sanfilippo is tacking up an exhibit poster next to photographs from Banks' Punk House book. One iconic image shows a handwritten sign reading, "I'm so Goth I'm dead."
"It's satire," Sanfilippo observes of the show, as Ozzy Osborne emanates from a distant boombox. "American culture is all about representation now," adds Thompson. "We're looking at a representation of a representation."
Banks still isn't sure what to think of this nascent exhibit. Plopping down beside the "Dream Shack" in a pile of paint-flecked stuffed animals, she stresses that it's easy to fall into rhetorical traps when discussing any kind of art. "Overused terms like 'punk' aren't the best way to describe what's happening here," she says. "I just want to make up what it is without falling back on some rhetoric or something that's over-talked about." She refers a reporter to the artists' statement Tinderbox members wrote for their Burlington exhibit (see sidebar).
Kyle Tomzo puts down his paintbrush and sits down outside the "Dream Shack." He has long hair, a black Mickey Mouse T-shirt and a tattoo of the word "hope" on his left arm. "The thing is, we haven't really been reading too deeply into it," says the 25-year-old musician. "That's why we don't really have answers."
Banks giggles. Tomzo smiles as Ozzy gives way to the Beatles' "I'm Only Sleeping." He and Banks are joined by Sam Phillips, a scruffy 21-year-old wearing skateboarding shoes.
"That's always the most interesting part about art," Tomzo continues. "People can go as far into it as they want, but maybe the artist wasn't thinking about anything when he made it?"
"Yeah," says Banks, dangling a sewing needle above the stuffed animals.
"Art should be accessible. You can use crap to make something beautiful!" Phillips declares after a pause. "It'll make your life better if you make stuff with your friends."