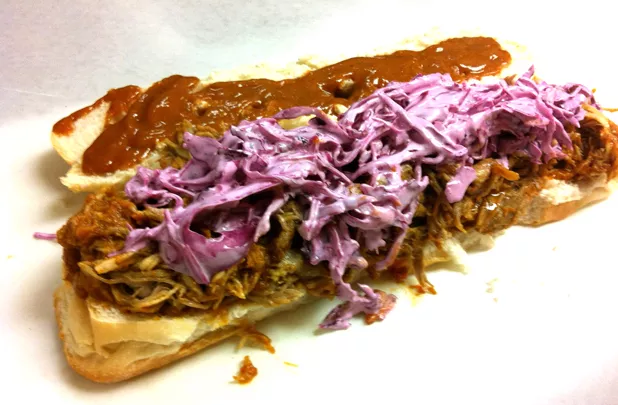 Pulled pork sandwich from Shady's Deli
Martin Smith, longtime chef for the Vermont branch of the Community of the Crucified One and its restaurants, has amicably severed business ties with the group. Though he remains a church member, the former NECI chef says he's been out on his own since he reopened Juniper's Fare Deli in Northfield on September 1 as Shady's Deli. (The Community's other restaurants, Juniper's Fare Café and Juni's Take Out, will continue to operate with the help of other church members.)
What's in the name? According to Smith, he overheard Norwich University students referring to the gas-station deli as "Shady's" and decided to make it official. "I loved the sound of that, the juxtaposition of our food, service and the name," he says. And, apparently, the future is so bright that Smith's family dog, a Boston terrier named Jet, is wearing shades — at least on the eatery's logo.
Diners can expect more of the fare Smith served at Juniper's Fare Deli, including homemade pulled pork and pizzas. A new addition is the "Slim Shady Club," made with house-smoked chicken and roasted garlic mayo.
Smith is using the deli for the official debut of his new company, Vermont Probiotica. He and business partner Bobby Connolly specialize in small-batch, slow-fermented products made from homegrown ingredients, including kimchi and apple and horseradish sauerkrauts. According to Smith, he and Connolly are "sitting on, like, 700 pounds" of the cabbage that they package in resealable, transparent pouches at the Mad River Food Hub.
Vermont Probiotica pickles are available on sandwiches and hot dogs or to go at Shady's, and they'll be for sale within a couple of weeks at Hunger Mountain Co-op in Montpelier, RJ's Friendly Market in Waterbury, Mehuron's Market in Waitsfield and City Market in Burlington, Smith says. Not a fan of fermented foods? Probiotica also manufactures a barbecue sauce named for Mrs. Blaise Smith: "My Smokin' Hot Wife."
The original print version of this article was headlined "Made in the Shade"