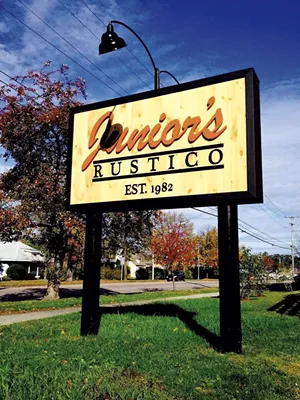 Courtesy Of Junior's Rustico
The 25-foot black-walnut bar and 16 taps are ready. The brick walls feel appropriately rustic, and the open kitchen gleams with all-new equipment. So why isn't Junior's Rustico open at 408 Shelburne Road in South Burlington yet?
The newlyweds behind the project say they want everything to be "perfect" before inviting the eager public inside. Franke Salese, best known for Junior's Italian in Colchester, marks his 15th restaurant opening with Rustico. His wife, Evelyn, a native of Costa Rica, left social work to commit herself full time to her first eatery.
"We just want to open when we're 100 percent ready," Evelyn says. That day will come Tuesday, November 25, when Rustico debuts at 4 p.m. Thereafter, the restaurant will serve lunch and dinner daily, and brunch on Sunday.
Former Three Tomatoes Trattoria chef Joe Perella will lead the kitchen. "Junior's is big portions, family-style, family-oriented," Franke Salese says. "This is the same quality and same flavors but with a twist."
That means chicken and eggplant Parmigiana, spaghetti and meatballs, and pizza will be on the menu. But all six varieties of pasta will be made in-house by an Italian transplant, as will sausages. Pizzas will be cooked in a stone oven, taking Junior's classic New York-style pies to old-school Brooklyn. Toppings lean toward the local — in season, all veggies will come from Sam Mazza's Farm Market in Colchester, while herbs will come from a garden in front of the restaurant. Meats will be processed in-house or imported from Italy.
At lunch, a range of sandwiches — all served with papas fritas — will include a Cubano, an Italian-style beef with giardiniera and a Boyden Farm burger served with crispy pancetta, fresh mozzarella and tomato-basil aioli.
But tapas are the heart of both Rustico's lunch and dinner menus, with 25 choices representing Costa Rica, Italy, Spain and the U.S., says Evelyn Salese. The priciest options are paella, mixed grills of seafood and sausages, and an antipasto plate of local cheese and artisan meats at $13 and $14. Most other tapas range in price from $3 to $10. Seafood-stuffed poblano peppers, spicy Huevos Diablos and chiles rellenos are among the Latin flavors represented. Italian tastes include mozzarella-stuffed mushroom arancini and white-wine-steamed mussels. Those looking for American-style comfort food will find wings, mac and cheese, and local beet carpaccio.
Rustico's dinner-only entrées are similarly diverse, with choices such as arroz con pollo, seafood risotto and Icelandic cod. The restaurant will serve a late-night menu until 10:30 p.m during the week, and 11:30 p.m. on weekends. Theo Lipson will preside over the bar, with a focus on local beer and Italian wine.
On Sundays, Evelyn Salese will take to the kitchen to prepare pork hash with her home-style, slow-roasted pernil. Stuffed French toast, eggs Benedict and gluten-free banana pancakes will fill out the abbreviated brunch menu served alongside lunch options.
The Saleses see Rustico as a tribute to their marriage. "There are always good smells coming from our house," says Evelyn Salese. "This is what we do. We love to cook." And next week, diners will finally reap the benefits.
The original print version of this article was headlined "Rustico Reality"