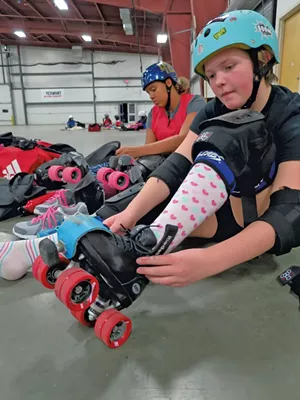 Matthew Thorsen
Elah Spence and Ingrid Gilliam lace up for practice
It's a chilly fall night, but things are starting to heat up in a cavernous room at the Champlain Valley Exposition, Green Mountain Roller Derby skater Carrie Speranza leads 18 roller-skate-clad girls through a two-on-one blocking drill. Dressed in blue and red pinnies and wearing helmets personalized with stickers and their alter-ego derby names, the boisterous girls split into groups of three and take turns skating around a corner, with two girls trying to prevent a third girl from breaking their formation.
Speranza, known as "Breaker" in the rink, is the lead instructor for Minor Catastrophes, a Green Mountain Roller Derby junior team for girls in second through 12th grade. The team meets once a week for two fall sessions and two spring sessions, and runs a weeklong summer camp, all through Essex Junction Recreation and Parks.
Roller derby, which grew out of 1930s competitive roller-skating marathons, has evolved into a predominantly female sport in which teams skate in the same direction around a rink trying to lap each other. Each player chooses a pseudonym, or "derby name," which embodies her personality in the rink.
The Minor Catastrophes program is popular, and interest is growing. "A lot of them will bring their friends," says Speranza, "and a lot of them have become really good friends since they started."
That's true for Emily O'Neill, a 17-year-old high school senior from Colchester. Emily, aka "Kaoz" (pronounced "chaos"), started skating last fall, when a friend persuaded her to join the league. "It's outside of my school, and I get to meet new people," she says. "When I started, I didn't know how to skate. I'm really good now."
Green Mountain Roller Derby skater and Minor Catastrophes instructor Mitzi Blake, or "Cajun Crusher," seconds that. "She can skate," she says, giving Emily an admiring nod.
Minor Catastrophes was formed three years ago when Blake and a few other moms who compete with Green Mountain Roller Derby pitched the idea of starting a girls' team to their fellow league members. "Everyone thought it was a great idea," says Blake, whose 11-year-old daughter Zoe ("Candy Crusher") skates with Minor Catastrophes.
Green Mountain Roller Derby, which recently changed its name from Green Mountain Derby Dames in an effort to be more inclusive of other genders, is Vermont's first roller-derby league. It is skater-owned and -operated, and a member league of the Women's Flat Track Derby Association. The league has two bout teams: Grade A Fancy and the Black Ice Brawlers, who compete against other WFTDA teams from New England, New York and farther afield.
The first and only junior roller derby team in the state, Minor Catastrophes offers an appealing environment for some girls. "Normally, the kids [who join Minor Catastrophes] aren't in any other sports," says Blake. "This gets them into a sport. They like the physical activity of it."
Indeed, roller derby is an intensely athletic sport. In the rink, a "jammer" scores points by lapping her counterpart on the other team. Her teammates work to block the opposing jammer while creating openings for their own, which leads to lots of high velocity bumping and nudging. "It's pretty tough to roller skate for an hour and a half," Blake says wryly.
Because there aren't other junior derby teams nearby, the Minor Catastrophes don't actually compete. But the team shows off its skills in exhibition halftime shows during Green Mountain Roller Derby bouts.
Girls don't need prior experience to start skating with the group — just a pair of roller skates and protective gear including knee pads, elbow pads, wrist guards, a mouth guard and a helmet. In fact, girls can participate without skating at all. "Some kids referee who don't want to skate," says Blake. "They also get to be part of the community, and they're always at bouts."
Despite the sport's rough and tumble reputation, Emily says that roller derby can actually be kind of relaxing. She enjoys letting her mind drift while she circles the rink, snapping back to attention during jams or while navigating obstacles. "Some people run to get rid of stress," she says. "Roller derby is like that."
To learn more about the Minor Catastrophes, visit the Essex Junction Recreation and Parks website at ejrp.org or visit the team's Facebook page at facebook.com/gmddminorcatastrophes.