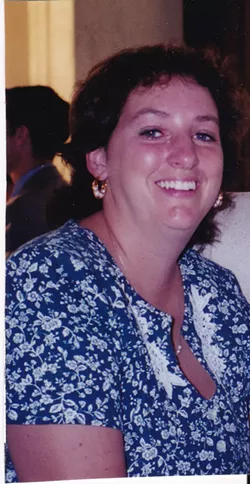 Julie Leclerc Kessler, 55, passed away on March 4, 2016 surrounded by her loving family. She was born in Burlington on April 25, 1960 to Leonard and Shirley Leclerc. She worked at Champlain College for over 20 years and while there she earned her MBA. She loved horses and enjoyed riding throughout her life. Julie also loved talking about sports and watching it on the television.
Left to cherish her memory are her children Emanuel Kessler and Nishani Kessler, her parents Leonard and Shirley, brother Mark and wife Lynn Leclerc, sisters Wendy Leclerc, Amy Leclerc, and Jennifer Ballard, sister-in-laws Donna and Robbin Leclerc, brother-in-law Micheal Fregeau, special friends Denise Chase and Penny Morin, extended family and countless friends. She was predeceased by her brothers Chris and Matthew Leclerc, and sister Loni Fregeau.
The family wishes to extend a special thank you to caregivers Lisa and Rachel and to all the staff at St. Albans Health and Rehab.
A Memorial Mass will be held 2:00 on Friday March 11, at Holy Angels Catholic Church, Lake St, St. Albans. Donations in her memory may be made to the Muscular Dystrophy Association. 1 Marcus Blvd, Albany, NY 12205. Arrangements are under the care of LaVigne Funeral Home and Cremation Service. Condolences may be shared at lavignefuneralhome.com.