Courtesy of GAAR
Martha Prewitt
Julia Child accomplished much in her life, from working for the U.S. Office of Strategic Services (the early Central Intelligence Agency) to transforming American cuisine. One of her achievements, however, may have been a surprise even to her: She's responsible for an opera libretto.
In 1989, American composer Lee Hoiby amalgamated a couple of episodes of Child's popular television cooking show "The French Chef," which had run from 1963 to '73, and set the chef's words to music. The result was a 20-minute sung monologue called Bon Appétit! In it, a mezzo-soprano teaches the audience to make le gâteau au chocolat l'éminence brune — the perfect bittersweet chocolate cake. In Hoiby's lyrical and droll work, no dropped utensil or blithe cooking mistake goes unscored.
Sabra Jones, founding director of the Mirror Theater and the Greensboro Arts Alliance & Residency; and Heidi Lauren Duke, a former opera director who owns the Highland Lodge in Greensboro, thought Bon Appétit! would be perfect summer fare for the company's 12th season.
The Mirror has been producing works, usually under a tent on the Greensboro town green, since Jones moved the repertory company's summer operations to Vermont in 2005. But Bon Appétit! will be staged in neighboring Hardwick, at the Town House. Built in 1860, the venue was once an opera hall and now is a multipurpose community center under the stewardship of the Northeast Kingdom Arts Council. Jones says she chose the venue to honor Hardwick's recent history as the town "saved by food," as a 2008 New York Times article about the town's agricultural movement described it.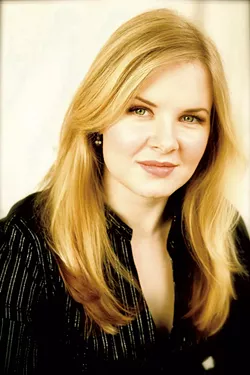 Courtesy of GAAR
Heidi Lauren Duke
The evening Jones and Duke created — called "Bon Appétit! A Julia Child Opera Buffet" — features the solo operetta, directed by Duke, in the first half of the program. At intermission, the audience will sample the previously baked cake that singer Martha Prewitt (Child) will pull from the stage oven at the end of her delivery, as in the cooking show. (The Town House seats more than 300, so additional cakes will be provided.)
The second half features food-related Broadway tunes and opera arias, directed by Jones and sung by Prewitt, Duke — also a mezzo-soprano — and Marla Schaffel, the Mirror's actor-in-residence for the past five summers. Pianist Naoko Aita will accompany the entire program on the Town House's brand-new Kawai baby grand piano, donated by GAAR co-artistic director Denes Striny.
Jones envisions the production as the first of what may become a GAAR Opera series. The idea came to her when GAAR's evening of arias last year proved unexpectedly popular.
Duke trained in voice performance and stage directing and directed operas for 15 years before taking ownership of the Highland Lodge last year. She began her directing career at Les Azuriales Opera, a festival in southern France, and went on to direct operas as a freelancer around the U.S., including at Boston Opera Collaborative and Sarasota Opera. Two years ago, Duke served as assistant director on Opera Memphis' production of Bon Appétit!
Through her continuing ties to the opera and directing worlds, Duke found Prewitt to fill the role in Hardwick. Though the young singer, based in Richmond, Va., is currently transitioning to the lyric soprano voice range, she sang Child in 2014 with a small Knoxville, Tenn., company.
"I didn't get a lot of rehearsal time with icing the cake," the singer recalls of that production in a phone call. "But you can mess this opera up, and it still works. The audience never knows what's going to happen."
Courtesy of Marla Schaffel
Marla Schaffel
Prewitt says she learned some new songs for the second half of the program, including two by William Bolcom. The latter's "Lime Jell-O Marshmallow Cottage Cheese Surprise" is a mostly spoken work in which a woman brags about her invented dish at a ladies' luncheon. In Bolcom's jazzy cabaret song "Amor," Prewitt and Duke "get to scat," notes Prewitt. She will also perform "Quando m'en vo'," Musetta's flamboyant aria sung at an outdoor café in Puccini's La Bohème.
For Duke, one of the arias she'll sing in the second half, "Voi che sapete" — Cherubino's aria about the temptations of love from Mozart's Le Nozze di Figaro — is emotionally linked to food. "I've decided that's very much how I feel about the cinnamon rolls our chef at the lodge, Jamie Seguin, is making now," she declares.
Duke will brandish an oversize roll made by Seguin during her aria. Other local foods being tapped for the production are Nutty Steph's chocolate and fish from Për's Smoked of Vermont.
Duke says Bon Appétit! is becoming an increasingly popular choice as companies opt for nimble productions focusing on a single voice over large-scale opera. "It's indicative of where opera's going now," she says.
Indeed, mini-opera is popping up around the state this summer. Last week, Viva La Musica VT brought Gian Carlo Menotti's The Telephone, a one-act opera in English that premiered in 1947, to the East Montpelier Old Meeting House. During the first half of July, fans of operetta can catch Gilbert & Sullivan's The Gondoliers at Unadilla Theatre in Marshfield. And Vermont Opera Project will produce the solo baritone opera The Andrée Expedition in Barre and Proctor in August.
Meanwhile, opera has arrived in the Northeast Kingdom. Says Jones of her motivation to offer the art form, "I feel that God, the universe, whatever you want to call it, has given me so much joy that I want to share it."