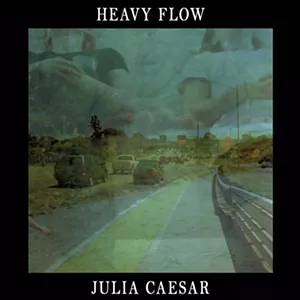 (Self-released, digital download)
Riding a wave of righteous feminist momentum, Julia Caesar finally unveil their debut EP, Heavy Flow. And it's impossible to take it in without considering the current political context. The reckoning within the music industry puts more attention on female, queer and other disenfranchised voices than ever before. Locally, Julia Caesar are a huge part of that movement.
First, the female-fronted indie-rock quartet's moniker subverts a narrative of male empowerment and veneration. Then there's the six-track EP's confrontational title. It unsubtly says, "Women have menstrual cycles. Fucking deal with it." Finally, the group is known for its enthusiastic support of other femme-identifying creators, in Vermont and beyond.
Aside from the politics, what makes Julia Caesar so enthralling are their unconventional mechanics, deeply personal songwriting, and fusion of psychedelic rock, grunge, mountain folk and gritty blues. Primary front woman Katy Hellman is also the group's bassist, thereby supplying both melodic lead and a large part of the rhythmic foundation. Guitarists Megan Rice and Liz Stafford, who also provide vocals, intertwine their instruments to form a furious collage. And drummer Steven Lebel supports the group with complex patterns that he executes with laser-focused precision.
Rather than starting off with a brief intro or a tight, three-and-half-minute tune, the EP begins with its six-minute monster, "Falter." Between swirling fits of psychedelia, the three vocalists float Americana harmonies over stark bass tones. "Don't call to her if you don't want her," they sing in a condemnation of ambivalence.
Moving into the somber "Chosen Names," Lebel clacks the rim of his drums over shoegaze riffs. In a spiritually vulnerable confab, Hellman and co. project a vision of a peaceful and vindicated not-too-distant future: "You can hear us saying all the thoughts that once were frayed / We call each other by our chosen names."
The country-tinged "Crimson" moves through gleeful jauntiness to bellicose grunge. The track reminds those with inherent privilege to be conscious of the marginalized: "The walls we thought were white are soaked in violence secondhand ... The apathy you feel is only making it more real."
Rice and Stafford's guitar work shines on the EP's closer, "Hear Me Now." From jagged, fissure-like licks to wispy, arpeggiated riffs, the triumphant finale burns with urgency. In further evidence of the group's unorthodox leanings, Hellman obliterates the fourth wall: "Trapped and confused / 'Cause we don't understand / Why a band must build a brand."
Although relatively new, Julia Caesar are one of the tightest groups in the state. The aptly titled Heavy Flow is a powerful affirmation of intense feelings that can no longer fester in silence.
Heavy Flow is available on Spotify. The band celebrates its release on Thursday, July 19, at Ruach haMaqom synagogue in Burlington.