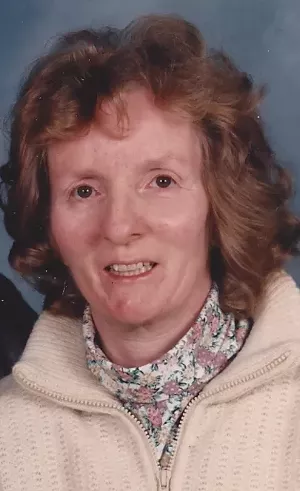 Julia Ann Magoon Monta, Colchester. Julia died Monday, January 26, 2015 at the University of Vermont Medical Center of complications from fractured hip surgery. Julia was born to George Henry Magoon and Donna Oakes Magoon on February 13, 1941 in Morrisville, Vermont. She was known as Julie Jo by her mother.
Julia attended Colchester schools and graduated from Mount St. Mary Academy. She was married to Robert Monta from 1987 until his death in 2009. For many years they enjoyed singing in the Colchester Community Chorus and Julia sang with the Our Lady of Grace Church choir also for many years. They enjoyed traveling together throughout northern Vermont, with trips planned to end at Joe's Snack Bar in Jericho. She worked for several years at Our Lady of Grave as custodian. In recent years Julia has enjoyed her friends she made at the Visiting Nurse Association's Adult Day Care.
Julia ignored most of the frailties and setbacks of life and carried on, surprising her siblings by her strength and determination. Her family is grateful for the excellent care and concern to Julia by doctors, nurses, and other hospital staff during her recent stay there.
Julia is survived by brother Robert (Betty) Magoon of Colchester, sisters Jean (Charles) Penoyer of Penfield, NY, and Coralie Magoon of Colchester; nieces and nephews Timothy Magoon, Bruce Magoon, Linda Viau, Donna Penoyer and Curtice Penoyer, and several grand nieces and nephews. Also, she adopted into her family her husband's children Emily Renaud, Nancy (Chris) Christianer, and Roy (Pat) Monta and their children Beth (Michael) Mercer and Steven (Lori) Renaud. Julia was predeceased by her parents and her husband Robert (Bud) Monta.
Visiting hours will be held at LaVigne Funeral Home and Cremation Service on Friday, January 30 from 4:00 to 7:00PM. A Mass of Christian Burial will take place Saturday, January 31 at 10:00AM at Our Lady of Grace Church in Colchester. Rather than flowers, consideration would be appreciated for the Visiting Nurse Association, 110 Prim Rd. Colchester, VT 05446. Online condolences may be shared with the family at lavignefuneralhome.com.