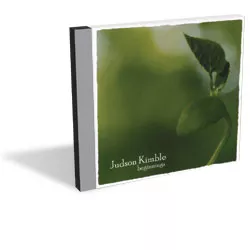 (Self-released, CD, digital download)
Solo instrumental albums by virtuosic players can be a mixed bag. Admiring the chops of, say, bassist Victor Wooten or acoustic-guitar hero Tim Reynolds can be an otherworldly experience. Players at that level can do things with their instruments that mere mortals can hardly conceive, let alone perform. But once you get over the astonishing degree of talent and technical precision on display, an uncomfortable question arises: Who is this for? While Wooten's A Show of Hands, for example, is a remarkable feat of solo electric bass ingenuity, other than serious music geeks or bass scholars, how many people would honestly throw that record on "just because"? Sure, it's technically amazing. But is it enjoyable?
On his solo debut, Beginnings, local fingerstyle guitarist Judson Kimble attempts to bridge the divide between virtuosic self-indulgence and the sort of experience that might reel in your average listener. Kimble is a talented player, and the 14 original suites here ably showcase his impressive, if not entirely polished, chops. More importantly, he generally splits the difference between scholarly navel gazing and engaging instrumental composition.
That's a fine balance to strike. And though he doesn't always hit his mark, when Kimble does rein in the flashiness, some fine moments can be heard. For example, the lead cut, "Rain Drops," is a warm, moving track that evokes late-afternoon summer showers with rippling runs and gently popping harmonics. Likewise, "Brazil" is a gripping composition in which palpable tension builds and releases over a sensuous choro-tinged groove.
Kimble gets into trouble, though, when he tries to do too much. While squeezing as many notes as possible into a single bar may represent a technical achievement, it's not especially pleasant to listen to. There are moments throughout the record where Kimble seems a little too taken with himself and eschews more tasteful choices in favor of attempted virtuosity. Further compounding matters, Kimble is not a virtuoso, at least not yet. In several instances — in particular "Summer Nights" and "Eve of Autumn" — his ambition outpaces his fingers, resulting in hurried passages that detract from otherwise fine compositions. Kimble also has a frustrating tendency to rely on similar tricks that grow wearisome as the record progresses. Note to the kids: String bends are best used in strict moderation.
Beginnings is by no means a perfect album. But it certainly has its stellar moments and marks an intriguing start from a talented local guitarist and composer.
Beginnings by Judson Kimble is available at judsonkimble.com. Catch him live when he plays Radio Bean on Sunday, April 22.