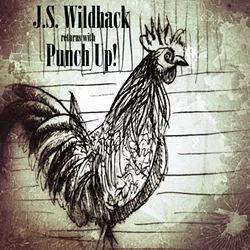 (What Doth Life, digital download)
J.S. Wildhack is the moniker of Davis McGraw, a Windsor guitarist who spent time in various bands, most notably rock outfits the Pilgrims and Derek and the Demons. These groups, part of the Upper Valley collective/sorta-label What Doth Life, dabbled in snarly punk, '80s hard rock and ironic '90s alt-rock.
In May 2014, McGraw released an EP of forgotten and never-released tracks from 2008 under the Wildhack name. This July, he followed up with a new four-song collection titled Punch Up! Blending outlaw country and garage-y indie rock, Wildhack distances himself slightly from his previous work on the new EP. But he doesn't abandon his street-fighting, hell-raising days entirely.
Punch Up! opens with "Enough of Me," a confident, boot-tappin' twanger. Wildhack is not shy about his late-night escapades, laying his words out like winning cards at the poker table: "Oh yeah those midnight sweats/ can't get enough of me / Sunday morning reckoning sessions / can't get enough of me / Face down screamed confession / can't get enough of me."
"Consult the Authority" showcases Wildhack's guitar chops. Moments of stinging slide contrast a bluesy blaze of fingerpicking. Cultural snark abounds in the lyrics. "Model on the mirror image dream / hooked in by the checkout magazine / twenty-twenty hot sight hell / everyday a show and tell," Wildhack observes.
Throughout the EP, Wildhack's deadpan, off-the-cuff delivery echoes CAKE's John McCrea. It works surprisingly well, coming off as natural instead of stylized. Instrumentally, Wildhack's no-frills sound is a less raucous version of his earlier work. It's still guitar-driven, but not quite as loud and rollicking.
Slice-of-life lyrics permeate "Little Deiter," but Wildhack also throws a knowing wink at the struggling hipster-artist trope. "I'm crashing down with my folks again / yeah they sure don't raise my salary the way they raise the rent / Just need a break and I'll be a star / the Barnum Bailey of the local bar."
The EP closes with "North Country," a slow, tambourine-tinged number. In a tinny, high pitch, Wildhack sings of love lost. It's a fairly bland tune, but this slip is easily forgotten once you play the EP again.
And you will. Because Wildhack's tongue-in-cheek yet honest lyrics will give you a laugh, and you'll be tapping your feet as he riffs guitar in skuzzy, twangy delight. Punch Up! is choppy, sexy and just rowdy enough.
Punch Up! by J.S. Wildhack is available at jswildhack.bandcamp.com.