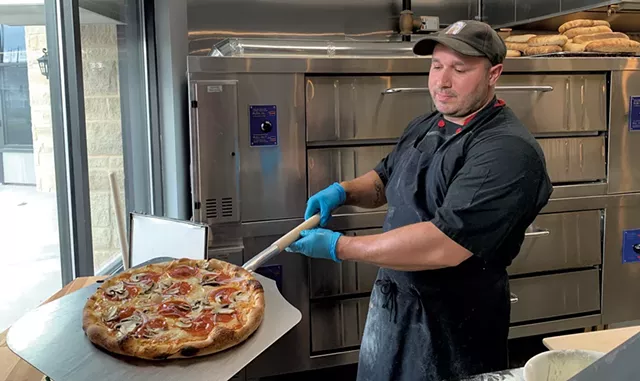 Melissa Pasanen ©️ Seven Days
Pizza cook Samir Ramadanovic at Jr's Williston
Business is budding in the new Cottonwood Crossing development in Williston. Jr's Williston opened on Monday, bringing pizza, pasta and other Italian specialties to 32 Cottonwood Drive, Suite 105.
This is the second restaurant for owner Bogdan Andreescu and business partner Kyle Crete, who opened Jr's Original at 348 Main Street in Winooski in 2018.
After a few years in business, they were looking to expand, and the new development near Taft Corners seemed like the right place, Andreescu told Seven Days.
"It's a nice area out there, and I'm just that crazy kind of guy who needs projects all the time," he said. "So I decided to open up a second location and make it work."
The menu in Williston is "pretty much the same" as that of the Winooski spot, Andreescu said, with pizzas, calzones, stuffed breads, hot hero sandwiches, wings, salads, and appetizers such as bruschetta and fried calamari. The Original House Special pizza comes with meatballs, sausage, pepperoni, peppers, onions and mushrooms. Customers can pick their own pasta-and-sauce combo or choose from a lengthy list of classic Italian and Italian American specialties, such as eggplant, chicken or veal parmigiana; lasagna; and shrimp scampi.
With 50 seats, Jr's Williston is a similar size to the original, offering on-site dining, takeout and delivery. Outdoor dining will arrive next spring. Both restaurants are open Monday through Saturday, 4 to 9 p.m.