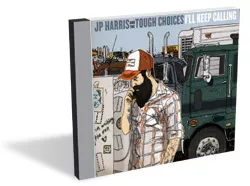 (Cow Island Music, CD, digital download)
As they state on their MySpace page, J.P. Harris and the Tough Choices "play Country-Goddamned-Music. Period." There's very little room for interpretation in that declaration. Harris and company are throwbacks — for starters, they still have an active MySpace page … zing! Joking aside, the band, which got its start in Vermont but has since relocated to — where else? — Nashville, meticulously evokes a purer era of country music. Setting aside the glitzy pop trappings of modern country, the band's new album, I'll Keep Calling, is like a honky-tonk time capsule, buried in red clay decades ago and only recently unearthed to deliver us from the sins of Lady Antebellum and Carrie Underwood. You'll find no Auto-Tune here. In fact, the album's only real adornments come whiskey soaked and stained with nicotine.
The album opens on "Two for the Road," which sets a countrypolitan tone that never wavers throughout the following 11 tracks. Harris is clearly steeped in honky-tonk tradition, and his writing bears the mark of a man who has spent a night or 200 in roadhouses and backwoods dives. With a deliberate baritone over a spare, Western-swing groove, he spins a classic, bleary-eyed yarn, singing, "Oh I'll take one for my heartaches and two for the road. All the whiskey tears that I've cried for you, well, you'll never know."
Harris isn't breaking any molds and displays a steadfast dedication to country convention. But rather than sounding derivative or predictable, his tunes bear an unusually honest quality. When he sings of walking away from a settled life on "Badly Bent," you believe he's just the sort of rambling man who has carved his name in "almost every bar from here to the Gulf of Mexico." When he rues a lost love on the title track, you feel the desperation in his weary croon. And when Harris swears he'd give up all his worldly possessions for love on the closing cut, "Take It All," it's hard not to envision the bearded singer with nothing but the Western shirt on his back and a pack of smokes in his pocket.
J.P. Harris and the Tough Choices play Positive Pie 2 in Montpelier this Sunday, May 13, with the Starline Rhythm Boys.