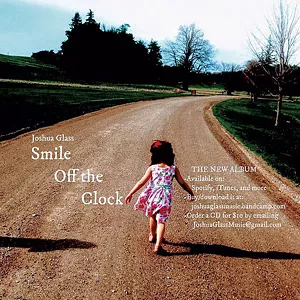 Courtesy
Joshua Glass, Smile Off the Clock
(Self-released, CD, digital)
Happiness is a strange sort of capital these days. You find it where you can, hold on to it tightly and quantify it beside the general upheaval of the world. It seems simple enough, but why, then, do so many people actually fear happiness? Maybe they think they don't deserve it, or maybe they just don't trust the feeling.
With his full-length debut record Smile Off the Clock, Joshua Glass presents a collection of songs that, by and large, dwell on the fear of happiness. Over 13 tracks, the Burlington-based singer-songwriter introduces an assortment of damaged characters all engaging in various shitty and self-sabotaging arcs.
Smile Off the Clock opens with "Megaphone," a jaunty, piano-driven number that has a delectable early solo-Paul McCartney feel to it, all handclaps and glockenspiel. The sunny tune obscures a bitter narrator who is witnessing an ex showing off her new love around town. "Do you do you do you need a megaphone / To tell the boys and girls that you're in love?" Glass wonders, all but smirking in disdain. Then he doubles down: "So make a toast to your perfect world and your health / You know my lunch won't go and throw up itself."
The record plays a bit like a Charlie Kaufman film, reveling in the darkest emotional corners and exploring how we try, and often fail, to share those feelings with one another. The title track, for instance, is a fraught affair about bringing a new lover to meet the parents. A palpable sense of doom hangs over the song, which is otherwise a gentle folk-rock number. Glass has the ability as a songwriter to bring the listener directly into the messy dynamics of his characters. Here his protagonist is desperate for his lover to both feel better and feel accepted in the house in which he was born — or at least just find a way to grin and bear it.
Many of Glass' tortured characters are at least somewhat autobiographical. "I, uh, was one depressed motherfucker," he told Seven Days. While he takes a hard psychological look at himself and his past relationships, the record doesn't come off like a man ripping at his beard and wailing of heartbreak. Rather, Smile Off the Clock is a nuanced and clever examination of why happiness is so hard to maintain.
Some good old-fashioned love songs pop up, as well, most notably "I've Got Nothing to Do," a tune about the excitement of falling in love. The song features fellow Burlington musician Andriana Chobot, who contributes some gorgeous harmonies. She's just one of many local luminaries sprinkled throughout, including Salad Days front man Aaron Flinn, multi-instrumentalist Colin McCaffrey and guitarist Sean Witters, along with expat Rebecca Kopycinski, aka Nuda Veritas.
Glass has had a long career in the local scene, playing in many others' projects, so he's called them in for Smile Off the Clock. As a result, the record is a wonderful advertisement for Burlington's robust roster of musicians. It's a sonically diverse album that never stops asking questions about our hearts and motivations.
Smile Off the Clock is available on Spotify and at joshuaglassmusic.com.