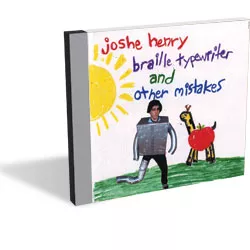 (Canopy Records, CD)
On Braille Typewriter and Other Mistakes, Vermont native Joshe Henry gives listeners a glimpse into his singularly creative, if deliriously addled, mind. The voluminous disc is something of a career retrospective: 35 tracks recorded between 1995 and 2010, culled from the 32-year-old no-fi trash-pop savant's 40-plus-album discography. While not for the faint of heart — or anyone who prefers their pop music neatly packaged and airbrushed to a glossy sheen — Henry's latest collection exudes an irresistible, manic charm. Those who approach the record with an open mind will be rewarded with a weird, wild and wholly unpredictable experience.
The album opens on "Braille Typewriter," which bristles with kooky punk energy. "My braille typewriter punches the dots, in the right spots/ It works so good and it works so fine, my braille typewriter makes me feel all right," sings Henry with a detached, adolescent sneer. Henry began writing and recording as a student at Champlain Valley Union High School (full disclosure: We were schoolmates). While the album's liner notes list no individual recording dates, the songs here seem to be presented in chronological order. The title track certainly sounds like the work of a misfit teenager. But then, so does much of Henry's adult output.
His bizarre sense of humor is on display throughout and is especially evident in his song titles. For example: "Puke-cumber," "Unicycles Last Longer Than Love," "I'm on X-mas" and my favorite, "Death Is God's Way (of Weeding Out the Losers)." Other songs, such as "I'll Smoke Your Ass," "Gimme Some More Cocaine" and "Making Mistakes," suggest an equally warped but darker and more fragile worldview.
The self-taught multi-instrumentalist's approach to playing, composition and arrangement is also unconventional. But there is a fitting symmetry between Henry's eccentric musings and the haphazard mishmash of sounds with which he surrounds himself. There is also a clear evolution to be witnessed between his raw, endearingly sloppy early recordings and the deliberately peculiar sonic aesthetic of his (comparatively) refined recent work.
But even as he has grown and improved as a musician, Henry has managed to retain his oddball sensibilities. This is best demonstrated in the album's closing track, "The Best Things in Life Come to Those Who Do Nothing." The song's woozy psychedelia sounds like what might happen if you could play a Magnetic Fields tune through a funhouse mirror. This is outsider art, cast by a truly unusual and unusually creative mind.
Joshe Henry's Braille Typewriter and Other Mistakes is available at joshehenry.com.