Joseph A. Citro has written reams on paranormal phenomena in the Green Mountains — some 11 nonfiction books on that subject and related terrain. As befits Vermont's "Ghost-master General," his new book, The Vermont Ghost Experience, is chock-full of spine-tingling spook stories, ranging from a classic haunted house tale in Richford to a Lovecraftian monster mystery in Irasburg. But amid these ghastly tales, one experience in particular stands out: Citro's own.
In "Introduction: The Night Visitor," the lead-in to the book's second act, Citro recalls a personal brush with a spectral phenomenon. It's a ghost story of sorts, but not in the traditional sense. That's because the ghost in question is a living person: Citro's then-girlfriend, Sheila.
We won't spoil the tale — it's pretty creepy. But Citro's late-night encounter highlights one hallmark of great ghost stories: They make it hard to tell what is real or imagined, whether an apparition is indeed a visitor from another plane or the product of an unquiet mind. Think of Jack Torrance, the homicidal hotel caretaker in Stephen King's The Shining. Are malevolent spirits from the Overlook Hotel's past driving Torrance to "redrum," or does he just have a seriously bad case of cabin fever? It's never quite clear. Citro's story of Sheila draws a similarly shadowy line between the real and the surreal, providing a chilling and thought-provoking context for the true-life tales that surround it.
"A great ghost story can be fiction — and there are a lot of terrific ones," says Citro in a recent interview with Seven Days. But, he stresses, great ghost stories can also be true — or at least true to our subjective experience.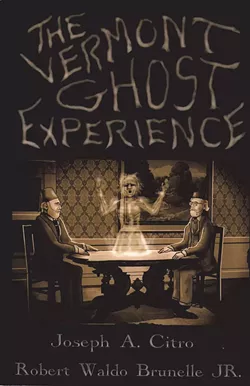 The Vermont Ghost Experience by Joseph A. Citro, with illustrations by Robert Waldo Brunelle Jr., Bat Books, 172 pages. $15.
"In this book, and with this particular case, I just wanted to use my own experience to remind readers that we can be fooled," he continues. "The same five senses we use to fillet fact from fantasy can also conspire to convince us there is a sixth. I'm saying, 'Look! It happened to me!'"
"The Night Visitor" is not the first personal experience about which Citro has written in his books. In the introduction to his 2012 book Vermont's Haunts: Tall Tales & True From the Green Mountain State, he related what he describes as "an inexplicable adventure with an empty glass that leaves even my scientist friends baffled."
But that's about the extent of his encounters with the supernatural. By and large, Citro's charge is telling the tall tales of others. "I have had a few unusual experiences, but none unambiguously with 'spirits,'" he says. "My purpose in life seems to be more to collect the stories than to experience them. I suppose that gives me a bit of reportorial distance."
Citro prides himself on conducting a thorough vetting process grounded in painstaking research and interviews. One example from the new book is "St. Albans," presented in a graphic novel format by local cartoonist Robert Waldo Brunelle Jr. Brunelle, whose comic strip "Mr. Brunelle Explains It All" appears weekly in Seven Days, drew the illustrations that pepper the book.
The tale is based on a 1998 interview with a St. Albans man named Raymond Shepard, then 93 years old. Shepard recounted a ghoulish encounter that he and his brother experienced at their home in 1915, involving a dead child whose spirit was not exactly at rest. It's a pitch-perfect gothic ghost story, made all the more creepy by the reputability of its source.
"I'd swear there is simply no way [Shepard] was insincere about what happened to him," Citro attests. The chapter closes with factual evidence that emerged many years later and helps cement the old man's veracity.
But does that mean it's true? Did the old man really see a ghost?
Citro, both by nature and occupational requirement, is a skeptic. When asked if he believes in ghosts, the "Bard of the Bizarre" hedges.
"Well, I have collected a lot of evidence, but I am still sitting on the fence," he says. "Which, I must admit, can get a little uncomfortable after a while."
Though perhaps not as uncomfortable as the delightfully eerie tales he tells.