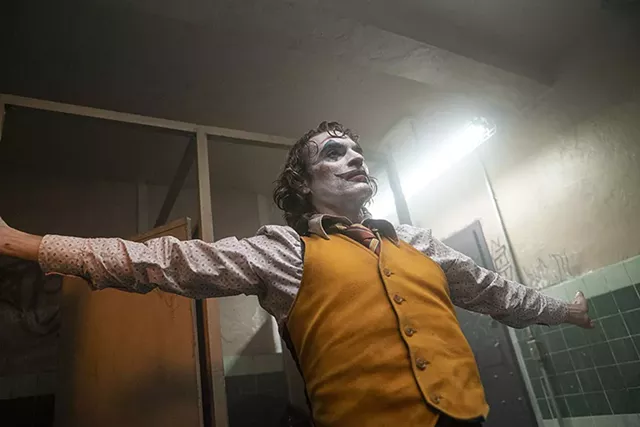 JOKER'S WILD Phoenix plays a would-be funnyman on the verge of mental collapse in Phillips' sort-of-superhero-adjacent drama.
For all the emphasis on facial makeup, the real star of director Todd Phillips' Joker is Joaquin Phoenix's emaciated rib cage. In scene after scene, his character, the hapless professional clown Arthur Fleck, meditates shirtlessly on his miserable life in Gotham City. Meanwhile, that rib cage strains against its casing as if trying to take flight. It never does.
But does the movie? By now, we've all already experienced the cultural firestorm around the Batman nemesis origin story that is supposedly both an art film and a referendum on white masculinity. A.O. Scott of the New York Times has even loftily informed us that the movie that inspired all this fear and hoopla is kind of a bore.
That's true for much of the run time. The irony of Joker (one might say its last laugh) is that the moment when it comes most cinematically alive is also the moment when it becomes most morally repugnant. That's the moment in the third act when Arthur finally becomes the cackling supervillain we all know.
Up to that point, the movie is basically a pastiche of early Martin Scorsese, whose grimy urbanscapes are lovingly re-created by cinematographer Lawrence Sher. Like Travis Bickle in Taxi Driver, Arthur navigates a city that he finds implacably hostile and corrupt. Like Rupert Pupkin in The King of Comedy, he's an aspiring comedian obsessed with a late-night talk-show host (played by Robert De Niro, just to drive the point home).
While both of Scorsese's antiheroes had their own kind of nasty energy, however, Phillips (The Hangover) and cowriter Scott Silver have chosen to portray the mentally ill Arthur primarily as a victim. Pupkin at least had (bad) standup material; Arthur's notebook is full of desperate scrawlings such as "I just hope my death makes more cents than my life." Working as a clown-for-hire, he's beat on by street kids and mocked by his coworkers while the soundtrack underlines his humiliation with "Everybody Plays the Fool."
Phillips' approach is, to put it lightly, heavy-handed. He asks us to care about Arthur without introducing even a sliver of hope into his story — until Arthur discovers his true talent for violence. In the aftermath, he dances, the cruel world softening into rainbow radiance around him.
Phillips constantly reaches for such iconic, meme-able moments: Slow motion, impressionistic lighting and needle drops are not in short supply here. Yet Joker doesn't earn those moments by establishing a believable context. Arthur never seems connected to anyone, even his mom (Frances Conroy), with whom he lives. As in You Were Never Really Here (2017), Phoenix is certainly acting, but it's a one-man show.
Joker ultimately has more in common with B movies such as Abel Ferrara's Ms. 45 (1981) than it does with the art films that Phillips seems to hope to emulate. It stacks the deck by making virtually every victim of Arthur's violence an awful person, spinning a floridly, fantastically paranoid tale that undeniably suits its comic-book origins.
Yet the movie never accomplishes its job of convincing us that Arthur had a supervillain inside him all along. It works so hard to make him blameless that it makes him empty. When that emptiness is finally filled with color and theatricality and actual wit, of course the audience is going to cheer ... for someone who has achieved self-realization through murder.
Walking out energized by the catharsis that follows nearly two hours of misery, it's easy to feel like we've seen something great. But maybe that's the real killing joke.