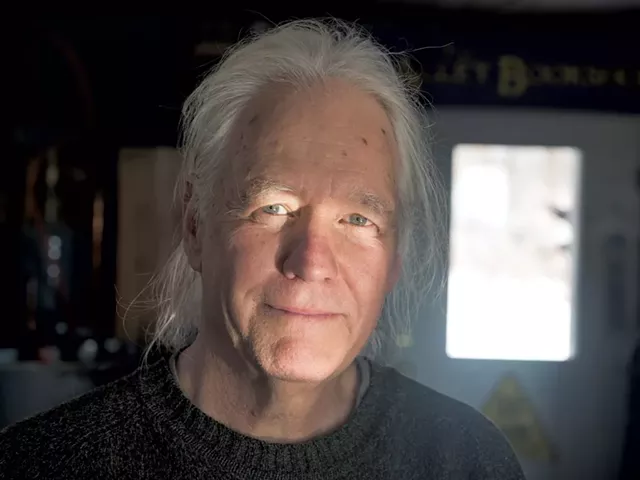 Caleb Kenna
John Vincent
In a former life, John Vincent was a cop. Now, the white-pony-tailed, 67-year-old lives in New Haven and operates A Revolutionary Press. As that name might suggest, it's an old-school print studio where Vincent creates radical posters featuring quotes from the likes of Martin Luther King Jr. and scholar-monk Thomas Merton.
This Saturday, February 25, the Vermont Book Shop in Middlebury will host a trunk show of Vincent's prints. He'll bring a sampling of equipment from his studio and demonstrate the process of printing with handset type. A Revolutionary Press recently acquired nonprofit status, and Saturday's event celebrates that as well as the man behind the prints.
Vincent sells those prints — in sizes from postcards to posters — in a few stores around the state. After covering printing costs, he donates the proceeds to organizations such as Courage to Resist and Iraq Veterans Against the War. Another recipient, he said, has been a prison library in Massachusetts that houses a collection of Merton's works.
10 slides
It's hard to imagine the good-humored artist ever did anything else. Vincent's studio is filled with what looks like a lifetime's collection of printing tools: at least three presses, drawers of wood and lead type, stacks of fresh paper, and shelves brimming with neatly organized prints.
But Vincent has only plied this trade for 10 years; his first career, in the 1980s, was as a police officer in Maryland. It didn't last. Vincent witnessed an act of police misconduct and reported it to internal affairs. The result, he said, was a bitter dispute and a fight to keep his job, which ended with his retirement.
"My take," he reflected, "is they didn't want to spend any more time on it." He was 35 years old.
Now Vincent ekes out a modest living from his monthly retirement checks. "I just adjust downward," he said. His experience as a policeman altered his worldview, he added, making him question the status quo that he once enforced.
After leaving the force, Vincent moved to Vermont; in 2000, he took over In the Alley Bookshop in Middlebury. During his seven years as a bookseller, Vincent relished printing out flyers bearing political quotes or quips and hanging them around the shop. Thus began his love affair with disseminating the printed word.
On the bookstore's final day of business, in 2007, a customer asked whether Vincent had any books on letterpress printing — in particular, using handset type. Vincent didn't. The patron told him about the antiquated method of printing that involves arranging individual letters, in reverse order, to form text. The resulting block of type is then inked and pressed with paper, one page at a time.
Vincent knew zilch about that process, but he was intrigued. And he resolved then and there to become a letterpress printer.
Upon closing the store, Vincent and his wife, book artist Jane Ploughman, moved to Maine to homestead. Shortly afterward, he acquired the contents of a print shop from a retired printmaker on Deer Island. Equipped only with a dial-up connection, and generally averse to the internet, Vincent taught himself how to print 1920s guidebooks. A Revolutionary Press was born.
At first, he wasn't very good at it. "People told me that what I [chose] to print was interesting," he said, "but if I put it up on a wall or bulletin board, [they] would have no good reason to go and read it."
So Vincent played around with the positioning of letters, sampling different fonts, sizes and ink colors, and tried to create more visually engaging arrangements. And he began to find buyers. In Vermont, where he and Ploughman returned last year, Vincent retails his prints at outlets including the Vermont Book Shop, Vermont Camera Works in Pittsford, the Peace & Justice Center in Burlington and the Rokeby Museum in Ferrisburgh.
In New Haven, where the couple built a house with studios for both, Vincent has been busy. He also offers a subscription service with about 30 customers. It delivers "a Revolution to your mailbox each and every month!" according to a promotional postcard. Subscribers get one to three "pieces of litter" for $15 to $30.
A print from the most recent batch features a spiraling quote in white ink on black paper: "We all have within us a center of stillness surrounded by silence." Dag Hammarskjöld, a Swedish diplomat and the second secretary-general of the United Nations, wrote that in his introduction to the meditation room at the UN headquarters in New York City, which he revamped in 1957.
Getting the right mix of impact and intellect in each print remains a juggling act, Vincent said. "It's been a balance all along to create something on a piece of paper that allows it to be viewed as art, but also to be viewed intellectually, as a challenge to someone's assumptions and perceptions about the world."
He has abandoned the humor of his early broadsides. "There's more to it than just poking fun at something," Vincent said. "Telling [people] what they want to hear isn't helpful in moving them in a direction of What does it mean to be human? What does that require of us?"
Vincent's answer to that: loving everyone. "Anything short of that, and we're not truly being human to each other."
In addition to making his own work, Vincent opens his studio to collaborators or other printers in need of equipment. Former Burlington poet Ben Aleshire of Honeybee Press printed a book of poems by Frances Cannon titled Uranian Fruit there last summer.
"He was a real life saver," Aleshire wrote via email from his current home in New Orleans. "He invited me there all because I talked to him for 10 minutes at [the Burlington Farmers Market], where he and Frances sold prints."
More recently, Burlington artist Jabari Jones visited A Revolutionary Press to print a series of proverbs related to bread. He also met Vincent at the market last summer. Jones, who spent two years with Bread and Puppet Theater, says Vincent's style resonated with his aesthetic — and the troupe's.
Vincent values this type of cross-pollination, he said, and the chance to exchange ideas with other artists.
Asked if the presidential election and ensuing events have influenced what he's printing, Vincent said no. "The choices of what I'm printing will remain the same. Until we get better at acting like we're a part of the world and not apart from the world ... until then, I'll point to these things that I feel need to be pointed to."