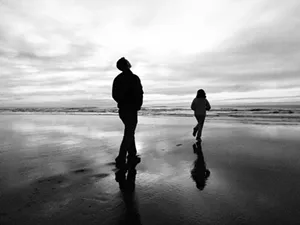 John Townsend, Seattle Songs
(Self-released, digital)
John Townsend is perhaps best known for his work with the folksy Burlington instrumental trio Silver Bridget. There, he provides accompaniment for musical saw and Telecaster with an acoustic guitar and a drum kit. (Simultaneously, mind you.) With his new solo LP Seattle Songs, however, Townsend might become better known as a singer-songwriter — if a reluctant one.
The circumstances behind the album are inseparable from the songs themselves. Around this time last year, Townsend received word that a dear friend was dying of brain cancer in Seattle. He uprooted his life and left as soon as he could to spend time with him, but the young man passed the day after Townsend arrived. He stayed there through the summer, to help the family transition and to celebrate his friend's life and legacy.
He also began writing songs, at first intended for precisely nobody. We're lucky that he changed his mind about that. The songs here are remarkable, located squarely in the raw space between grief and celebration. There is no great wash of catharsis, just a constellation of Townsend's beautifully observed moments.
Seattle Songs is a strong, fine collection. It is also an undeniably difficult listen. This is most especially true on "Left Too Late" and "Joe," the latter of which was recorded just days after Townsend arrived in Seattle. But to say the listener is rewarded for the journey is an understatement: There are some knockout songs here.
On "Me & You," Townsend kicks his voice up a few registers to fantastic effect. I had this track on repeat for an hour at one point. Album closer "Green Hills," a homesick paean to Vermont, is another rock-solid, mature composition. Nothing on the album hit me harder than "Light in Your Eyes," though. The balance of mourning and meditation is exquisite, offering hard-won clarity. Capturing such fleeting moments takes real talent.
There are also some lovely instrumental tunes, serving as a reminder that the man has fierce chops, both on the fretboard and as a composer. "Adjustment" opens up the instrumentation, bringing in piano and shaker percussion for a diverting, and welcome, interlude.
For most of the LP, though, the production is appropriately stark, generally just guitar and vocals, sometimes helped along by hand percussion. This approach only makes the songs more powerful. The entirety of Seattle Songs was recorded on an iPhone 5, but every second sounds warm and intimate rather than plastic. That's largely thanks to Ryan Power, who later finessed these audio journal entries in a proper studio.
This is the debut of a powerful new voice. Townsend's worthy tribute to his friend transcends his loss. It's a deeply personal album that can speak to anyone, a work of alchemy that cuts to the heart. Seattle Songs will stick with you.
The album is available at johntownsend.bandcamp.com.