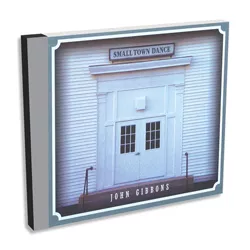 (Self-released , CD)
After more than 30 years of writing and performing around the state, Georgia, Vt., songwriter John Gibbons has delivered his first solo album, Small Town Dance. And when they get a taste, fans of the Green Mountains' vibrant roots, bluegrass and Americana scenes will no doubt wonder what took so long.
As its title should imply, Gibbons' debut is a charmingly down-home affair. From start to finish, the songwriter paints breezy, almost Rockwellian portraits of small-town life. He displays an obvious affinity for folk, bluegrass and country, not only in time-honored genre aesthetics but in theme as well. So, while his observations are often quaint and familiar, they are colored with a rusty hue that never quite falls into idyllic pretense.
Tom Gray's "Silence or Tears" — one of the album's three cover songs — opens the disc and introduces Gibbons as an instinctive vocalist. Framed by Colin McCaffery's wailing fiddle, his tender croon is perfectly suited for Gray's classic lovelorn ballad.
"This Cowboy I Know" follows and marks the first of the disc's seven Gibbons-penned originals (another, "Season Song," was written by Gibbons' longtime collaborator, guitarist Craig Anderson). The lolling waltz showcases the songwriter's understated but effective lyrical prowess. His unadorned melody proves the perfect foundation for Carol Hausner's soaring vocal harmony work.
Richard Shindell's trucker homage "The Kenworth of My Dreams" is distinctly enjoyable in Gibbons' playful delivery.
Reprising an old fan favorite, "Oh, Well, AOL" is a quirky, tongue-in-cheek tale of love lost to, well, AOL. However, the tune was written in 2001 and, given the speed with which Internet technology has since changed, it sounds woefully dated. Granted, "Oh, Blast, Comcast" doesn't have quite the same ring.
"Pick Your Place, Anne Marie," is a gorgeous ode to classic Appalachian balladry, recounting the story of a life-long love found and nurtured in the splendor of the Green Mountains. Once again, the always impressive Hausner proves the perfect foil for Gibbons' reedy, unassuming timbre.
Gibbons and company close the album — and presumably, the bar — with the roadhouse scorcher "Another Shot of Rye Whiskey." Though the mild-mannered Gibbons seems ill cast in the role of barroom brawler, it's a fun romp and a suitable chaser to yet another fine addition to Vermont's expanding catalogue of high-quality Americana releases.