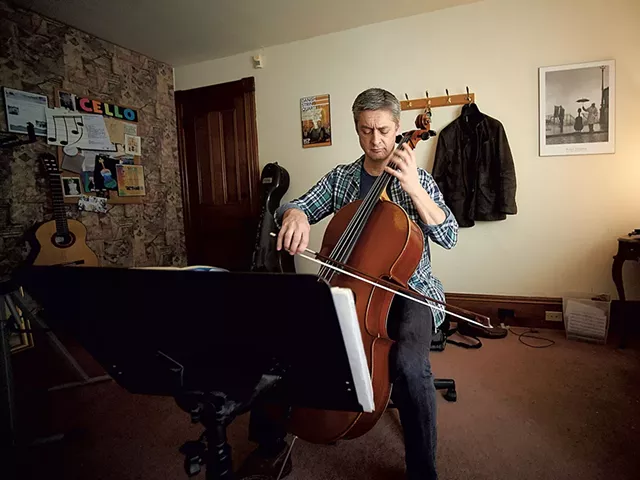 Bear Cieri
John Dunlop
John Dunlop, principal cellist in the Vermont Symphony Orchestra, cuts a striking figure during a concert on the Flynn MainStage. A trim man in black tie and tails, his remarkable posture suggests a military man or a dancer. Attentive to the conductor, the music, his stand partner and the entire orchestra at once, the 53-year-old seems the quintessential classical musician.
But if you live in Vermont, you might have seen Dunlop in nearly every other musical context, as well. He plays opera and oratorio scores with Opera Company of Middlebury, Opera North in Lebanon, N.H., and Burlington Choral Society. With TURNmusic, Anne Decker's new-music chamber "band," Dunlop dons retro sneakers to play radical new compositions by the likes of 2012 Pulitzer Prize-winner Caroline Shaw. This past First Night Burlington, he played bluegrass and gospel music with the group Tumbleweed, then ran down the street hauling his cello in minus-10-degree weather to play with Cricket Blue, an indie-folk duo.
Dunlop accompanied country star Lyle Lovett at his 1994 show at Memorial Auditorium in Burlington and, when Broadway star Bernadette Peters needed backup for a 2012 Flynn show, he stepped up again. Dunlop played cello on Phish cofounder Trey Anastasio's eponymous 2002 solo album and his 2004 album Seis de Mayo. He has even composed scores for two films; one score — for a documentary on childhood hunger in Vermont — was influenced by classical Indian music.
But wait, there's more. Dunlop plays guitar at contra dances and both guitar and bouzouki in his folk-classical trio Symphony Reel, a VSO SymphonyKids group.
Meanwhile, Dunlop has played with just about every local chamber-music group. He's the only VSO musician to have performed every Jukebox concert and seems right at home playing into a mic on the ArtsRiot stage. He's principal cellist of the Burlington Chamber Orchestra and the cellist of both Stellaria Trio (with violinist Letitia Quante and pianist Claire Black) and Northern Third Quartet (with violinist Sofia Hirsch, violist Elizabeth Reid and pianist Alison Bruce Cerutti).
Not least, Dunlop is half of Duo Dolce with his partner of 20 years, Laura Markowitz, a VSO second violinist. Last year, the couple formed Eclectica, a world-music quartet, with Hirsch and violist Ana Ruesink.
"He does so much. I can't believe how many groups he's in," marvels TURNmusic's Decker. "He's been able to play anything I put in front of him. And the music demands such technical skill."
The cellist is "a modern player," said composer Matt LaRocca, who curates Jukebox. "He's what classical musicians are now. If we need him to play Bach, he'll play an amazing Bach. If we need him to play Talking Heads, he'll do that — and do it naturally."
After training at Oberlin Conservatory and San Francisco Conservatory, Dunlop could have taken his skills anywhere. As BCO conductor Yutaka Kono commented, "For his level, John could easily be in one of the top major orchestras in the country."
But Dunlop, a Burlington native, chose to make Vermont his professional home. That choice has allowed him to pursue his many musical interests at once.
Seven Days met with the cellist at his Richmond studio, a sparsely furnished room above the Vermont Farm Bureau where he gives private lessons. Dunlop teaches 20 hours a week there and gives additional lessons at Dartmouth College, where he has been an adjunct instructor for 12 years.
He seated this reporter in the squeaky lesson chair, which, he joked, is helpful for startling drooping students into attentiveness during their 90-minute lessons. The unstable perch seems antithetical to good posture, but Dunlop said he insists that his students learn proper carriage in order to avoid long-term back problems.
"When you perform, you could be sitting on anything," he said, pointing to a draconian wooden folding chair leaning against the wall. "I bring a special cushion when I have to sit on those."
Dunlop was 3 when his parents, both former actors, moved from Seattle to Burlington. William Dunlop became the longtime head of acquisitions at the University of Vermont's Bailey/Howe Library; Carol taught and performed modern dance, and she sang and played piano at home. Every evening, Dunlop recalled, his father would listen to Western or Indian classical music or jazz.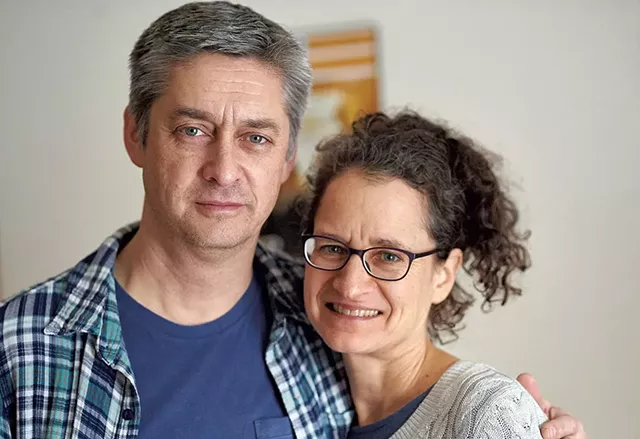 Bear Cieri
John Dunlop and Laura Markowitz
The Dunlops required their son to learn a musical instrument but left the choice to him. John Dunlop began taking piano lessons at age 6 with Liz Metcalfe, Burlington's still-reigning harpsichord specialist. After two years, he switched to guitar, took lessons for five years and briefly tried saxophone. Dunlop discovered the cello at 13 — a late age for orchestral players.
"As soon as I picked it up and started to play, it just clicked," he remembered. "Within a couple weeks, I was playing Bach suites."
Local philanthropist Ducky Donath, a self-described Dunlop "groupie," witnessed this transformation as his sixth-grade teacher at Ira Allen School. "He was just a regular kid — popular, a good student," said Donath, now 86. "All of a sudden, he was going to Dartmouth for lessons." (Dunlop's first cello teacher, Melissa Brown, sent him after only a month to study with her own teacher, Oberlin-trained Norman Fischer.)
Dunlop's best childhood friend, violinist Scott Metcalfe (son of Liz and Bill, former director of Oriana Singers) also recalled his breakthrough. "The thing about John is that he dabbled in this and that, but when he picked up the cello, he went from playing "Crunchy Cookie" to being first chair of the New England Music Festival [comprising the best teenage instrumentalists from all six New England states] in six months," said Metcalfe. "That's unusual."
At Burlington High School, Metcalfe, who was a year ahead of Dunlop, recalled listening to Count Basie LPs, hiking, cross-country skiing and making movies on a Super 8 camera with his friend — including one they called The Cold Cut Murders, in which a character kills people with salami. BHS alum Bob Blais, who now conducts the Green Mountain Youth Symphony in Montpelier, remembered that Dunlop and Metcalfe once had an impromptu fencing match using dismantled music stands.
Antics aside, it was never a question that Dunlop would head to a conservatory after high school. He chose Oberlin, studying with Fischer's former teacher, Richard Kapuscinski. He pursued a master's degree at San Francisco Conservatory to study with the well-known Bonnie Hampton and to experience living in a big city. Dunlop stayed there a year after completing his degree but quickly discovered he was only one of "50 really good cellists" at every audition.
When a VSO position opened in 1988, Dunlop moved back, partly to be near his parents, who live in South Burlington. In 2000, the principal cellist retired. Dunlop auditioned for the spot.
"I remember so well when he auditioned for it," said Jaime Laredo, who joined the VSO as conductor in 2000 and is a renowned violinist. "He played the Boccherini concerto [in B-flat]. I had no idea who he was, but it made such an impression." Dunlop, Laredo added, "has a beautiful sound. I think the whole cello section sort of emulates his sound."
Dunlop and Markowitz met playing in the now-defunct Queneska Quartet in 1993. Markowitz had moved to Vermont in 1991 from Florida, where she had been playing in the Florida Orchestra in Tampa — a gig that afforded only one day off per week. (By contrast, the VSO meets approximately every seven weeks, she said.)
"I've always adored John's playing," said Markowitz, noting that because it is informed by his guitar skills, "it has a rhythmic drive when it needs to." Guitar playing has also given Dunlop a knack for pizzicato, or plucked, lines.
Markowitz introduced Irish and Celtic music to Dunlop, further expanding his guitar and cello repertoire. The couple discovered Cricket Blue together, and Dunlop approached the young duo — Middlebury College alums Laura Heaberlin and Taylor Smith — to suggest that their style would benefit from cello accompaniment. Heaberlin, who had played cello in the Vermont Youth Orchestra for two years, agreed. Dunlop performed on their second EP, Io.
"I always feel like he's on the cutting edge of what's happening, whether that's the classical world or the folk world," Heaberlin said. "And he's always asking for recommendations for new things to listen to."
Dunlop's colleagues all remark on his lack of ego and his interest in putting music first in group settings — traits that no doubt have facilitated his numerous collaborations. But his ability to create a rich career as a cellist in Vermont can't be chalked up merely to talent and graciousness.
"It's kind of impossible to make a real, sensible career in music," said Boston-based Metcalfe. "John is a special case because he made a conscious choice to make it work in Vermont. I know that's not been without challenges. It's a small population; it's hard for people in arts that require colleagues. He's been quite entrepreneurial in making that happen. I'm a little bit jealous. I'd love to live in Vermont."
Dunlop may soon give some of the few out-of-state performances of his career if Stellaria Trio goes on tour. That's a prospect Charlotte composer Damon Ferrante is currently arranging through his music production company, Steeplechase Arts & Productions. Until then, Dunlop's performance schedule includes an appearance somewhere in the state nearly every 10 days.
The cello, Dunlop said, seems popular with the public, perhaps because it's "closest to the human voice." But, he added, "I'm happy to have an opportunity to take part in all sorts of music. I'm happy that I found a calling."
Correction, February 6, 2017: An earlier version of this story misstated the eligibility requirements for the New England Music Festival.