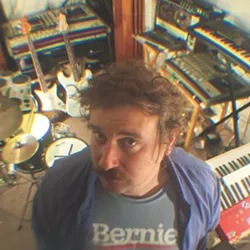 Joey Agresta, Let's Not Talk About Music
(Wharf Cat Records, CD, digital download, vinyl)
Joey Agresta doesn't want to talk about music; he wants to talk about love. Real, beaming, smiling, universal love of the kind that Ram Dass passed on during the Summer of Love. The kind of love on which the Beatles crowd-surfed across continents.
As a musician, Agresta has worn many names, from Nosebleed Island to Son of Salami to Joey Pizza Slice. His songs have captivated the underground scene in the Northeast for a decade. His last major release, A Study in Eraser Headless Tape Recording — as Son of Salami — was a demonstrative thesis on a rarely used recording technique involving the removal of the erase head of a tape recorder.
Let's Not Talk About Music is Agresta's first release under his given name. This creative decision reflects the personal honesty delivered on the album. Regardless of his pseudonym or stylistic fancy at any given time, Agresta's writing has often touched upon themes of existential dread, the cosmic joke and processing emotional trauma. Here he condenses universal truth into the structure of popular song.
Let's Not Talk About Music is Agresta's Pet Sounds. That 1966 Beach Boys classic advanced the field of music production by blending pop and avant-garde with elements of psychedelia. It was a bridge between dancehall and progressive rock and roll. Agresta utilizes the same technique on Let's Not Talk About Music that inspired Brian Wilson: Phil Spector's "Wall of Sound." This recording process relies on using many simple, warm layers to create a thick, symphonic sound when played over AM radio and lo-fi speakers.
Side A begins with "A Win Song for Bernie." The instrumental synth arrangement transports the listener to an alternate reality where Sen. Bernie Sanders ascends the White House steps. Then reality sets back in with "Don't Be Sad." Here Agresta sings about the process of accepting and moving through sadness over accompaniment that conveys optimism in its punk bass line, New Wave synths and surf-rock drums.
"Jerks" strips back to reveal more peace-punk bones. It's a minimal track whose Zen nursery-rhyme lyrics are made for sing-alongs: "We live on the edge of a fumble / For this I am grateful / I don't want to be hateful."
The album starts to get nice and gooey with the doo-wop bop of "Baby Girl." "I Won't Give Up (featuring Palberta)" goes full flower child with a jubilant chorus of vocal harmonies and exclamations on the radical act of love: "Love is yours / dare to believe it."
Part of the brilliance of Pet Sounds was that even amid Wilson's provocative experimentation, his songs maintained their inherent pop perfection. In its own way, Let's Not Talk About Music shares that quality. From "I See a Light" to "I Want to Live Again," each track of Agresta's latest is incredibly catchy and easy to listen to.
Let's Not Talk About Music by Joey Agresta is available on CD and LP at Pure Pop and digitally at wharfcatrecords.bandcamp.com. Agresta plays an album release party with Bleach Day and Big French on Monday, May 22, at ArtsRiot in Burlington.