Jeb Wallace-brodeur
Joe Buley making soup at Joe's Kitchen in Montpelier
Chefs work long shifts, often on evenings, weekends and holidays. Farmer hours are not much better; they must make hay (or plant corn, or pick strawberries) while the sun shines, as the saying goes. Both careers are physically and mentally demanding, operating within thin margins subject to uncontrollable factors such as weather and the broader economy.
Joe Buley, a French-trained chef and Vermont farmer, tried each profession independently. About a decade ago, he found his sweet spot by combining the two into Joe's Kitchen at Screamin' Ridge Farm.
Buley, 56, and his wife, Lori Martin Buley, grow vegetables and herbs on their three-and-a-half-acre farm in East Montpelier. Along with additional vegetables, dairy and meat sourced from other local and regional farms, their produce inspires a rotating roster of 35 soups simmered in Joe's Kitchen in downtown Montpelier.
The soups are sold through co-ops and independent food markets, plus some restaurants in Vermont, New Hampshire and New York State. Right now during peak soup season, the seven-member production team is making about 500 gallons a week and has the capacity to do more.
The two parts of the business are complementary seasonally, professionally and financially. "As farming slows down, soup season takes off," Buley explained. The soups are also a way to turn his and other farms' produce into a value-added product for which consumers will pay a premium. "I thought, I've got a culinary background. How can I use that to make farming work?"
On a recent Wednesday morning, four employees were busy puréeing chipotle chile peppers, blending basil and lemon with roasted garlic, checking the three 40-gallon soup kettles, and prepping retail containers. The scents of Indian yellow split pea dal, beef and black bean chili, and basil-rich minestrone filled the air. Two more employees were prepping potatoes, carrots and onions in a former granite shed next door, into which the business expanded last year. (All the veg scraps go into the farm's compost pile.)
Buley is proud to offer quality employment opportunities. Hourly wages start at $13 to $15, depending on experience. All employees, including part-timers, get 40 hours of sick pay, five paid holidays and all the soup they want. Everybody is cross-trained.
Victoria Maradiaga Ramos, a single parent who lives just across the parking lot, said she appreciates the task variety, flexibility, team and convenience of her workplace. "Who doesn't love soup?" she added.
Buley's journey to becoming a soup chef and farmer owes something to childhood summers spent in Vermont. He jokes that he's a "seventh-generation flatlander." Buley moved frequently but paid regular visits to Vermont, where both sides of his family have deep roots.
He has especially fond memories of his maternal grandmother. "She always had something cooking. She was a really, really good cook," Buley recalled. His grandparents had a huge garden at their East Randolph home, and little "Jojo" was often sent out to pick fresh green beans or corn for supper. "It sounds a little cliché," he said with a chuckle, "but it's true."
Buley started cooking young, too. "I was a sickly child with horrible asthma and allergies," he said. "I was often stuck inside. My mom started teaching me to cook to keep her sanity."
In 1999, Buley was a dozen years into a high-powered culinary career and part owner of a restaurant group in Austin, Texas. He was doing well professionally but barely saw his wife and three young daughters. "I was burning out. There was no quality of life," he said. "It was either running a restaurant and getting a divorce, or doing something different and seeing my family."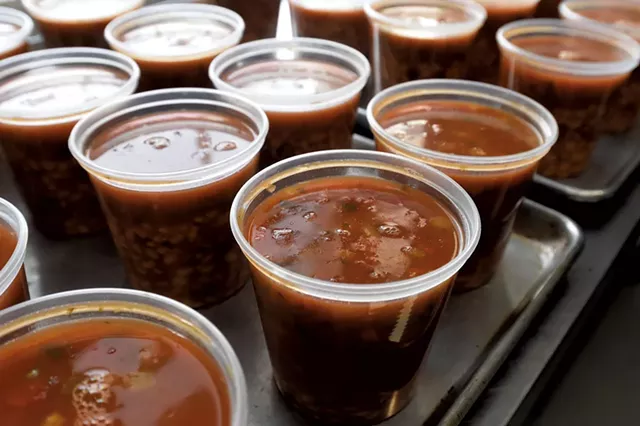 Jeb Wallace-brodeur
Minestrone soup at Joe's Kitchen in Montpelier
The couple decided to move to Vermont, where Buley landed a job teaching at the New England Culinary Institute in Montpelier. Toward the end of his nine-year tenure there, he was looking to get out of the kitchen and "into the dirt." Buley jests that it was a constructive form of midlife crisis: Instead of a sports car, he bought greenhouses.
The connection between cooking and growing food came naturally, Buley said, from both his childhood and culinary training in France. "It's always been farm to table there," he explained.
Buley started by selling vegetables at the farmers market, as well as to restaurants and a nonprofit that supplied local schools. His CSA grew to 250 members.
The first soups were created for the winter CSA, and then Buley began offering them at the farmers market. The vegetable and CSA sectors were becoming oversaturated, he said. Farm-fresh soups seemed like an opportunity.
In 2010, Red Hen Baking in Middlesex became Buley's first bulk soup customer. Montpelier's Hunger Mountain Co-op soon came on board, offering retail packaged soups and then subbing Buley's soups for previously housemade soups on the hot buffet line.
Kari Bradley, longtime general manager of Hunger Mountain, said that Joe's Kitchen is "a great example of a local food business with multiple impacts. It's a win-win-win — and probably a fourth win, too."
The business helps farmers because the soups can use local ingredients that might be cosmetically imperfect and harder to sell at retail, Bradley explained. The soups meet a need for a local, high-quality product that his customers want. In fact, he noted, fresh, heat-at-home soups were a new category at the co-op back in 2010. Outsourcing soups also freed up co-op staff from soup making, previously "a big opportunity cost," Bradley noted.
Joe's Kitchen is a good local employer, he added. "And now that the soups are distributed beyond Vermont, Joe is an ambassador for the Vermont food brand." Bradley concluded by tallying five "wins" overall.
He said he has also appreciated watching the trajectory of Buley's business from "small farm to microbusiness [producing] at food hubs to now his own impressive facility." During its first few years, Joe's Kitchen made soups in the now-defunct LACE (Local Agricultural Community Exchange) in Barre and then the Mad River Food Hub in Waitsfield.
In 2014, Buley decided to pursue his own production space and eventually found the building on Maple Lane next to the railroad tracks, which he renovated the following year. He took on "an enormous amount of debt" to build the kitchen and storage in the rented building.
Growing pains were compounded by the loss of a couple key accounts, which he didn't have the bandwidth to immediately replace. Buley was stretched thin, not only overseeing construction but shouldering all sales and marketing, human resources and operations. "We almost went bankrupt," he admitted.
Jeb Wallace-brodeur
From left: Maurice Martineau, Rob Davis and Victoria Maradiaga Ramos measuring portions of minestrone soup
The rough patch helped Buley prioritize his goals and stay focused on co-ops and independent markets. "Their customers understand what I'm trying to do," he said. He pulled the soups from a regional supermarket chain and turned down an inquiry from Costco Wholesale. "I've worked in corporate America," Buley said. "I'm not interested in high volume, low margin. I'd rather do high quality."
Buley is constantly working to source more ingredients locally and regionally. The chili is made with beef from Applecheek Farm in Hyde Park and is finished with Zero Gravity beer. A vegan version uses Rhapsody Natural Foods tempeh made in Cabot. The curry leaves in the dal often come from many houseplants tended by his wife, he said, but he needs more.
The expanded processing and storage should help Buley buy more ingredients locally in season when they are at peak flavor and competitive prices. The team will prep them to freeze for later. "One year, we had all these tomatoes we couldn't process. I watched 4,000 pounds rot," he said ruefully. "That was not a highlight."
With growth, certain ingredients have become more challenging to find locally, such as dried beans. "We need 5,000 to 6,000 pounds of black beans alone [every] year now," Buley said.
His newest customer is Killington Resort, which is ordering 120-gallon batches of creamy tomato and cheddar-ale soups, plus miso-ginger broth for its pho bar. "It used to be exciting when we were making eight gallons," Buley said.
He's also building a niche by providing some custom products beyond soup, such as all the poutine gravy for the 10 Skinny Pancake locations. The restaurant group's founder-owner Benjy Adler said they had to stop making their own due to production capacity limitations and had been unhappy using a nonlocal option. Working with Joe's Kitchen to develop a gravy made with local chicken and beef bones "was a big win for us and I hope for them, too," Adler said. "That's the local food system at work."
Silas Doyle-Burr, owner of Last Resort Farm in Monkton, has been talking with Buley about future vegetable purchases. "He's definitely helping out small producers with his commitment to local," Doyle-Burr said. "He's helping reduce the commoditization of vegetables."
Back in the kitchen, the team was packaging up the Vermont dal while Thomas Dairy heavy cream from Rutland, frozen Full Moon Farm broccoli from Hinesburg and Grafton cheddar ends sat poised to become broccoli-cheddar soup.
Buley demonstrated how an old turntable works as a mechanized lazy Susan to spin soup containers, while a paint heat gun affixed to an old-fashioned French-fry cutter heat-seals their tamper-resistant lid rings. "It's very low-tech. You could call it Vermont ingenuity," Buley said with a laugh. "We're not playing music. We're playing soup."