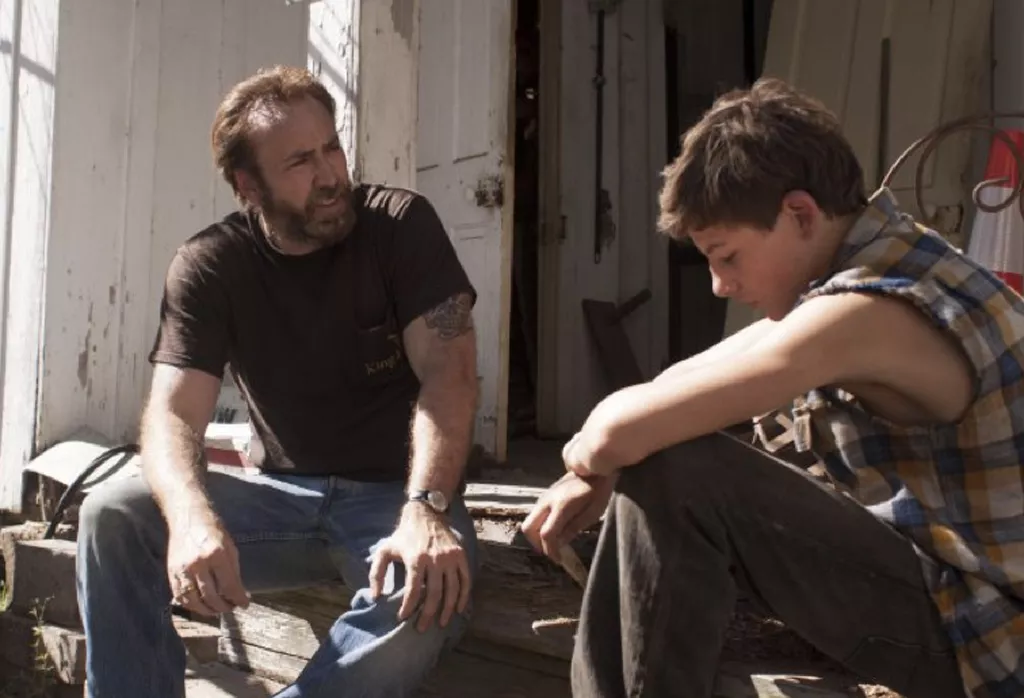 cage caged: The actor delivers an uncharacteristically subdued but still compelling performance in Green's Southern gothic.
About a year ago, I received a tip that a Vermont-raised actor named Brad Coolidge had launched a career producing indie films, including the star-studded What Maisie Knew. While the intel regarding Coolidge's Green Mountain origin remains unconfirmed, it inspired me to check out his latest collaboration with director David Gordon Green: Joe. I'm glad I did.
A Texas-set 2013 drama that never reached our multiplexes, Joe is now available for streaming and on video. It stars Nicolas Cage, but he's not doing what we expect from Nicolas Cage — namely, devouring every piece of non-tacked-down scenery in sight. Nor is Green fulfilling the expectations we might have, based on his Hollywood résumé of comedies such as Pineapple Express and Your Highness.
Before he made those movies, Green was best known for atmospheric dramas. He returns to those roots with Joe, scripted by Gary Hawkins. It's a tale of unlikely allies — a middle-aged ex-convict and a dirt-poor teen — that invites comparisons with Jeff Nichols' Mud, not least because both films display the talents of young actor Tye Sheridan.
Here Sheridan plays Gary, a 15-year-old as determined to protect his vulnerable family as Jennifer Lawrence's character was in Winter's Bone. His violent, alcoholic father (Gary Poulter) looms over them like an angel of destruction, grinning demonically as he undoes all the boy's efforts. Poulter, a real-life homeless man who was plucked off the streets of Austin to star in the film, was found dead shortly before its release. Even to a viewer unaware of that sad history, his performance feels disturbingly real, like Bruce Dern at his weirdest turned up several notches.
Given this engine of chaos at the film's center, it's a good that Cage chose to tone things down a bit. His Joe runs a work crew tasked with killing whole groves of "junk" trees. When he pumps poison into a trunk, the action feels like a physical manifestation of his toxic emotional state.
We gradually learn that only Joe's hard-won restraint keeps him in his gruelingly boring life and out of jail, where his anger has landed him in the past. But, unlike Gary's dad, he wants to do better — and sees an opportunity when the boy comes to him for a job.
The basic narrative of Joe — a broken man redeeming himself by fathering a kid in need — is far from original. The movie's female characters are sketchily conceived, with a couple of them seemingly present only to be abused, and the script offers up plenty of well-worn redneck-gothic tropes.
What lifts Joe above similar stories, besides the acting, is Green's intense attentiveness to setting and atmosphere. We notice not just the luminous beauty that his camera gives to sun-struck, scrubby wastelands, but also the quasi-documentary details with which Green fills in this corner of the world: the work crew's banter, the tree-killing procedure, the mysterious threesome who drops by Joe's house with a deer carcass. (He cuts steaks from it on camera, with care and aplomb.)
Many of these characters are played by nonprofessionals and have no plot relevance; they're just local color. But it's rich, varied color and, by the end, we may feel like we've been steeped in the Texas heat and had a taste of the poisonous frustration working its way through Joe's veins.
Coolidge's latest coproduction is The Disappearance of Eleanor Rigby, an acclaimed trilogy about a strained marriage that we may or may not see on our screens this fall. Meanwhile, it's good to be reminded that there are summer alternatives to robots, fairy tales, superheroes and gross-out gags — even if we have to catch them at home or during a one-week run at our local art-house cinema.