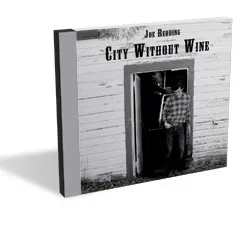 (Self-released, CD, digital download)
Burlington songwriter Joe Redding presents himself as cut from similar badass country cloth as the likes of Johnny Cash and, before him, Hank Williams. And on his new EP, City Without Wine, Redding navigates a dark, winding road through crumbling Americana soundscapes that suggest he's spent a fair amount of time studying the Man in Black. He even boasts a rich, throaty baritone. Politically charged and emotionally bold, the EP suffers no shortage of raw urgency. But sometimes you can have too much of a good thing. And City Without Wine, while undoubtedly intense and admirably impassioned, ultimately staggers under the weight of its own brooding machinations.
Redding storms out of the gate on "Red Haze." A coursing charge of fiddle gathers over an ominous minor-key progression. Redding's croon is distinctive and effectively jaded as he laments, "Every rose has a thorn, every thorn has a rose. / Well, we're damned if we do, and we're damned if we don't." It's not Faulkner, exactly. But hey, it ain't Poison, either. The songwriter's gothic imagery comes together by the second verse and matches his visceral delivery.
On first listen, it's hard not to compare Redding's booming vocal style to that of Crash Test Dummies front man Brad Roberts. (Take that however you want.) But Redding's inky-black tone suits his generally bleak songwriting, shading his words with palpable desperation. The problem is, Redding rarely relents. Songs such as "Lay Low" and "Give Love to Get Love" — the latter of which centers on love gone sour and societal ills including slavery and materialism — inspire an appropriate degree of empathy, but they do little else. The permeating hopelessness batters almost unyieldingly.
The title track is the closest thing to an exception among the EP's four songs. Here Redding shines a soft ray of light amid searching prose about love, greed and freedom. At times it's heavy-handed — and a little confusing. But at least it offers something resembling emotional balance. And as such, it's Redding's most effective and complete song.
City Without Wine by Joe Redding is available at joeredding.com. He'll be at Radio Bean in Burlington on Tuesday, September 11.