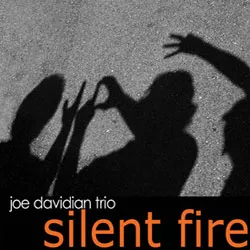 (Sonic Mirage, CD)
Brunch is usually where jazz goes to die. Esteemed as their craft is, jazz artists often find themselves languishing in a landscape of midday mimosas and golf claps. No wonder Joe Davidian left Vermont. The pianist fled to Miami, chasing first a master's in music, then a residency in Nashville. He now tours internationally, runs improv clinics and does high-end restaurant gigs, including at Michael's in Stowe. On Silent Fire, Davidian's industry bears fruit. Beside him are University of Vermont alumni Jamie Ousley on double bass and Austin McMahon on drums. Known collectively as JD3, these cats can swing. And you're unlikely to find them cornered near the Sunday omelet station.
JD3 warm up with "What It's Worth," the first of seven originals distilled from their sizable repertoire. Ousley works his upright relentlessly, cycling through steady beats while Davidian tickles the middle keys. It's a snappy little number, anchored by brushed snare. But don't be fooled; the song serves merely as an aperitif for the title opus.
Led by McMahon's frisky stick work, "Silent Fire" is a sterling primer on modern jazz. The drummer reverses polarity, relegating his snare and tapping cymbals as if they were toms. Davidian pounces on the ivories and then settles into hypnotic rhythms, while Ousley wears the steel right off his four-string. At more than 10 minutes long, it's a sonic hydra, with more punch than a high school reunion.
The lush and lovely "Someone" follows, its brooding intro later eclipsed by Davidian's bright melodies. But it's the live interpretation of "Over the Rainbow" that will earn nods. Lyrical and free, it's what happens when a toothless standard meets improvisation. JD3 dance around Harburg & Arlen's famous tune before slipping down the rabbit hole. There, they riff into unrecognizable corners, returning to the core narrative just in time to cheer the crowd.
The band regroups with Ousley's playfully percussive "T.I.E. Trio." Then, in a whirlwind of post-bop, comes "Just Like That" with some of Fire's splashiest runs — think McCoy Tyner. There's a reason Davidian chose this piece to open his MySpace page. It smokes.
In a final nod to pop, the pianist showcases John Lennon's quiet classic, "Imagine." Swirling with lazy rolls and youthfulness, it's a fitting end.
Already a contender, the curly-haired composer is more than just JD3's namesake. He is its champion. Still, this trio is nothing if not collaborative. Each member performs expertly, contributing enough savvy and original material to start his own label. So skip brunch and head straight for dessert. Silent Fire is a journey worth taking.