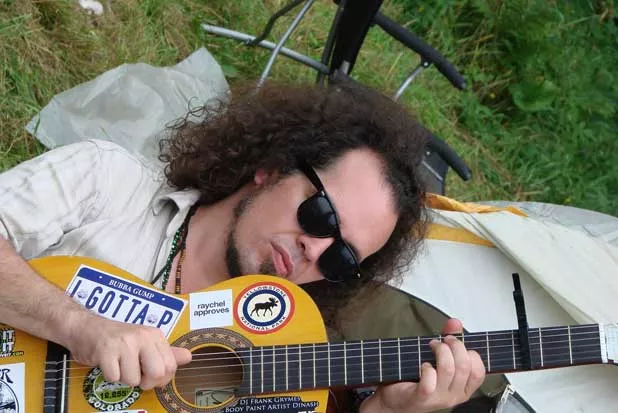 At Radio Bean, one man is responsible for all the sounds bouncing off the walls of the eclectic Burlington venue. He can usually be found craning over the PA system or passing around the tip bowl, an unassuming figure with a fondness for wide-collared shirts and, until recently, a wild black mane.
Joe Adler, 38, has been booking shows at Radio Bean since 2011, but he isn't content to do just that. He's about to present his most ambitious event yet — the second annual Precipice: A 3 Day Happening, this weekend at Burlington College. The multi-act music festival debuted last year at the Intervale and drew about 500 attendees at its peak. Adler called it a success but cited room for improvement — including earlier promotion. This year, Precipice has its own publicist. In addition, he promises, there will be even more acts, better infrastructure and a larger sound system.
Adler believes the festival's new location will be a boon, too: The flat, spacious grounds of Burlington College offer four times the space of the Intervale.
"It just looks like a festival ground," he observes. "You couldn't plan it better."
His confidence is justified: Adler has been a purveyor of music for two decades.
Now a staple of the Burlington music scene, he grew up in Washington, D.C., and even as a child was never a stranger to music. "My dad was a Dixieland jazz musician," Adler says, flashing a smile and trying to make himself heard over a trombonist warming up by the Bean's tiny stage. "Before I was born, I was going to shows and listening to music."
By age 16, Adler was a roadie and soundman for several rock bands, working in clubs that his father had played in long before. Adler first visited Vermont while he was attending the University of Maryland as a philosophy major. It was 1995, and he came see the Grateful Dead and Bob Dylan concert in Highgate. Adler's attraction to the state was instant, he recalls.
"The neat thing was the Vermonters along the drive, helping people out," he says. "They didn't capitalize on [the concert] like people would in other cities — in D.C., neighborhoods around stadiums would charge $30 to park for baseball or football."
His first experience with Burlington was a year later, when he passed through en route to Phish's Clifford Ball in Plattsburgh.
"[Burlington] was a different kind of vibe — it was kind of magical, or make-believe," Adler recounts. "Everyone was just happy to interact and be a part of something."
A guitarist and vocalist, Adler performed with various groups in D.C. but felt that the city's atmosphere didn't compare with what he found in Burlington. "Down there, the music just didn't feel important," he says. "It was in the background, even on the main stage."
When Higher Ground opened its doors in 1999, Adler found himself visiting Burlington every few weeks to see shows. "I slowly fell in love with the city," he says. "But it always seemed like a place that was too obvious to move to — like it was too good to be true."
But in the summer of 2003, Adler finally did move to Burlington. He found work in the hospitality industry and would later play around town with groups including Joe Adler & the Rangers of Danger, and the Wee Folkestra.
In 2009, he became the talent buyer for Parima, the Thai restaurant and club on Pearl Street. When it closed in 2011, Adler met with Radio Bean co-owner Lee Anderson about taking over the booking role for his venue. The two hit it off instantly.
"I knew Joe through the music world and through mutual friends," Anderson says. "A lot of my decisions are on the trust level, and I saw I could trust Joe — he did a good job at Parima. You could see his professionalism."
What sealed the deal for Anderson, though, was Adler's love of music.
"When a band is really throwing it down, Joe's the most excited guy in the room," he says. "People that work here see that, and it means a lot."
After two years as booking manager, Adler proposed becoming general manager of the Bean. Anderson said yes.
"Joe could see things that were slipping through the cracks," he says. "He has that drive, that's obvious."
But that doesn't mean Adler is a square business type. Far from it.
"Joe is a wild man, too," Anderson clarifies. "I don't want to make him seem like some tie-wearing guy. He's a wild man who wants to see wild ideas come to fruition."
The second Precipice festival is Anderson's most ambitious project to date, as well. He and Adler both credit third co-organizer Sarah Grant for reining in some of their more unrealistic proposals. Even so, more than 60 bands are on the bill, including Superhuman Happiness, Vermont Joy Parade and Rough Francis.
Accordingly, Adler expects to draw 2000 people this year, and hopes that many will come to see the whole festival rather than just their favorite individual acts.
"The goal is to create a dialogue with the anonymous music fan who we've never met," says Adler, who was the ultimate decision maker on what bands to book and how the festival should look and sound.
Anderson sees his role as more "big picture."
"I like thinking about the spirit of what it's going to be," he says. "But to get the vibe, the duende going — Joe makes that happen."
Adler remains humble about his role in the festival as well as in the Burlington music scene.
"I love just listening to lots of music," he says. "My enjoyment in this comes from everyone else's enjoyment.
The original print version of this article was headlined "Over the Precipice."