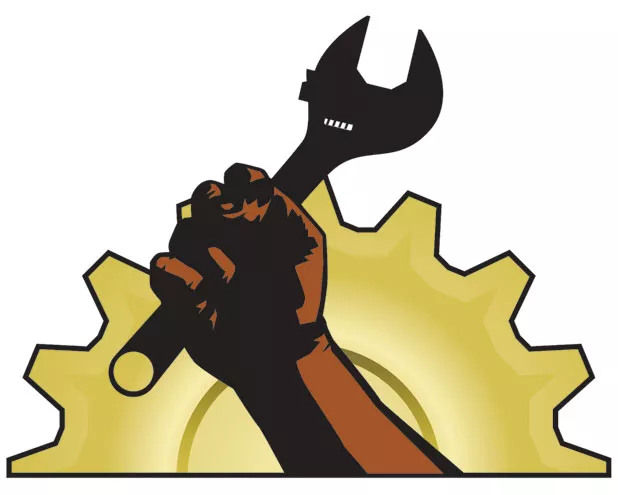 Politicians, journalists and even economists tend to talk about jobs the way TV meteorologists talk about the weather. Wages are declining, hours increasing. The young can't get jobs, the old can't retire — these conditions are like the temperature and barometric pressure: natural phenomena.
Some tell us we might lessen the pain of the job drought through government stimulus (drink plenty of water), deficit reduction (plant cactus) or trickle-down economics (as per Rick Perry, pray for rain). Absent from the picture are the acts of human beings. It's economic climate change denial.
And the humans most absent are those who should be front and center: working people.
I don't mean working people as taxpayers or consumers. I don't even mean working people as victims of the recession. Bringing the TV camera into these people's homes, where the bills are piled on the table and the kids are eating pasta for the fifth day in a row, is the current journalistic equivalent of sticking a microphone in the face of a mother whose baby has just been killed in gang-war crossfire. If it bleeds, it leads.
I am talking about working people as workers: labor — both lowercase 'l,' as in what we do every day (or not) and uppercase, organized Labor.
So, to commemorate Labor Day, let us restore labor to its proper place in the conversation about jobs.
"Job creators" will not save the day.
Employers — those hardworking, overtaxed risk takers — have become the economy's heroes. It is they, we're told, who will restart the economy by "providing" jobs. But the purpose of business is not to make jobs. Whether a company is producing artisanal watermelon pickles or nuclear warheads, loans or lap dances, its purpose is to make money.
If a business can make money with one worker doing the labor of two, one is the number it will hire. High employment is not in the interest of business.
On the other hand, high unemployment — Marx called it a "reserve army" of labor — is great for business. It can lay people off at will and demand that the survivors take up the slack. It can hire new workers under the same conditions (Burlington Free Press classified: "Carpenters wanted … 45+ hours per week"). And that's not true just for burger flippers. As the cultural critic Andrew Ross has written, intermittent, insecure, underpaid, no-benefits work — "flexible casualization" in economic lingo — is now the norm, even for professionals.
Maximizing profit means job destruction, not job creation.
The consumer economy doesn't need us. Henry Ford had to pay people enough so they could buy his cars. The line now is similar: Businesses need to employ people so they'll start spending again. But there are many consumers in the world, and the eager ones live in Mumbai, not Milwaukee. Dollar for dollar, wages paid versus revenue returned, American consumers are too costly to maintain. Forget the good job/bad job dichotomy. The president keeps talking about bringing good jobs back to America, especially in green technology. It would indeed be great to switch from carbon-spewing manufacturing to producing things and ideas that keep our environment clean and safe.
That said, there's nothing intrinsic to technology — or any field — that guarantees high pay. Remember when Silicon Valley was going to save the economy? Programmers could once write their own tickets. Now most are mere "content providers," the globalized proletariat of the computerized world.
The good news is that retail clerks and fast-food servers are not condemned to shit wages forever. After all, those dear, departed "good" industrial jobs of the 20th century — in mining, steel and automaking — once were dirty, degraded and deadly. Then those workers — including millions of African Americans — rose from the exploited masses to the middle classes. Workplaces became safer; injured, sick and older workers got workers compensation, health care and pensions.
How? One word: unions.
Working people don't have to suck it up. Unions won decent wages. Unions won safe-workplace regulations. Unions won health care, pensions and workers comp, not to mention the eight-hour day and the weekend — all "luxuries" we're giving up with hardly a squeak to preserve the luxury in which the "job creators" live.
A journalist on National Public Radio was extolling Germany, where, rather than keeping some workers on and sending the rest to the unemployment rolls, companies are reapportioning hours so that everyone works less, but everyone works. Are German capitalists just nicer? Please. He didn't mention that such arrangements exist because Germany's unions are strong, its laws protect their contracts, and its culture incorporates labor's voice in economic decisions.
Globalization shouldn't paralyze us. We think we have to suck it up because a billion Chinese would snatch our jobs for a 10th of the pay in a Shanghai second. But the U.S. economy of the early 20th century — when unions were fighting some of their most brutal battles — was globalized in its way, too. Those "reserve armies" were arriving daily at Ellis Island, as desperate as today's global southerners to work an hour longer for a penny less. The unions organized those people — and those people organized unions.
In fact, now Chinese workers — the ones making the cars and computers we once made — are on the picket lines, too. "In a recent and remarkable shift of labor dynamics," reported the New York Times in 2010, waves of strikes were forcing employers to substantially raise — even double — wages. That power came in part from labor shortages, and, yes, those plants can move elsewhere. But even races to the bottom eventually hit the bottom.
Workers create jobs. A bit of elementary Marxian economics: The boss pays the worker and sets a price for the good or service, depending on what the market will bear. He deducts the costs of resources, rents and equipment depreciation. Then he pockets the difference. He buys the worker's time but not the full value of what the worker produces, which is greater. That margin is called "surplus value," and it translates into profits and investment, houses and yachts. Wealth.
Business creates jobs. But labor creates the wealth that makes the economy, which requires workers. Only Labor will force business to spread that wealth around, in the form of living wages, job security and fair taxation.
Workers are the heroes of the economy. This Labor Day, let's not forget it.
"Poli Psy" is a twice monthly column by Judith Levine. Got a comment on this story? Contact levine@sevendaysvt.com.