Kevin J. Kelley
The man inside this 10-foot-tall Big Bernie creation: Los Angeles artist Alex Schaefer
Percolating protests in the streets of red-hot Philadelphia this week showed that a faction of die-hard Bernie Sanders supporters emphatically rejects his pragmatic version of progressive politics.
The signs and chants of demonstrators in Center City, as well as the speeches they cheered in a park three miles away, conveyed contempt for both Hillary Clinton and the party that has given her its presidential nomination. Militants with the maximalist demand of "Bernie or Bust" aren't heeding the socialist senator's pleas for unity behind a candidate he had earlier depicted as an unprincipled opportunist.
Vermont activists who traveled to Philadelphia shared the "never Hillary" fervor of the 5,000 or so demonstrators who crammed sidewalks around Philadelphia City Hall and boogied down Broad Street in a series of marches with drums-and-horns accompaniment.
"She's evil; she loves war; she's a spokeswoman for corporations," Pamela Wilcox of Brattleboro declared in regard to Clinton. "I really fret for our country with her in office."
Lynda Mischler, a part-time Waitsfield resident, expressed similar disdain for the politician who pocketed fat fees for giving private speeches to Wall Street mandarins. "She represents all the things we're against," Mischler said. "Hillary will continue corporate greed and her own cheating and deceit."
Kevin J. Kelley
Connor Garrett, 9, of Hamden, Conn., marching in Philly
Women in Philly chilly toward Hillary weren't impressed by the prospect of her becoming the first female POTUS. Speaking to a sweaty crowd gathered under and outside a big white tent in Franklin Delano Roosevelt Park on Monday, antiwar campaigner Medea Benjamin termed Clinton a "faux feminist." She asked her fired-up audience: "Would a real feminist take $25 million from a country that so oppresses its women that it won't allow them to drive?"
"No!" the crowd shouted.
"Nooo!" Benjamin agreed. The activist was referring to Clinton Foundation donations from oil royals in the Kingdom of Saudi Arabia.
Many Sanders fans gathered in FDR Park near the Wells Fargo Center, site of the Democratic National Convention, weren't swayed by the claim that voting for the Democratic candidate is the only way to defeat the Republican nominee. "I actually am scared of Donald Trump," Benjamin admitted. "But," she added, "I'm scared of Hillary Clinton, too."
Gail Mayer, a 32-year-old from Brooklyn wearing a Bernie for President T-shirt, said Sanders' decision to support Clinton is "his choice, not mine." Mayer described the victor in the Democratic race as an "oligarch" whose campaign was partly financed by a corporate-funded super PAC. "She's probably as bad as Trump," Mayer proposed.
Judy O'Leary, a Lake George-area resident holding a Bernie or Bust placard, waved away the notion that it's essential for progressives to vote for Clinton because she's better than Trump. "I'm not going to vote out of fear anymore," O'Leary vowed from her seat on a curb in FDR Park. "I'm going to vote my values."
A sign spotted on Sunday seconded this view: "The lesser evil is still an evil," it read.
For most protestors in the park and on the streets, that logic leads to support for Jill Stein, the Green Party's presumptive presidential nominee. And the 66-year-old Harvard-trained physician had come to Philadelphia to stoke those sentiments by arguing that her party stands as an uncompromising progressive alternative to the undependable Democrats.
Many Stein supporters view the party led by Clinton as corrupt. "Lock her up!" they chanted on Broad Street. "Jill over Hill!"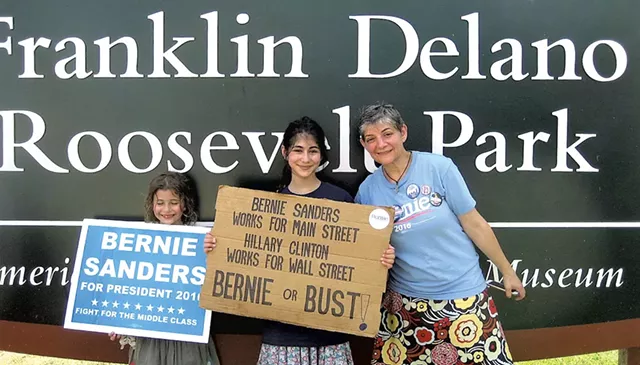 Kevin J. Kelley
Deanna Cohen and her two daughters, Shalom Dinberg, 7, and Gabriella Goldstein, 13, after a march
Third-party candidates such as Stein have a right to run for office, regardless of political circumstances, she maintained during an interview with Seven Days in the Greens' Philadelphia office. "The question is, do we want to fix this screwed-up political system by silencing political opposition?" Stein said. "That's tyranny. And we go to war against tyrannies."
Democratic National Committee emails hacked and released by WikiLeaks "confirm people's worst suspicions that the DNC in fact sabotaged Bernie's campaign," Stein said, making a pitch for disgruntled Sanders supporters to go Green.
Alex Schaefer, a Los Angeles artist who marched inside a 10-foot-tall "Big Bernie" bobble-headed figure, said the leaked emails proved the nominating process had been rigged in Clinton's favor. "We're not a bunch of crack-head conspiracy theorists," Schaefer asserted as he rehydrated beneath a tree in FDR Park.
But the volume and passion of the protests this week could not conceal the shortcomings of the movement that Stein now seeks to lead. Few of the demonstrators had gray hair, and there weren't many black or brown faces among them.
As part-time Vermonter Mischler explained, she and her partner, both 68, had come to Philly to "show that Bernie's supporters aren't all millennials."
David Cobb, the Greens' 2004 presidential candidate, acknowledged his party's mainly monochromatic complexion in a histrionic speech delivered as thunderheads rolled toward FDR Park on Monday. "We've got to do a better job of reaching out to people of color," Cobb shouted.
Doesn't the claim of election rigging by Clinton operatives serve to belittle her enormous base among African Americans? In the interview, Stein responded that the Southern states, where black support for Clinton was strongest, had been the scenes of a corporate media conspiracy to shut out the Sanders campaign.
Stein and her supporters are also burdened with the history of failed third-party movements in the United States. She reached across two centuries for an example of one that achieved majority status: the Republican Party, which was founded in 1854 on the basis of opposition to slavery. Six years later, those newbies had elected one of their own as president: Abraham Lincoln.
"Abolitionist parties were called spoilers for threatening the lesser evil with truly transformative change," Stein said. "We're at another time when we need transformative change."
Why have more recent third-party efforts failed — including those in the 1960s?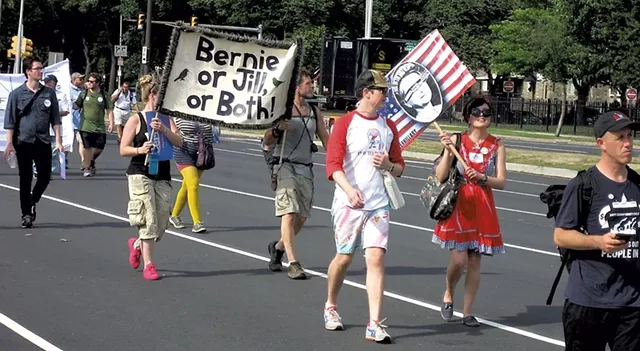 Kevin J. Kelley
Some Sanders backers also showing support for Green Party candidate Jill Stein
The internet offers opportunities for organizing segments of society that were beyond the reach of those activists, Stein said. And a critical mass of Americans is ready to be mobilized in support of radical change, she insisted.
The political forces in play today are even more powerful than those that shook the nation 50 years ago, Stein suggested. And she combined that assertion with a vision of impending apocalypse.
"A day of reckoning is on its way, whether you're looking at climate catastrophe, endless war, nuclear Armageddon," Stein prophesied. "There is a finality now that's never been matched in history. So many people have nothing to lose by bringing about transformative change."
As the scenes of dissent in Philly have demonstrated, at least a coterie of progressives is ready to move beyond Bernie and partake of Jill's 100 percent pure progressivism.
"The revolution is a movement, not a man," Stein declared. "And that revolution will be all the stronger for being liberated from the Democratic Party."