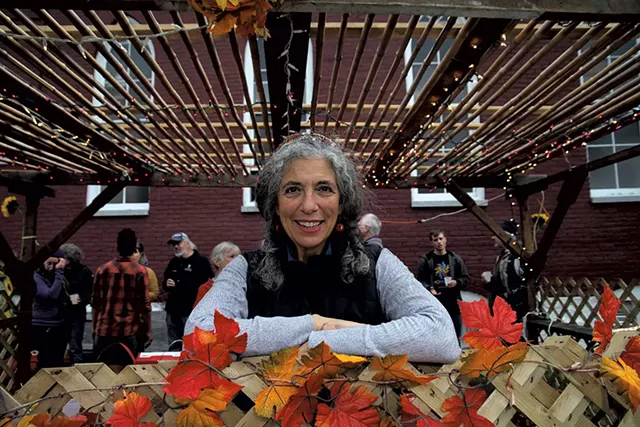 Matthew Thorsen
Rabbi Jan Salzman
The rabbi wore a black miniskirt, leather boots and a hot pink sweater. Her thick, curly hair flowed down past her shoulders, and glittery earrings hung from each ear. Rabbi Jan Salzman is a hip 63-year-old grandmother. She's also the leader of Burlington's newest Jewish congregation, on a mission to modernize the faith.
Salzman incorporates yoga and meditation into the Saturday morning services she leads twice a month in the city's oldest synagogue, at 168 Archibald Street, in a neighborhood once known as Little Jerusalem.
Unlike most local rabbis, she'll perform interfaith marriages, and, if parents want to hold their daughter's bat mitzvah in the backyard rather than the synagogue, that's all right with "Rabbi Jan," as she is known by her flock.
"All I need is the Torah," she said in an interview October 13 at Ahavath Gerim, the 1885 red-brick synagogue that was the worship place for some of Burlington's earliest Jewish immigrants.
Salzman wants to harness that history and blend it with a contemporary form of Judaism in the congregation she founded in July called Ruach haMaqom, Hebrew for "spirit of the place." The congregation is based at Ahavath Gerim but will not replace the small Conservative-denomination congregation that owns the building.
Each group will hold its own services — the new congregation hosts Shabbat eve worship the second and fourth Friday of each month. The two congregations also plan to work together to continue restoring the building, starting with the basement that houses the ritual baths, or mikvas.
Ruach haMaqom is Vermont's first congregation in the Jewish Renewal mold, a movement that took root in the 1960s and emphasizes social justice and interfaith dialogue as well as reverence for the Torah, the book of Jewish scripture.
Indeed, Salzman glowed with inspiration as she read from the century-old, handwritten Torah and autumn light filtered in through the stained-glass windows at the synagogue. Using a silver pointer, or yad, she read ancient Hebrew words from the fragile scroll, easily translating them as she went. You'd never guess from her skills that she was ordained just six years ago.
While she incorporates the framework of traditional Judaism, Salzman says today's worshippers are much less liturgically inclined than previous generations, and that for Judaism to adapt it cannot "look like your grandpa's schul," or synagogue.
One of her goals is to help people develop the vocabulary to access their spiritual lives and find a way to renew a faith that they might have relegated to long-term memory. When she leads a service, Salzman incorporates lots of music — she strums an acoustic guitar and sings in a rich, melodious voice — and brings in meditative moments and spoken prayer. Jewish scripture provides a foundation upon which she improvises.
On October 12, Yom Kippur, the holiest day on the Jewish calendar, Salzman invited the worshippers, who ranged from toddlers to her 87-year-old mother, Charlene Salzman, to participate in the Yom Kippur tradition of remembering their dead. Instead of doing it with a moment of silence, she had brought a basket of smooth black stones from a brook that runs through her North Pomfret farm. She invited congregants to take a stone and place it on a small table, making a symbolic altar.
Roughly a dozen people lined up, offered their stones and, afterward, stood close together in silence, some holding back tears. It was a powerful moment, and exactly the sort of new tradition Salzman aims to bring to her congregation.
"I have the obligation to reboot Judaism with ritual that engages the heart as well as the mind," the rabbi said.
About 80 people attended the Ruach haMaqom services on Yom Kippur. Because the Ahavath Gerim congregation was using the synagogue on Archibald, they gathered at the Bishop Booth Conference Center at Rock Point, on the Episcopal Diocese of Vermont property.
Bob Fishel, a 32-year-old Burlington technology consultant, was among them. He also attends the new congregation's Friday evening Shabbat services. It's a place where he "turns off" after the busy week and lets his mind travel to spiritual corners and poignant memories. "There's a tradition and a melody and, you know, it brings you back to your childhood," he said.
Fishel first saw Salzman in action at Ohavi Zedek synagogue on Burlington's North Prospect Street, where she worked as cantor and assistant rabbi for six years before leaving to start her own congregation a few blocks away. He quickly came to appreciate Salzman's optimism, warmth and approachable personality. "I just connected to Jan. She's a very real person. She's not a typical stuffy priest or rabbi. She's very sort of down-to-earth."
These qualities help attract a demographic at Ruach haMaqom that Fishel, who has done his fair share of "synagogue shopping," says he doesn't see in abundance in other local congregations: young people. "That, to me, is exciting," he said.
What brings them? Fishel, for one, likes Salzman's emphasis on social justice: She praised the Black Lives Matter movement during her Yom Kippur service, for example. But he also likes the fact that she doesn't tend to bring partisan politics into the service — which happens at some of the other temples he's attended. Fishel wants a break from that, he said. Salzman's congregation also appeals because it's "something new, something different."
The new congregation has allowed 34-year-old Kathy Hennis of Burlington to "find a way to be in a Jewish community that feels really awake and alive and exciting and relevant," she said.
Hennis was an occasional service-goer at Ohavi Zedek and, like Fishel, followed Salzman to the new congregation. The rabbi is animated and expressive, Hennis explained, so that chanting an old prayer somehow makes her feel deeply connected to her Jewish ancestors. "It doesn't feel rote," Hennis said.
And while Hennis, who is gay, felt welcomed at Ohavi Zedek, she's noticed that Salzman seems to have a knack for making members of the LGBTQ community feel comfortable at the new congregation. "There's a lot of queer Jews that go to this temple because Jan has such a welcoming presence and it's a nonissue," Hennis said.
The Burlington area has several other Jewish congregations, but Ruach haMaqom is different in that it describes itself as "post-denominational." Others include the Orthodox Chabad congregation on Burlington's South Williams Street, the Conservative Ohavi Zedek and the Reform Temple Sinai in South Burlington.
Salzman is not the only woman leading a local congregation. The new rabbi at Ohavi Zedek is Amy Small, who assumed the role early this year after the retirement of longtime rabbi Joshua Chasan. Salzman worked alongside the politically outspoken Chasan, who started performing same-sex weddings before it was socially acceptable. Salzman intends to carry on that practice.
Also reminiscent of Chasan is Salzman's willingness to conduct interfaith marriages — Chasan almost got fired just for bringing up the idea at OZ. Salzman has two conditions: She wants assurances that the couple plans to raise their children as Jews, and she's not interested in co-officiating with Christian clergy, she said.
Another thing that sets Salzman's congregation apart is financing. For now, the members of Ahavath Gerim are allowing Ruach haMaqom to use the synagogue for free, except for the cost of utilities, Salzman said. That helps keep expenses low, but the congregation still needs money to survive.
Many synagogues require members to pay an annual amount based on their income, sometimes around 3 percent. Salzman is taking a different approach: recruiting "subscribers" who pay $18 a month. If people want to contribute more, they can, she said. The congregation has 30 subscribers so far, and Salzman hopes to reach 200.
Salzman and her husband of three decades, Loredo Sola, live on Germain Street near the synagogue and spend free time at their former full-time home, the Happy Valley Farm in Pomfret, where she once ran an organic vegetable operation. Sola, a software engineering manager at Dealer.com, is the interim president of the new congregation.
Salzman grew up far from Vermont in Skokie, Ill. Her family attended high holiday services at a Conservative synagogue but didn't go to temple much otherwise. She attended Hebrew school for several years and completed her bat mitzvah but remembered feeling more resentful than inspired by the ritual. She wanted to join Brownies and play sports, and Hebrew school got in the way, she recalled.
In 1977, while Salzman was in college, a Nazi group announced its intention to march through the suburb in Nazi uniforms with swastikas. Salzman had grown up in the heavily Jewish area around people with concentration camp tattoos on their wrists.
Her late father, Richard Salzman, who would later became a Cook County circuit court judge, was then a municipal attorney for the town. A former U.S. Army medic who was among the first to enter concentration camps as World War II ended, he helped with the legal bid to deny the march. The American Civil Liberties Union backed the Nazis' right to march in one of its most controversial free-speech cases of all time, and the U.S. Supreme Court agreed.
Looking back, the rabbi remembered her father as a champion of the Constitution who also wanted to protect and serve the community. One of her takeaways: "That nothing is simple and every human being has a story that contributes to the arc of their life."
Judaism didn't call Salzman strongly until she had married and settled down to run the small farm in North Pomfret. Her two children seemed to be the only Jewish kids at their elementary school, and Salzman was asked if she could give a talk about Hanukkah. She said yes, and then realized she knew very little about it. She began a journey that would lead to five years of rabbinical study, culminating in her ordination in 2010 by the Alliance for Jewish Renewal.
After half a dozen years at Ohavi Zedek, Salzman said, she knew she was ready for something different. "I can now be the rabbi I was meant to be," she said.