The Elmore School begins classes this fall with a 42 percent increase in enrollment over last year. A spike like that might find other schools scrambling to hire teachers, converting closets to classrooms and sending students they still can't accommodate to other schools in the district. But none of that will happen here.
With less than two weeks to go before the start of the year, teacher Annamary Anderson tucked her 5' 10" frame onto a student chair and sat at a child-sized table in her classroom quietly stuffing envelopes with the welcome letter she sends to families. All of the new kids are assigned to her classroom, but she won't have any extra help. She and her assistant, paraeducator Ericka Bellavance, can handle it. This is their 15th year working together. All they need to do to accommodate the increase in enrollment is bring five more desks up from the basement.
Education works a little differently here in the last one-room school still operating in Vermont. Opened sometime in the 1800s, the Elmore School had 52 students on the roll one year — though it's unclear if they all attended at the same time. It now includes grades 1 through 3. Twelve students were enrolled last year. This year, there are 17: eight first graders, five second graders and four third graders.
While the magnitude of the tradition they continue can't possibly register with them, their experience here is bound to shape them. They will know the names of everyone who goes to their school and probably consider all of them friends. They will have outside shoes and inside shoes, a practical necessity in a place with five seasons — one of them named Mud. They will bring lunch from home and eat at their desks. Because there is no cafeteria, there is no hot lunch, except on Fridays, when families take turns bringing it in.
Every morning between 7:45 and 8:00, from his stool behind the cash register at the Elmore Store, Warren Miller will see them outside raising the flag and saying the Pledge of Allegiance.
Flag raising is one of the jobs students are assigned daily. Others include reporting and recording the weather, collecting trash after snack, collecting recycling, holding the door, and the two jobs most coveted last year: feeding Autumn, the guinea pig, and pulling the rope that dangles from the school's original bell to signal the start of each day and the end of noon recess.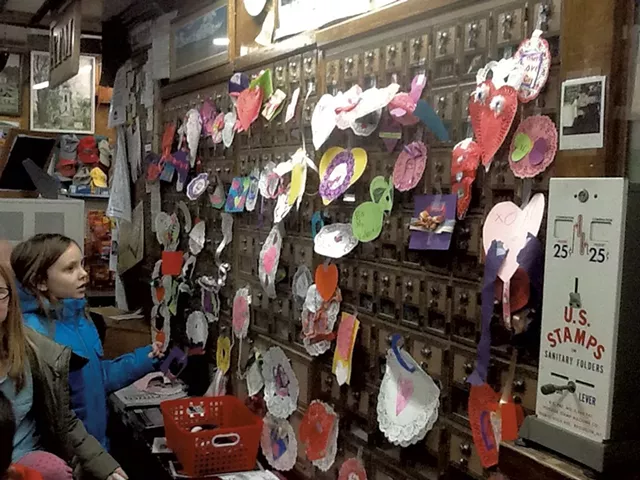 Courtesy of the elmore school
Izzy Wills and the post office boxes she and other students decorated for Valentine's Day
People say the Elmore School is the heart of this town, population 872. It sits in the center of Lake Elmore village, along Route 12, right across from the Elmore Store, where students decorate all 220 post office boxes with handmade Valentines, and Elmore Town Hall, where they go for library, big art projects, concerts and indoor recess when the weather is bad. The school's two picture windows, which allow the sun to warm the wood floor, provide a view of those two buildings and the 219-acre lake right behind them. A daydreaming student here is lulled by the rocking of the water and the hulking mountains of the Worcester Range that rise behind it. If, as Anderson says, every moment is a teachable moment, this scene provides the ultimate lesson in adjectives: stunning, idyllic, pastoral.
"Elmore is a dream place, in actually every way," said Faith Boudreau, who taught at the school from 1992 to 1999 and whose four children are alums.
Starting school here is "like entering a family," said parent Meredith Martin Davis, who practically interrupted herself explaining all of the traditions she loves: the beginning-of-the-year and end-of-the-year school picnics, which often are followed by soccer games that older kids join like they've never left; the fall day when all of the students set up their acrylics and canvases behind the Elmore Store to paint the colors on Elmore Mountain and everyone driving by says, Oh, today's the day; Elmore School thinks today is peak; Authors Night, when every child, after writing and illustrating a hardbound book, stands on the Town Hall stage and reads their story; field trips to the fire station, to Elmore State Park and to Martha Twombly's house down the street for stories and snacks. Twombly went to the school, and her mother's first teaching job was there.
Davis nominated Anderson for the Educator Innovator Award, which Anderson won in 2018 from National School Choice Week, a public awareness effort to celebrate opportunity in education. "She's an amazing woman — like [on] every, every front imaginable..." Davis said. "She seems like she was born to teach, but I'm sure she's cultivated it over time. She strikes this balance between creating structure and rules and sort of norms of how the classroom's going to operate so that it doesn't feel chaotic to adults or kids there. But at the same time, it's fun... If somebody's not doing the right thing, she has a look, and they come right back into line. And then she has this smile that just lights up, and her heart is big, and every kid there knows that she loves them."
One dad commented that his son never wants to go home, Davis said, and the other parents understand. "Actually, we all have to coordinate so we can get all our kids to leave."
When they finish third grade and leave for the last time, they do so with a framed certificate with pressed flowers — handmade by Anderson — and a memory book that contains a letter written to them by every student they overlapped with during their time at the Elmore School. "I think they leave here with high self-esteem and the feeling that they matter and that they have a voice. And boy, that can take you far," said singer and songwriter Jon Gailmor, whose three children went to Elmore in the '90s and early 2000s.
History of the school is scant. That may be partially due to the fact that this was one of several one-room schools in Elmore operating at the same time. Exactly how many sparked debate at the Elmore Store over the lunch hour one day in August. There were seven, said Miller, who co-owns the store with his wife, Kathy.
"Nine!" yelled Kathy and Anderson from the back of the store.
"Oh, just put down eight; split the difference," said Jerry Kitonis, 74. He went to the school for six grades and said that, when he was there, kids in different grades took turns going to the front of the room for lessons with the teacher, but he learned the most sitting in the back, watching the other kids. He grew up to be a principal in Wolcott.
Mary Ann Lickteig
Teacher Annamary Anderson preparing for the new school year
Recorded in no history book, but etched in 73-year-old Philip Smith's memory is the story of the school's brick chimney and a cantankerous classmate whom we won't name, though Smith does. The teacher was Mrs. Tallman. "And she was quite a large lady, and she wore those lace-up shoes that come halfway up your leg and have thick heels in the back..." Smith said. "One of the bricks had a chip out of it there, so there was a crack, maybe half an inch wide or so where you could look inside of the chimney... This kid there ... he went around the back of the school and put his lips up to that crack there and he yells, 'Mrs. Tallman, you're a big, fat watermelon!' All of a sudden, we hear those shoes hitting the wooden floor, clunk, clunk, clunk ... She grabbed [the offender] by the ear and took him in." The rest of the kids scrambled to the windows, Smith said. "Kids were standing on top of kids watching what was going on in there, watching him get a spanking."
The Elmore School used to be called the Lake School. It shows up on town maps dating back to 1859. Built with stacked plank walls, the original building measured about 720 square feet. Around 1986, the "kitchen" (used mostly for storing school supplies and meeting with students in small groups) was added, bringing the square footage to 1,242. The exterior isn't clapboard anymore. It's got a green steel roof and white vinyl siding, but a former superintendent says when she wins Powerball, she's going to put the wooden siding back on. There is no pot-bellied stove; the school is heated with oil. No outhouse, just a kids' bathroom and an adult bathroom — both indoors — with a sink in between. The kids don't write on slate tablets, though one of the blackboards is slate and it's much smoother to write on and easier to erase than the other, newer blackboard. Students share 10 MacBook Airs and five iPads and store their work in the cloud. They blog.
The Elmore School has Wi-Fi, a new foundation and a security system with a camera that allows Anderson and Bellavance to see the playground and who is at the door, which is locked during the school day, a sad reality in 2019.
How has a one-room school managed to survive?
"I would say three things," said Tracy Wrend, superintendent of the Lamoille South Unified Union School District, which runs the school. "One, an excellent teacher; two, strong community support; and three, tremendous partnership from the Morristown school district."
Elmore kids go to kindergarten at Morristown Elementary School, five miles away in Morrisville, and then back to Morristown in fourth grade. The schools have collaborated for decades and have had aligned curricular expectations, policies and procedures — even a common report card format — to make the transitions as seamless as possible. They officially joined forces three years ago, when voters in Elmore and Morristown voted to merge their school districts. The issue, however, divided Elmore, tending to pit retirees against parents of young children. Those in favor of the merger saw it as a way to mitigate sharp increases in property taxes while keeping the Elmore School open, while those opposed lamented the loss of independence and of school choice for upper grades. Elmore families had been free to send their children to any public school for grades 7 through 12 as long as they provided transportation. Most chose Morristown schools, but the merger made that mandatory.
What no one saw coming was the State Board of Education's decision to force the joint Elmore-Morristown district to merge with Stowe under the state's district consolidation law, Act 46. The two school districts and the supervisory union encompassing them jointly appealed but lost in court. The merger took effect July 1. The newly created Lamoille South Unified Union School District has one board, one budget and seven schools.
mary ann lickteig
Annamary Anderson awaiting the start of her 20th year at the Elmore School
What this means for the future of the smallest one is unclear. The Elmore School will stay open for at least four years — unless the people of Elmore decide otherwise — because the articles of agreement establishing the new district require that. After four years, it's up to the voters in Stowe, Morristown and Elmore.
"It's very clear that the Elmore community values the Elmore School and is committed to maintaining that," Wrend said. The Morristown community "respects and appreciates that as well," she said. "And beyond that, we are just in the beginning stages of redefining who we are as a community, at least as far as education is concerned."
For now, the Elmore School is open. Anderson has decorated the welcome bulletin board and picked her theme for the year: Explode into our Dynamic Classroom! Students start each day making the Morning Loop, walking counterclockwise around the room to hang up their backpacks, put their homework folders on Mrs. Bellavance's table, check the job chart and Velcro their laminated photos to the attendance chart.
This is Anderson's 20th year here. A Philadelphia native, she earned a master's degree in early childhood education at Bank Street College of Education in Manhattan and spent the next nine years teaching in independent schools in New York City. She moved to Vermont in 1986, worked as the director of the Johnson State College Child Development Center for 13 years, and had been a kindergarten teacher and a first grade reading specialist at Morristown Elementary for one year when the Elmore job opened up.
"It's a great place to work, I tell you," Anderson said. The job was only supposed to last for one year. Teacher Faith Boudreau was on maternity leave and planned to come back, but she found out she was pregnant again, so she gave up the job, had four children in all, started a preschool story hour and now volunteers as the Elmore School's librarian.
Flexibility, both she and Anderson agree, is a huge advantage of a one-room school. "Time becomes an ally instead of a foe because you are completely in charge of your schedule," Boudreau said. Said Anderson, "If my math class is going a little bit longer, I'm not going to worry that I'm messing anybody else up."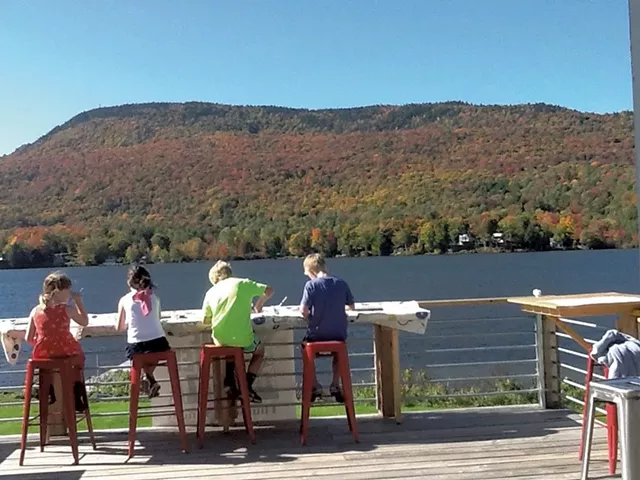 Courtesy of the elmore school
Students paint Elmore Mountain
Anderson teaches nearly every subject, including music. She plays cello, recorder, piano and guitar. A dad, certified to teach physical education, volunteers twice a week; a Spanish teacher comes once a week from Morrisville; and a custodian cleans on the weekends. Anderson and Bellavance vacuum, sweep and clean bathrooms the other days. Students are occasionally bused to Morristown Elementary for assemblies. Any needed support — such as help from specialists in math, reading, behavior, and speech and language pathology — comes from Morristown, too.
Mostly, though, Elmore is a one-stop shop. Kids can't even be sent to the principal's office. Instead, there's a "time away" area in the block corner. There are no weekly faculty meetings and no workplace politics. "Not that I know of," Anderson said, realizing she can't speak for her assistant. "She may have some that I don't know about."
Lena Boudreau, 18, remembers what it felt like to leave Elmore for Morristown in fourth grade. Entering the bigger school — it now has 258 kids, including 60 in fourth grade — "was a shock, for sure," she said. The summer before, "I decided I wanted to learn every single kid's name in the whole school because I thought that would be a good idea. But, clearly that didn't work." She remembers her first week vividly, "walking up to random kids and saying, 'Hi, I'm Lena. I came from Elmore School.'"
In June, she graduated from Peoples Academy in Morrisville ranked second in her class of 71. Class valedictorian Gabby White also attended the Elmore School. All of the Elmore graduates got together for a photo and to sing the Elmore School song, which Elmore students wrote with Gailmor's help in 2003. Some of the grads were a little shaky on the verses, but they all remembered the chorus: "Like our lake, we shine. We're strong as the hill behind. A rare and precious jewel, we're the Elmore School!"
The Elmore School, Lena said, taught her that mastering skills allowed her to move to the next level. "You could push yourself as hard as you could because you didn't necessarily have to do first grade math in first grade." So, when she got to high school, "I just wanted to do as well as I could." She didn't feel compelled to compete with other students. "I was doing it for me." She's now a freshman at St. Lawrence University, planning to major in English on a pre-law track.
Her mom plans to remain working as the Elmore School librarian for many years to come. Asked if she thinks the school will remain open, Faith said, "I'm going to say yes. Because it should stay open. It's a lovely beginning for students. It really, really is."