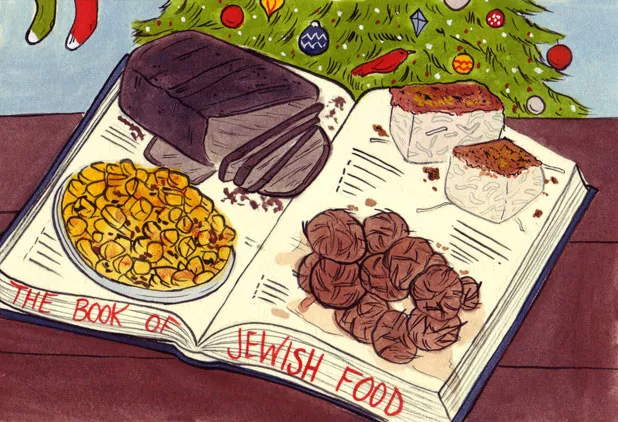 I am a bad Jew. With the exception of funerals and bar mitzvahs, I have been to temple once. I was 7 years old, and the rabbi, whom folks in town called the "Hollywood Rabbi" because he was the father of Weekend at Bernie's star Jonathan Silverman, asked all the kids to come up on stage. "Tell a joke," he prodded. "A Jewish joke." A dozen jokes about Jewish pieces of string and Jewish elephants later, I decided this whole organized religion thing was just another department of show biz.
Far back in the mists of time, I do remember having family Seders. This stopped as soon as my maternal grandmother's father died, when I was 5. The smell of onions being caramelized and mixed with chicken liver — which Grandma called "C.L.," in a bizarre attempt to trick my vegetarian-from-birth brother into eating it — still exists in the same preconscious part of my brain as the madeleine did in Proust's. As for the traditional platter filled with bitter herbs (usually horseradish), parsley, an egg and a lamb bone, each symbolizing an element of the Jews' suffering in Egypt, it always gave me the creeps. It smelled like . . . the suffering of the Jews in Egypt?
As a future foodie raised near New York City, I experienced the chosen cuisine mainly as deli fare. Sandwiches bigger than my head? I'd been getting down with those (and completely downing them) since I was in preschool. As long as no shmear of chopped liver was involved, I could survive just fine on smoked meats, knishes and egg creams. (For the uninitiated: This Big Apple deli staple contains no egg, just chocolate syrup, seltzer and cream.) But we lived in Gold Coast Connecticut, where upscale Italian felt more like my native cuisine.
For the next 20 years, it was only when an elderly relative threw some Yiddish into conversation that it occurred to me I was a Yid. Then I fell in love with James. A former altar boy, born and raised in Vermont, he'd even toyed with the idea of the priesthood in his early teens. He could not have been more — as they say in Yiddish — goyishe. Otherwise, we had everything in common, including obsessions with food, "Street Fighter" and the works of Stephen Sondheim. The neurotic New York Jews featured in musicals such as Merrily We Roll Along and Company fascinated him. They just reminded me of my family.
But, while I have the germ-phobic, psychosomatic-heart-attack schtick down pat, my response to James' questions about Sukkot was, "I think you have to pretend to be homeless." I knew he found my level of Heeb-rosity disappointing, but he didn't complain when I made bacon cheeseburgers or pork in cider cream sauce.
For our third Christmas together, James got me a Tivo and, just as a token, The Book of Jewish Food, written by an Egyptian woman named Claudia Roden. Roden divides her recipes and stories of their origins into two sections, one devoted to Jews of the East and the other to Jews of the West. Much like the witches in Oz, the Eastern Sephardim and Western Ashkenazi don't have a lot in common.
My earliest memory is of eating tandoori chicken at Madhur Jaffrey's restaurant in New York. So I was excited to see that the cuisine of the Sephardim used the flavors I loved, with recipes I had never seen before. But it was the first half of the book, about the Ashkenazi, that made a real impact. Flipping through the images, I instantly connected with them; the pictures of Polish and Russian Jews strikingly resembled my own family photos. This Ashkenazi food, I realized, was the real deal — my heritage.
And it was time for me to cook it. Because Hanukkah came late that year, a week after Christmas, I decided to seize the opportunity to use the book to plan and prepare my kashrut (kosher) debut.
The first dish would have to be a pot roast. Not a namby-pamby chuck roast — I'm talking brisket. My 82-year-old grandmother, a barbecue fan, once told me, "Only Jews and Texans know from brisket."
So even if I'm not Kinky Friedman, I can meet him halfway. But I wanted to be more ambitious than Grandma, whose recipe involved opening a can of Del Monte tomato sauce, caramelizing some onions and throwing in a hunk of cow. The Roden book didn't have a recipe, so I used one from "America's Test Kitchen" as inspiration.
I had made brisket previously using sour cream, but there could be no treyf this time. I was going to play it straight. All kosher — no mixing of meat animals with the milk that nourished them. If I were really keeping up to snuff, I wouldn't even be able to store the meat in the same place as the dairy. Also, no shellfish. No pork. No camel. (According to a recent rabbinical ruling, giraffe meat is OK.)
Looking to my grandmother as a primary resource on Jewishness, I found myself dredging up fond memories of her Seder noodle pudding. Referring back to Roden, I learned this is called "kugel," a specialty of Shavuot. More page turning revealed that Shavuot is a celebration of the day God had his big book-release party for the Torah. (Kanye West must be so jealous. His album drops have yet to spawn any religious holidays.)
Although Roden included both savory and sweet kugel permutations, I wasn't sure her recipe would produce a kugel quite like the one I remembered, so I asked Grandma for her recipe. "Don't be a moron," she said. "Just throw together some cottage cheese and some egg noodles and bake it."
I told her I needed more information. Grandma announced that if I couldn't manage to follow such simple guidelines, she would make the kugel and I could come pick it up at 3. I suspect this was not how Claudia Roden learned.
We had invited six for Hanukkah dinner. Worried that the brisket wouldn't be enough meat, I decided to roast a chicken. Grandma roasted chickens with lemon, so it must be Jewish, right? I used Roden's sofrito recipe as lame evidence and moved on to the pièce de resistance.
I knew a little about Hanukkah. At summer camp, when I was 9, I had been forced to sing some warlike lines in a play called The Maccabees. More to the point, I knew that Hanukkah meant latkes, or potato pancakes. So James and I grated several potatoes, which resulted in ample bloodshed on my part. We blanched the potato shreds in cold water, which failed to cleanse them of their telltale pinky hue. (Luckily, we weren't hosting any vegetarians.)
As we were mixing the potatoes with eggs, James' brother John arrived. A proud line cook with a degree in philosophy, he volunteered to fry the latkes, despite concerns that Nietzsche might have frowned on his participation in religious festivities, given that God is dead. The finished latkes were not our best work, a little too moist, but James was delightfully floored when he discovered we could top them with both apple sauce and sour cream.
After our friend Pat arrived, we waited for the remaining guests. And waited. We later learned they had gone to Chili's instead. (Not that I blame them. Chicken Crispers have a siren song all their own.) But we had a lovely dinner, and I felt like a Torah scholar, having spent the day reading up on kosher law. Apparently, my notion that it would be OK to serve both cheese kugel and brisket wasn't as rock-solid as I had thought.
Both were, however, delicious. Grandma's kugel was, as always, pillowy soft and creamy on the inside. Outside, the ends of the egg noodles were perfectly crisp. (Picture a baby-food mac-and-cheese, presented in a very satisfying and grown-up way.) James and I made a great team on the brisket, with me handling the meat while he whipped up a sweet-and-sour sauce not unlike a sauerbraten. My roast chicken sent a lemony aroma throughout the house.
Despite my half-assed efforts, I'm still a bad Jew. I have not returned to temple, and occasionally I even attend Catholic services. But whenever a Jewish holiday comes along, James and I refer back to Roden, who continues to teach me about my heritage.
Last Passover, I made a Seder. Elijah didn't materialize, and there were no bitter herbs, but my chocolate cake (with nuts instead of flour or leavening agents) was a hit.
I may not care to spend the weekend living outside, but now I know there's more to Sukkot than homelessness. For instance — food with fruit! Since many of my current favorite recipes feature apples or apricots, the cuisine of the harvest festival is right up my alley. And if I make that cider cream sauce for the pig that I just butchered myself, I think G_d will be OK with it.