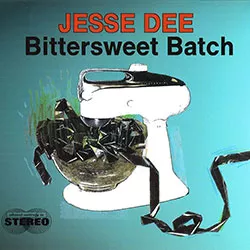 (7 Nõt Records, CD)
Soul and R&B purists have had it pretty good in the last few years. Artists such as Ryan Shaw, Ledisi, Sharon Jones and, perhaps most famously, Amy Winehouse have ushered in a modern era of soul classicism. For many — including this writer — it is a welcome return to roots. Based on the strength of his debut, Bittersweet Batch, Boston's Jesse Dee might be next in line to bear the revivalist torch. Though he generally owes more to the polished sheen of Motown than to Stax grit, he proves an immensely talented vocalist and songwriter with a keen appreciation for iconic forbearers such as Al Green and Jackie Wilson, all the while maintaining an unmistakably modern charm.
The classic tone is set early with "Alright." Huge, bracing horn hits frame Dee's gospel preacher-esque exhortations before giving way to a driving doo-wop-styled boogie.
"Around Here" invokes the sinewy crossover funk-rock of early 1970s-era Stevie Wonder. That comparison, here as with much of the album, is an apt one. That is not to say Dee possesses "Little" Stevie's otherworldly vocal chops or groundbreaking ingenuity — who does? Rather, it's the similarity in vocal tone and timbre that is striking and, at times, borderline eerie.
"Over and Over Again" marks the album's first, and finest, ballad — and maybe the finest cut, period. It's a 6/8 slow burn with a classic Stax feel, driven by staccato piano, a melodic walking bass line and swooning horns. Dee's anguished wail is chilling as he explains, "This is the end / 'Cuz you lied to me, over and over again. / And I can't . . . I can't take it anymore." The song strikes at the essence of why we love soul music: It hurts. But in the right hands — and Dee's qualify — it just hurts so good. Somewhere, O-T-I-S is smiling.
"My Two Feet" is a nifty Dixieland-inspired number that lightens the mood considerably — and blessedly so, given the preceding tune. Dee proves a cheekily clever lyricist as well as a fiery front man.
The dynamic ballad "Remember Me" follows. What begins as a sparsely arranged acoustic lament builds into a churning torch song and comes back around again. Dee's vocal versatility is front and center as he morphs from heartbroken bedroom crooner to full-throated dynamo.
"Reap What You Sow" brings some full-on JBs-inspired funk with killer horn lines courtesy of arranger Scott Aruda. Punchy brass and serpentine baritone sax deftly wind around Dee's explosive delivery.
If Bittersweet Batch is any indication, Jesse Dee promises to be a truly magnetic performer. Find out when he headlines Nectar's this Saturday with The Mumbles and Myra Flynn.