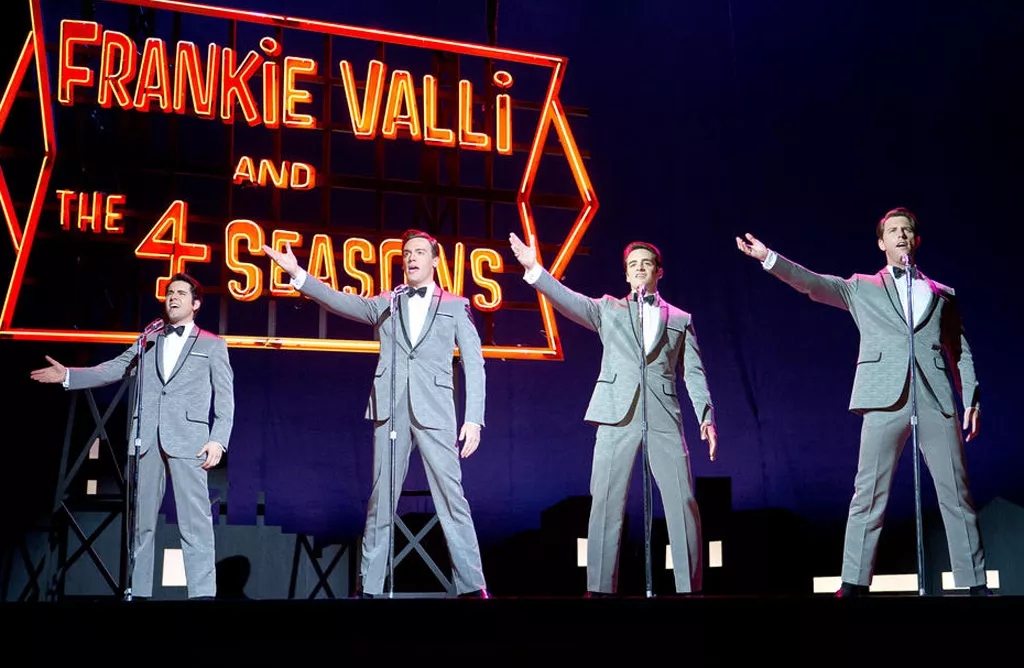 wonder boys Eastwood once made a great film about a jazz giant, but his fascination with the Four Seasons is likely to leave you wondering what he was thinking.
Good movies make you think. Bad movies make you wonder. Clint Eastwood's turgid, tone-deaf and — at two and a quarter hours — sadistically interminable adaptation of the musical Jersey Boys left me wondering a lot of things. Foremost among them: Who did he think would want to see this thing?
Nobody under AARP age is likely to have the faintest idea who Frankie Valli and the Four Seasons were, much less recall their string of high-pitched hits. Miley Cyrus and Beyoncé fans, I feel certain, do not yearn to go behind the music and witness the rise of the group that gave us "Sherry," "Let's Hang On" and "Big Girls Don't Cry." As for those of us who were around then, I believe I speak for a generation when I say, "Thanks, we're good."
So much for popular demand. When you're Clint, you get to do whatever you want, however wacky (insert empty-chair joke here).
The boys begin their climb to fame on the generically Italian American streets of Belleville in the late 1950s. The first half of the film plays like a Goodfellas parody, with Frankie (John Lloyd Young) standing watch as pals Tommy DeVito (Vincent Piazza) and Nick Massi (Michael Lomenda) pull robbery jobs. When a cop approaches, he bursts into song to warn them. Yeah, that could happen.
Eventually, they pick up electric guitars and, as the Four Lovers, play generic local joints. While Tommy acts as the band's manager, the star is clearly the kid with the nails-across-a-chalkboard falsetto — an instrument that would remain unrivaled for sheer batshit weirdness until Yoko Ono became a punch line screeching like she was being Tased decades later.
The group's fortunes improve when Bob Gaudio (Erich Bergen) joins as keyboardist and songwriter, and the quartet changes its name in a scene of stupefying hokiness: One night Frankie looks up as the neon lights of the Four Seasons Bowling Alley flick on and he exclaims, "Look, it's a sign!" Regrettably, the scene was not played for laughs.
The second half of the film feels tacked on from a different project. It's a cautionary tale. Not about drugs or hubris but about poor bookkeeping. At the peak of the group's fame, Frankie learns it's in debt up to its eyeballs to the IRS and the mob. We're expected to believe the band's accountants cut Tommy checks over the years totaling nearly a million dollars, but nobody ever mentioned this to his bandmates. Yeah, that could happen.
Why? one is left to wonder. Why present the band's hits but showcase them lifelessly and out of order? (One — "My Eyes Adored You" — isn't even a Four Seasons release but a relic from Valli's solo career.) Why falsify the record — anyone with access to Wikipedia can verify that Gaudio wasn't the sole writer of those songs, as the script by Marshall Brickman and Rick Elice (creators of the stage show) suggests. Why hire an actor as iconic as Christopher Walken to play a gangster who looks out for Frankie and then give him zero opportunity to do anything Christopher Walkenish?
Why exaggerate the group's cultural significance? Sure, the songs were catchy. So is a cold. Why cover the musicians in old-man makeup for their 1990 induction into the Rock and Roll Hall of Fame? Valli is still out there singing the same old songs, and looks younger today than the movie made him appear nearly a quarter century ago. Why would anyone pay good money to sit through a movie this bad?
Of all the questions Eastwood leaves us asking, that's perhaps the one we can answer: According to the weekend numbers, next to nobody did.