So this was supposed to be an interview with Steve Martin. Unfortunately, it didn't come together as planned. What are you gonna do? It happens.
Still, it's a bummer. I was really looking forward to chatting with him. Martin is a brilliant man and a show-biz icon. Movies such as The Jerk and Dirty Rotten Scoundrels, not to mention his innumerable classic sketches on "Saturday Night Live," were formative influences on my developing sense of humor as a kid and continue to be favorites. The opportunity to speak to someone like that doesn't come around very often.
When Martin comes to Burlington next week, he does so not as a comedian but as a bluegrass musician. Martin has long incorporated music into his comedy routine — and, as it turns out, he's an especially fine banjo player.
It's not always the case with actors-turned-musicians, but Martin's new project is no vanity affair. His 2009 debut, The Crow: New Songs for the Five-String Banjo, was a hit with critics and scored a Grammy for Best Bluegrass Album. It was actually Martin's second noncomedy Grammy (adding to his two for comedy); he also received the honor in 2001 for his performance on Earl Scruggs' "Foggy Mountain Breakdown." In 2011, Martin won the Entertainer of the Year award from the International Bluegrass Music Association.
His 2011 album with the Steep Canyon Rangers, Rare Bird Alert, was equally well received. It topped the Billboard bluegrass chart, debuting at No. 1. The recording features impressive guest stars: Paul McCartney and the Dixie Chicks. Martin is headlining festivals from MerleFest to Bonnaroo. He's played Carnegie Hall with bluegrass icon Ralph Stanley. In other words, Steve Martin is a legit bluegrass star.
Alas, I didn't have the chance to ask him about any of that, which made me sad. And when I'm sad, I watch The Jerk. Again.
In fact, I watched The Jerk last week in anticipation of Martin's performance with the Rangers at the Flynn MainStage on Wednesday, May 23. Here are some questions I would have asked him, had the interview panned out. I took the liberty of providing answers from the mouth of Navin R. Johnson, Martin's character in that film. (For a real live interview with Martin, tune in to the debut episode of the Seven Days podcast "Tour Date" on Wednesday, May 30, in which host DJ Llu sits down with Martin following his set at the Flynn. Find it at sevendaysvt.com.)
SEVEN DAYS: You're obviously best known as a comedic actor. But you've been playing banjo for a long time, too. How did you get started? Did you take formal lessons? What's the story?
STEVE MARTIN: My story? OK. It was never easy for me. I was born a poor black child. I remember the days, sittin' on the porch with my family, singin' and dancin' down in Mississippi…
SD: Can you give me a little taste of what you'll be playing?
SM: [Sings] I'm picking out a thermos for you. Not an ordinary thermos for you. But the extra best thermos that you can buy, with vinyl and stripes and a cup built right in.
SD: What's the best career advice you've had?
SM: Lord loves a workin' man. Don't trust whitey. See a doctor and get rid of it.
SD: I know you've gotten a lot of press over the years, but being featured in Seven Days must be something of a career highlight, right?
SM: I'm somebody now! Millions of people look at this book every day! This is the kind of spontaneous publicity — your name in print — that makes people. I'm in print! Things are going to start happening to me now.
SD: You're wealthy, famous and greatly respected as a comedy star. But do you get something out of music you don't find in acting? Does it fulfill some other need?
SM: That's the only thing I need is this. I don't need this or this. Just this ashtray … and this paddle game. The ashtray and the paddle game, and that's all I need … and this remote control. The ashtray, the paddle game and the remote control and that's all I need … and these matches. The ashtray, and these matches, and the remote control and the paddle ball … and this lamp. The ashtray, this paddle game, and the remote control, and the lamp and that's all I need. And that's all I need, too. I don't need one other thing, not one … I need this. The paddle game and the chair, and the remote control, and the matches, for sure. Well, what are you looking at? What, do you think I'm some kind of a jerk or something?!
Steve Martin and the Steep Canyon Rangers play the Flynn MainStage in Burlington on Wednesday, May 23, at 8 p.m. $57.50-91.50. flynntix.org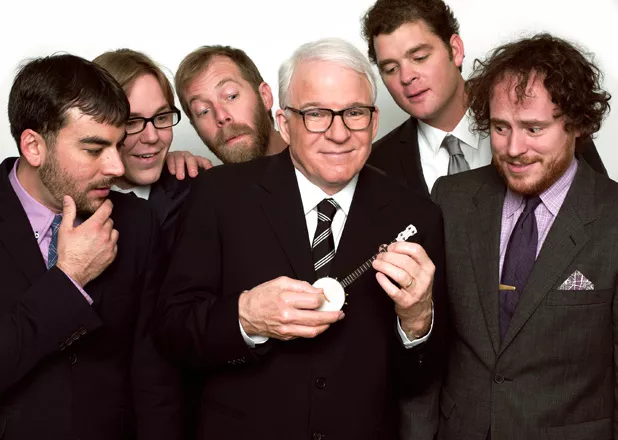 Steve Martin and the Steep Canyon Rangers