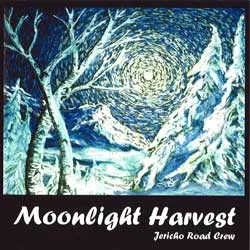 (Self-released, CD)
Vermont claims but one megachurch, and it's a veritable chapel compared to the supersized houses of worship elsewhere in the country. So it comes as little surprise that Christian music (gospel diva Tammy Fletcher notwithstanding) has yet to make serious inroads in the Green Mountains. This despite the genre's increasing national popularity: In 2007, Christian music outsold classical and jazz combined. Still, those who prefer their rockin' Jesus-side-up do have local options, as evidenced by Moonlight Harvest, the second album from the Jericho Covenant Church's Jericho Road Crew.
The disc opens with "Truth." Over "In the Air Tonight"-esque drum fills, lead vocalist Kathy McLean sings, "We see our unending, offending rule-bending and turning our backs on our God / Groping like blind men, we're feeling our way through this life while denying our God." Never mind rhyming "God" with "God"; it's actually the closest the group comes to sounding preachy. The majority of the album's lyrical content feels more like a profession of faith than condemnation of sinners or an attempt to convert us heathens.
Musically, the disc's 16 tracks traverse a variety of stylistic terrain. From rock and pop to country, gospel and hints of Appalachian and Celtic folk, the group manages a solid, if unspectacular, performance throughout. Violinist Marty Davis serves up rudimentary but effective lines — although he could stand to watch his intonation. Drummer Jim Sullivan has a tendency to rush the tempo, though otherwise offers sturdy beats. Lead guitarist Tracy Lord — not to be confused with Traci Lords . . . ahem — actually delivers some monstrous riffs, especially on rhythm guitarist Ron Lawrence's "Can You Feel My Prayer?" The song is like a Christian-rock answer to The Who's Tommy.
Songwriting duties seem spread roughly equally among the sextet. But Lawrence is far and away the strongest tunesmith, possessing a keen pop sensibility and an ear for succinct melody. Songs such as the aforementioned "Feel My Prayer" and album closer "Christian Heart" are on par with anything you'd find while playing AM radio roulette in the Midwest or deep South.
Perhaps even more than romantic love, devotion to a higher power (by whatever name one chooses to call it) is responsible for many of the world's greatest artistic achievements. Agnostic or true believer, it's hard not to be moved by the force and grace of Handel's Messiah, for example, or the majesty of Renaissance-era cathedrals. While Jericho Road Crew don't come close to those lofty aesthetic heights, they do accomplish a feat as rare in secular music as it is in Jesus rock: They make their point simply and humbly.