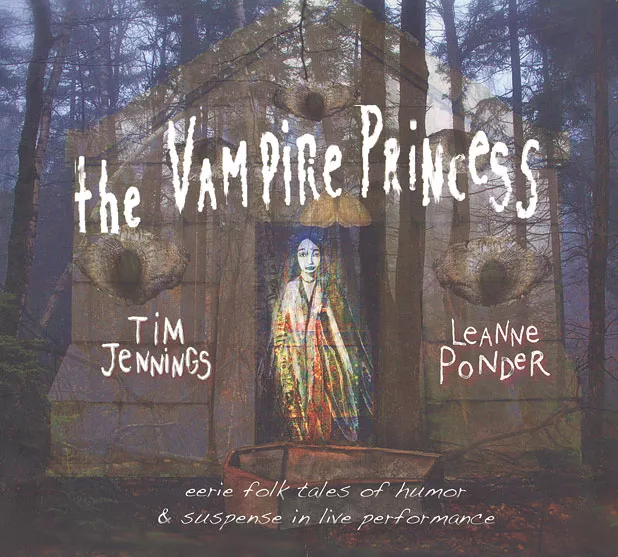 Why listen to stories that are not only dated but dateless? Because, if a timeless story speaks to the eternal human condition, then it speaks to now. Besides, if people keep telling it, the story must be damned entertaining.
Tim Jennings and Leanne Ponder have been telling folk tales together since 1997. If that seems like a long time, it's barely a blip compared with the ages of their stories, which range from hundreds to thousands of years old. Yes, thousands: The tale "Four Friends and a Tiger" was first written down about 2500 years ago, in an Indian classic titled Panchatantra. And if it was finally written down then, suggested Jennings at a performance last weekend in Burlington, it had to have been told orally for a long time before that.
He and Ponder were performing tales – and traditional music on concertina and harp, respectively – from their recently released CD, The Vampire Princess, at North End Studio A. They'll repeat the show this Saturday, September 21. To say that it's all-ages listening is a double entendre. The audience ranged from seniors to children — as Jennings and Ponder's audiences usually do — and all were captivated.
The Vampire Princess CD, recorded live last summer before what was probably a similar audience, contains five stories and five short musical interludes. Besides the Indian tale, there are stories drawn from Mexico, Russia and the Romany — aka gypsies — of Bohemia, as well as one from the Brothers Grimm. Though the stories seem set in an indeterminate past, they remain relevant because, unfortunately, basic human nature has not changed much. There have always been greed and arrogance, for example — two qualities that the tales skewer. And, even if a young girl does get turned into a fire stick, a tiger eats some scholars, and the titular vampire princess sucks a whole lot of blood, the stories contain plenty of humor along with the horror. Then there is the occasional gratification of witnessing good being rewarded and evil punished.
Listening to the CD is a rewarding experience, too, especially if you're curled up with a cup of something and really paying attention, not sneaking peeks at your email. That humans love to hear stories is an ancient truth; we are hardwired to do so. But Jennings and Ponder in person, onstage, give us something to watch, as well. The husband-and-wife performers are animated and funny, with a repertoire of voices high, low and in between, and facial expressions to suit a variety of characters. They don't play to gender; both voice male and female, young and old characters.
What is really brilliant about this duo, though, comes with such apparent ease that a listener may not consciously notice it: a masterful, finely tuned vocal interplay. His and her voices weave in and out of each other, sometimes doubling up for emphasis, creating a tapestry of sound that we recognize as a story. Their delivery is akin to that of an extremely tight jazz ensemble, in which the players know their parts — and their partners — intimately. For this reason, and for the uniqueness of what they do, Tim Jennings and Leanne Ponder are simply Vermont treasures, and hearing their stories never grows old.
"The Vampire Princess: eerie folk tales of humor & suspense" by Tim Jennings and Leanne Ponder. Eastern Coyote Productions, CD. $12. Jennings and Ponder perform on Saturday, September 21, 8 p.m. at North End Studio A in Burlington. $8. folktale.net